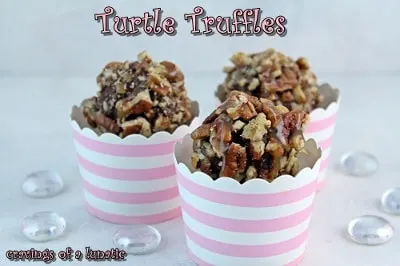 Today's post is by my friend Kim from Cravings of a Lunatic. I found her blog because of one of her Burning Down The Kitchen features. I saw "burning down the kitchen with…" in a tweet and clicked to investigate. I am so glad I did. She makes me smile all the time. Reading her posts brighten my day. Kim is one of those honest individuals who writes from the heart. Hilarious too. Just check out her About Me page. Seriously, read it. I know it will make you smile! What else will make you smile? Her recipes. I want every single one of her frozen treats. Plus there is a certain chocolate, caramel, and pecan combination she does so well and in so many different and fantastic ways…
Hi folks.
I'd like to take a minute to introduce myself. I am Kim, aka Lunie, and you can find me any day of the week blogging over at Cravings of a Lunatic. I have a weakness of indulgent recipes. I really love to take simple ideas and just turn them on their heads a little bit. It's sort of what I do. And let's just say I love what I do.
I also love Renee. When she said she needed some guests posts I jumped up and down. Literally. It's also what I do. I tend to get really excited about things. Then reality sets in and I get really overwhelmed. Guest posts always make me nervous. It's a bit like high school. You wonder if anyone is going to like you. Is anyone going to talk to you? Is your hair okay? You know, important things like that. I knew I would be in good hands today though because Renee is such a sweetheart.
Renee told me the post was going to be planned during the American Thanksgiving weekend. Again I may have jumped for joy. Literally. You see I'm a Canuck and due to me recovering from an illness and a stint in the hospital I wasn't able to put on my big Canuck Thanksgiving. So this is like a do-over. Don't you just love those? You get a second chance to do something you so wanted to do up right. So a huge Canuck thanks to Renee for the opportunity to celebrate Thanksgiving American style.
I actually made something "apple pie-ish" originally. Then I had a comment from Renee about my Turtle Apples. You see I have a serious weakness of all things Turtle. You can see for yourself on my blog. I really need a turtle intervention at this point. Anyhow, Renee commented about southern gals loving the pecan, chocolate, and caramel combination. Then it hit me that I had seen these really cool truffles from Kraft and had bookmarked them to turn into Turtle Truffles. So I just knew Renee would appreciate these so much. They are super easy to make but a little messy. But let's be honest here folks any good dessert should have you licking your fingers when you're done right. These will have you licking your fingers, your arm, the plate they were served on and possible your guest's plates as well. Don't blame me when your guests are all staring at you dumbfounded as you lick your tenth straight plate clean. It's not my fault. The turtles made me do it.
Thank you so much to Renee and all of you reading for having me at Magnolia Days today. It's an honour (yes we Canucks spell it with an "u") and privilege to be here to celebrate Thanksgiving with everyone. Happy Thanksgiving to each and every one of you.
Toodles and smoochies! xx
Turtle Truffles
Wonderful turtle truffles made with chocolate, caramel, and pecans. Recipe via Cravings of a Lunatic.
Ingredients
8

oz

semi sweet chocolate

chopped

1/4

cup

whipping cream

heavy

4

oz

cream cheese

softened

1

cup

powdered sugar

1

cup

crushed

or finely chopped pecans

1/4

cup

caramel sauce
Instructions
In a small saucepan over low heat, combine whipping cream and chocolate. Stir until melted and smooth. Allow to cool slightly.

In a stand mixer combine the cream cheese and powdered sugar, mix until well combined. Gradually add slightly cooled chocolate slowly and continue to mix until well combined. Place in the fridge for at least 4 hours.

Remove from fridge and let stand while you cover a cookie sheet with parchment paper.

Place your chopped pecans in a bowl. Set nearby.

Scoop out the chocolate mixture with a spoon or ice cream scoop. Form the mixture into balls. You can do golf ball size of mini's. This is a personal choice. Roll the ball around in your hand till semi round and sticky. Now while it's sticky from the heat of your hand-roll it in the crushed pecans. Set on parchment lined cookie sheet. Repeat until you use all the chocolate.

You can either make your own caramel or buy store-bought. Drizzle over, or use a piping bag and pipe over top of the truffles.

Pop them back in the fridge for an hour to set up.

Serve with a big old "I'm a Turtle Fanatic and I don't care who knows it" smile!
Recipe Notes
Wonderful turtle truffles made with chocolate, caramel, and pecans. Recipe via Cravings of a Lunatic.
Photographs and recipe courtesy of Kim from Cravings of a Lunatic.