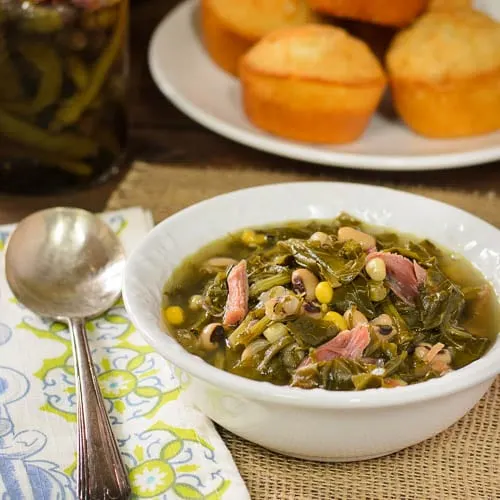 A ham bone was calling out from the freezer. It had been in there waiting to be used for flavoring a big pot of something. "Cook me now!" was a repeated whisper that turned into a scream. The only way to shut it up was to finally put it to use. Perhaps a batch of pinto beans? Or make ham stock? Then an idea came from a visit to a sandwich shop. They occasionally offer a turnip green soup that I'll order every time I see it on the daily menu. It was time to re-create it at home and finally use that ham bone.
There was another reason to make this soup. When I posted the "Eat Your Greens" event information to the Sunday Supper contributors, I inserted in a little humor (or at least attempted it). The details started with "Celebrating the mighty turnip greens!" as if there would be an entire event focused on them. Then I went into the real details of celebrating green foods of all kinds. I thought this soup would be perfect for the event. Unfortunately I missed it due to being the same weekend as the WordCamp conference. Alas, I'm finally sharing it now.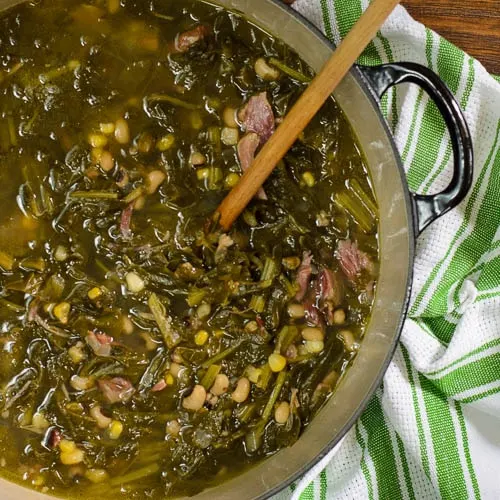 Turnip green soup is very easy to make. Basically all you do is put the ingredients in a pot and let it simmer for hours. There are black-eyed peas and corn in it to make it southern-style. It has a hint of heat from pepper sauce. To clarify, it is the sauce made with thin hot peppers that have been brined and packed with vinegar. This type of sauce is typically served with turnip greens and other southern foods. Serve the soup with cornbread for a complete and comforting meal.
How often do you eat turnip greens? I do as often as I can. They are loaded with nutrients plus have antioxidant, anti-inflammatory, and cholesterol-lowering benefits. I cheat and buy the bags of pre-rinsed and pre-cut leaves. Be sure to rinse them thoroughly if using fresh-picked or in a bunch as they tend to have lots of dirt or grit on the leaves.
Turnip Green Soup
A recipe for turnip green soup made with fresh turnip greens, ham bone, black-eyed peas, onion, and corn. It is a southern-style soup for any time of the year.
Cook Time
2
hours
20
minutes
Total Time
3
hours
15
minutes
Ingredients
2

tablespoons

olive oil

1

cup

chopped onion

2

garlic cloves

minced

1

ham bone

1

cup

frozen corn kernels

1

cup

dried black-eyed peas

64

ounces

low-sodium chicken broth

1

teaspoon

fresh ground pepper

1

pound

fresh turnip greens

thick stems removed and cut into strips

1

tablespoon

vinegar pepper sauce

plus more for serving

Salt

if needed
Instructions
Heat olive oil in a 7-quart dutch oven or soup pot over medium heat. Add onion and cook, stirring occasionally, until soft and translucent (about 5 minutes).

Add garlic and cook until fragrant, about 1 minute.

Add ham bone, corn, black-eyed peans, broth and pepper. Stir to combine.

Add turnip greens and increase the heat to high. The greens will wilt as it comes to a boil. Stir or toss occasionally to combine ingredients while it is coming to a boil.

Once it reaches a boil, stir in pepper sauce and reduce heat to a simmer. Cover and cook for 2 1/2 to 3 hours, stirring occasionally.

Serve with additional pepper sauce if desired.
Recipe Notes
A recipe for turnip green soup made with fresh turnip greens, ham bone, black-eyed peas, onion, and corn. It is a southern-style soup for any time of the year.