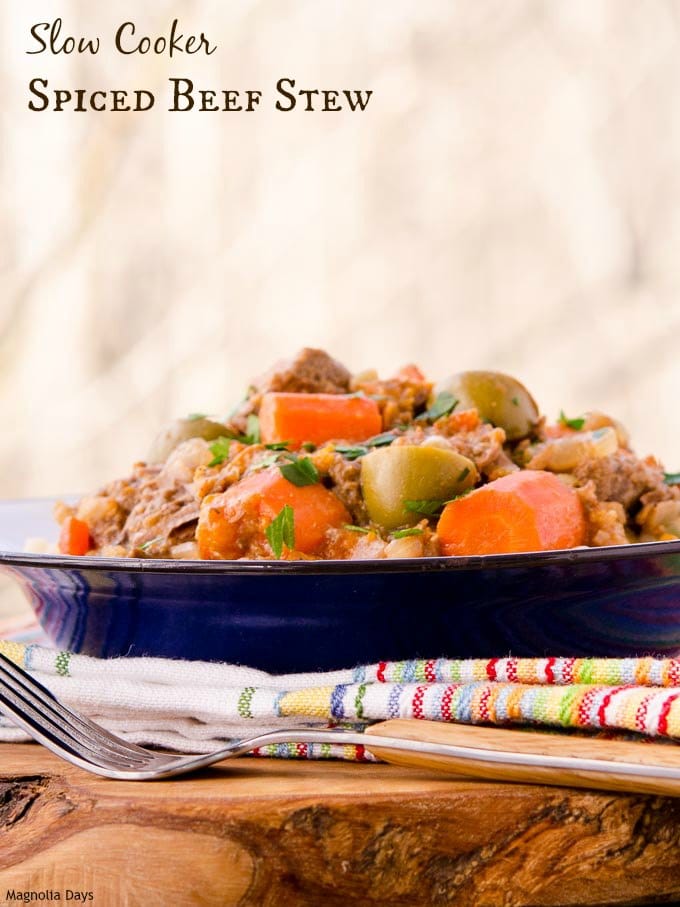 Old Man Winter seems to be a little confused. Either that or Mother Nature is messing with him. Today (or the day this post published) is the first day of winter – December 22, 2016. What is the temperature here in Atlanta? It is mid-60's and getting warmer to be close to 80 degrees on Christmas. It's certainly not winter-like. At least it was chilly the other day when I made Slow Cooker Spiced Beef Stew.
Winter and stew go hand-in-hand. It's why I got out my trusty old Rival Crock Pot on a day when frost covered the ground. And when I say old crock pot, I mean old, as in 30+ years. It and my blender just keep on working like the day I got them. I should name them because they've been around for so long.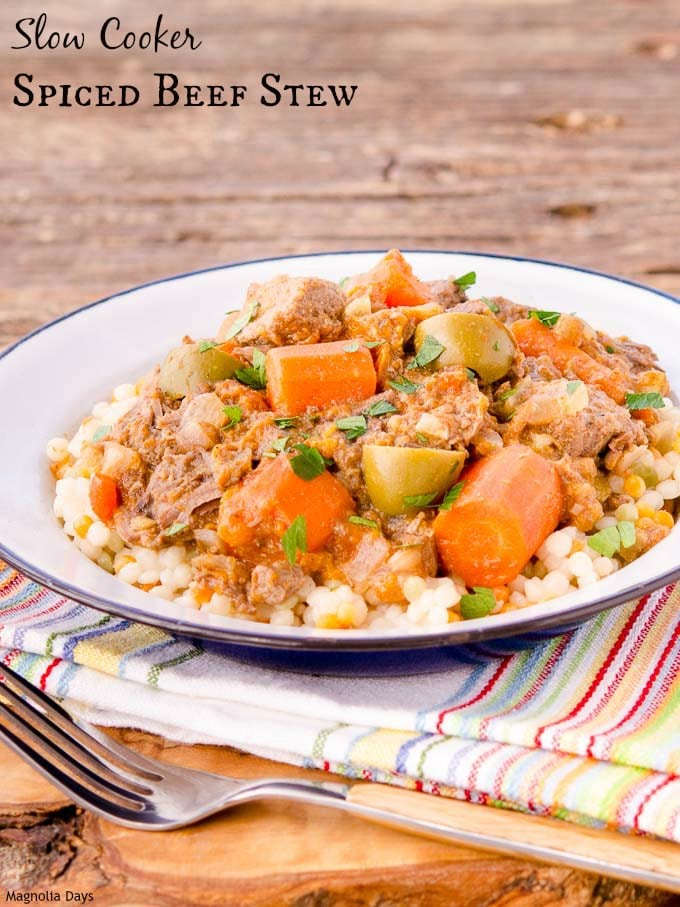 I made Slow Cooker Spiced Beef Stew for several reasons. First was the spices. The season calls out for them. It think it is a way to flavor up a dull grey day. Next reason is apricot. It intrigued me as to how it would taste with beef. It matches wonderfully. I need to explore it more. The last reason is this stew is not tomato-y. Something different than the usual was in order.
How does the stew taste? It is quite beefy with a slight tang. The spices are more of an accent. The flavor reminds me of Caribbean or other tropical dishes I've had before. It's probably because of the cumin. Serve it over couscous, especially pearl (Israeli) type. Or serve it over rice for a gluten-free option.
Are you ready for winter's arrival? I'm ready for it to be over. Then comes spring, my favorite season. Until then I can at least brighten wintertime with flavors and spices.  A little citrus helps too, like with Triple Lemon Bundt Cake or Frosted Orange Cookies.
Slow Cooker Spiced Beef Stew
Slow Cooker Spiced Beef Stew with carrots, onion, olives, and garlic plus a flavorful mix of spices. Serve over couscous or rice.
Total Time
6
hours
20
minutes
Ingredients
3/4

cup

dry white wine

2

tablespoons

white wine vinegar

1

tablespoon

grated fresh ginger

2

teaspoons

ground cumin

1/2

teaspoon

salt

1/4

teaspoon

pepper

1/4

teaspoon

ground cinnamon

1/4

teaspoon

ground cayenne pepper

4

medium carrots

cut into bite-sized pieces

3/4

cup

dried apricots

quartered

1/2

cup

onion

chopped

1/2

cup

queen pimento-stuffed green olives

quartered

4

garlic cloves

minced

1 1/2

pounds

lean beef stew meat

cut into 1-inch pieces

1 1/2

cups

uncooked couscous

Pearl/Israeli recommended

Chopped parsley or cilantro for garnish
Instructions
Whisk together wine, vinegar, ginger, cumin, salt, pepper, cinnamon, and cayenne pepper in a 5- or 6-quart slow cooker.

Add carrots, apricots, onion, olives, garlic, and beef. Toss to combine.

Cover and cook until beef is tender and cooked through, about 6 to 7 hours on low or 4 to 5 hours on high.

Prepare couscous according to package instructions.

Divide couscous into serving bowls. Top with stew. Garnish with parsley or cilantro if desired.
Recipe Notes
Slow Cooker Spiced Beef Stew with carrots, onion, olives, and garlic plus a flavorful mix of spices. Serve over couscous or rice.
Recipe adapted from one in the Woman's Day magazine December 2013 edition.
Get the best Southern food, wine, and gardening tips!
Subscribe to get our latest content by email.