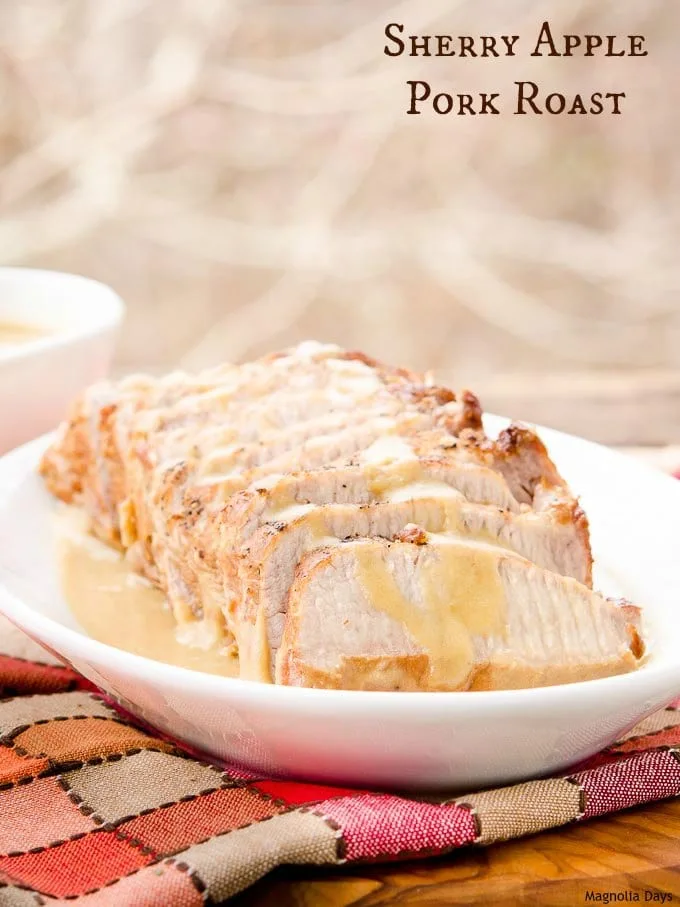 Way before The Food Network there was PBS. I remember watching PBS's cooking shows every Saturday morning. Julia Child, The Frugal Gourmet, Yan Can Cook, and Louisiana Cookin' were the ones I watched. In one Frugal Gourmet show, Jeff made this pork roast with cranberries and onions. The color of it was spectacular. I've yet to make one like it. More about that to come. Meanwhile, I did satisfy my pork craving with Sherry Apple Pork Roast.
Back to the cranberry onion roast. Every recipe I can find for it does not match up to the way I remember him making it on the show. Lots of time has passed and my memory of it could be wrong. Yet I do want to experiment and try it the way I remember. I think about this every holiday season when cranberries are popular. Once again, for the umpteenth year, I let another season pass by without making it.
Moving on to the sherry apple pork roast. I intended to make it for several weeks. I'd buy a roast and something would get in the way on the day I planned to cook it. I'd get distracted and forget to put it in the freezer. Sadly, a couple of uncooked roasts wound up in the trash. I was bound and determined to not let it happen again.
Finally the earth, sun, and moon aligned. Or at least I had a day to get a pork roast cooked. The recipe is similar to my Pork Roast with Peach Moscato Sauce. The base is pork, fruit, onion, and wine (sherry is fortified wine). I added a touch of brown sugar and orange juice to this one. The sauce is heavenly. Be sure to have bread handy because you will want to sop up every single drop.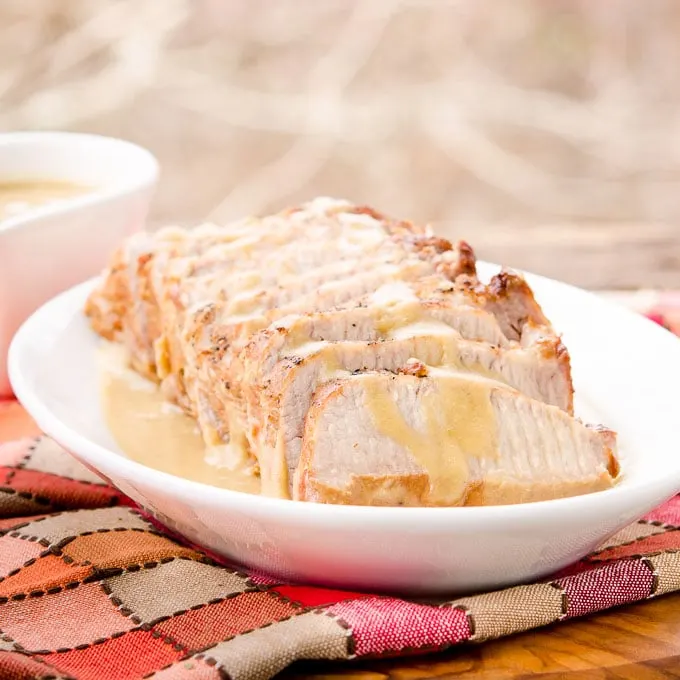 Did you watch those old PBS cooking shows? If so, which recipe from them is your favorite? For me it is hard to choose. What I enjoyed most was learning new cooking techniques. I admit I don't watch many cooking shows these days. However I'm looking forward to Virginia Willis' new PBS series "Secrets of the Southern Table: A Food Lovers Tour of the Global South". I went to one of Virginia's cooking demonstrations years ago. She was a delight to watch and I'm certain her TV series will be fantastic. Besides, a series about southern food – I'm all in!
Sherry Apple Pork Roast
Sherry Apple Pork Roast is a wonderful meal of oven braised pork served with a heavenly sauce made of onion, apples, and sherry.
Cook Time
1
hour
50
minutes
Ingredients
2 1/2

pound

boneless pork loin roast

Salt and pepper

2

tablespoons

vegetable or canola oil

1

medium onion

sliced

2

cooking apples

Granny Smith recommended, cored and sliced

1

garlic clove

minced

3/4

cup

dry sherry

1/2

cup

orange juice

2

tablespoons

light brown sugar
Instructions
Preheat oven to 350 degrees F.

Sprinkle pork with salt and pepper.

Heat oil in a medium-size Dutch oven (about 5-quart) over medium-high heat until almost smoking.

Add pork to the pan and sear to brown on all sides, about 2 to 3 minutes per side.

Remove pork from the pan and place on a plate.

Reduce heat to medium and add onion. Cook until onions have softened, about 5 minutes.

Add garlic. Stir and cook for 1 minute.

Stir together sherry, orange juice, and brown sugar.

Return pork to the pan along with apple slices and sherry mixture. Cover and place in the oven.

Roast for 1 1/2 hours, or until pork has an internal temperature of at least 145 degrees F.

Place pork on a cutting board and let set for 15 minutes.

Put apples, onions, and all pan juices in a blender. Blend until liquefied and pour sauce back into pan. Bring sauce to a simmer then reduce heat to low to keep warm until serving.

Slice pork and place on a serving platter. Serve with sauce.
Recipe Notes
Sherry Apple Pork Roast is a wonderful meal of oven braised pork served with a heavenly sauce made of onion, apples, and sherry.