Oh the joy of success and disappointment in failure with cooking. This week has been filled with both. Everything always turning out perfect is not anywhere close to reality. Most of the time things go very well and according to plan. However a different cooking method can greatly affect results. It can also make the difference between a flavor you like or not. Such is with me and carrots. It's a vegetable I enjoy only certain ways. One of them is Roasted Baby Carrots with Madeira Orange Glaze.
I should have listened to my instincts. It would have saved me from tossing out the first batch. However I thought the glaze would make a difference. I was wrong. The problem lies in that I have never been a fan of boiled carrots. Coating a boiled carrot with a glaze could not cover up that taste. Roasting is a different story. Something magical happens to a carrot when it is roasted. A nutty-like flavor emerges and sweetness is enhanced. The Madeira orange glaze compliments both of those.
The glaze is quick and easy to prepare. Madeira and orange juice simmer for a few minutes to concentrate flavors. A small amount of cornstarch is added to thicken it. Finally a pat of butter melts in to give it a dash of extra goodness. You could leave out the butter if you want it to be non-fat. The roasted carrots are tossed in the glaze right before serving. A sprinkling of parsley puts a final touch of freshness on top.
About the carrots: They are baby rainbow carrots (also called Dutch baby carrots) and I found them at my local grocery store. They are about 4 or 5-inches long and have some of the stem still on top. They come in a six ounce bag and I used two bags. They are pre-scraped and ready to use. If you find them in a bunch with full tops you will need to cut off the tops to about an inch and scrape the carrots prior to roasting.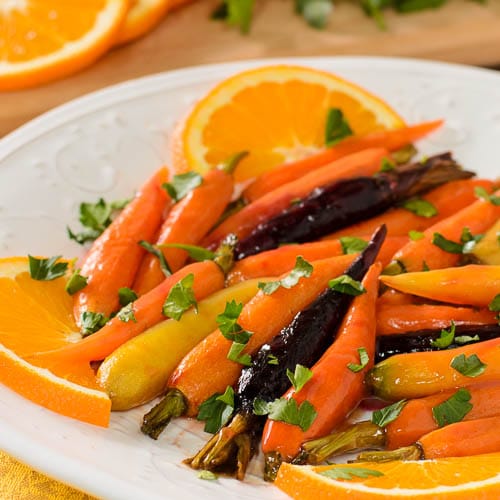 Have you had any cooking successes or failures lately? What was it and what did you learn from it? I learned to stick to my instincts with carrots. I like them best prepared with two methods. One is grilled like with Rainbow Carrots with Cilantro Chile Drizzle or these Roasted Baby Carrots with Madeira Orange Glaze. Wait, there is carrot cake too. Now I'm thinking about baking. What's next? Stay tuned…
Roasted Baby Carrots with Madeira Orange Glaze
12 ounces baby carrots (scraped if needed)
1 tablespoon olive oil (about)
Salt and pepper
1/4 cup orange juice
1/4 cup Madeira
3/4 teaspoon cornstarch
2 tablespoons cold water
1 teaspoon unsalted butter
Chopped fresh parsley for garnish
Preheat the oven to 375 degrees F.
Place carrots on a baking sheet and drizzle with a small amount of olive oil. Lightly sprinkle with salt and pepper. Toss to coat carrots with oil then spread out evenly on baking sheet.
Roast carrots for 25 minutes, until tender or desired doneness.
Bring orange juice and Madeira to a boil in a skillet. Reduce heat to medium and cook for 3 minutes.
Dissolve cornstarch in water. Slowly pour into skillet, whisking constantly while adding. Cook for 1 minute or until thickened (should thicken quickly).
Add butter to the skillet and cook, whisking constantly, until melted. Remove skillet from heat.
Toss carrots in the glaze and transfer to a serving plate. Garnish with parsley if desired.
https://magnoliadays.com/roasted-carrots-madeira-orange-glaze/
Copyright Magnolia Days - http://magnoliadays.com/
Recipe inspired from one in the Southern Living 1983 Annual Recipes cookbook (no longer in print).