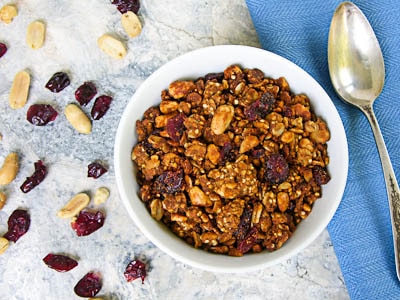 Do you cook with quinoa? I have to admit I have not until recently. Quinoa has been on my to-cook list for the longest time. I was sure I would like it as I do with farro. I would think about it and then pass it by in the store. It moved up the list a few months ago when a friend made a wonderful salad with it and wild rice. Then the 500 Best Quinoa Recipes
cookbook arrived in the mail. Which recipe did I spot first? Peanut butter and quinoa granola.
Peanut butter has a special place in my heart and stomach. I love it every which way from eating it straight from the jar or in a pie. Granola is something I snack on frequently. A handful is enough to satisfy my all too often mid-afternoon hunger cravings. The idea of combining the two sounded wonderful to me. It lead to my first time cooking with quinoa.
How did the recipe turn out? Great. I have been snacking on it every day. I have put it on plain Greek yogurt or eating it simply by itself. I doubt I would pour milk over it and eat it as a cereal though. One handful is filling enough. I would be more inclined to see if it could be transformed into a granola bar.
Do I want to cook more with quinoa? Absolutely yes. I am glad I have this cookbook as a resource for more recipes. I am already eyeing the Greek shrimp dish and cinnamon sugar donuts. Beautiful photos for them are in the book. Not a lot of photos though. At least the recipes are easy to read and follow.
How do you like quinoa? Do you have it as a part of a gluten-free diet? Or enjoy it simply as is? Make some granola for a satisfying snack or topping. Oh, and click on the photo above to purchase the book from Amazon. Happy cooking!
Peanut Butter and Quinoa Granola
A recipe for peanut butter granola made with peanut butter, quinoa, peanuts, oats, honey, and dried cranberries.
Ingredients
2

cups

large-flake rolled oats

old-fashioned

3/4

cup

quinoa

rinsed

3/4

cup

lightly salted roasted peanuts

coarsely chopped

1/2

teaspoon

fine sea salt

1/2

teaspoon

ground cinnamon

1/4

cup

natural cane sugar or packed light brown sugar

1/4

cup

liquid honey or brown rice syrup

1/2

cup

unsweetened natural peanut butter

1/3

cup

vegetable oil

1

teaspoon

vanilla extract

2/3

cup

dried cranberries
Instructions
Preheat oven to 325 degrees F. Line a large rimmed baking sheet with parchment paper.

In a large bowl, combine oats, quinoa, peanuts, salt and cinnamon

In a small saucepan, combine sugar and honey. Bring to a simmer over medium heat, stirring constantly. Turn off heat and stir in peanut butter, oil, and vanilla until blended.

Pour peanut butter mixture over oat mixture and stir until coated. Spread mixture in a single layer on prepared baking sheet.

Bake in preheated oven for 40 minutes, stirring twice, until golden brown. Let cool completely on pan.

Transfer granola to an airtight container and stir in cranberries. Store at room temperature for up to 2 weeks.
Recipe Notes
Recipe ©copyright 2012 Camilla V. Saulsbury from the 500 Best Quinoa Recipes Cookbook. Used with permission by Robert Rose, Inc.
Disclaimer 1: I received a copy of the 500 Best Quinoa Recipes for review from the publisher, Robert Rose. I was under no obligation to give a positive review. All opinions are my own unless otherwise stated or contained within a guest post.
Disclaimer 2: This post contains affiliate links.