The secret of the pineapple-flavored Disney Dole Whip recipe is out! Here's how to make your own at home and taste the Disney magic.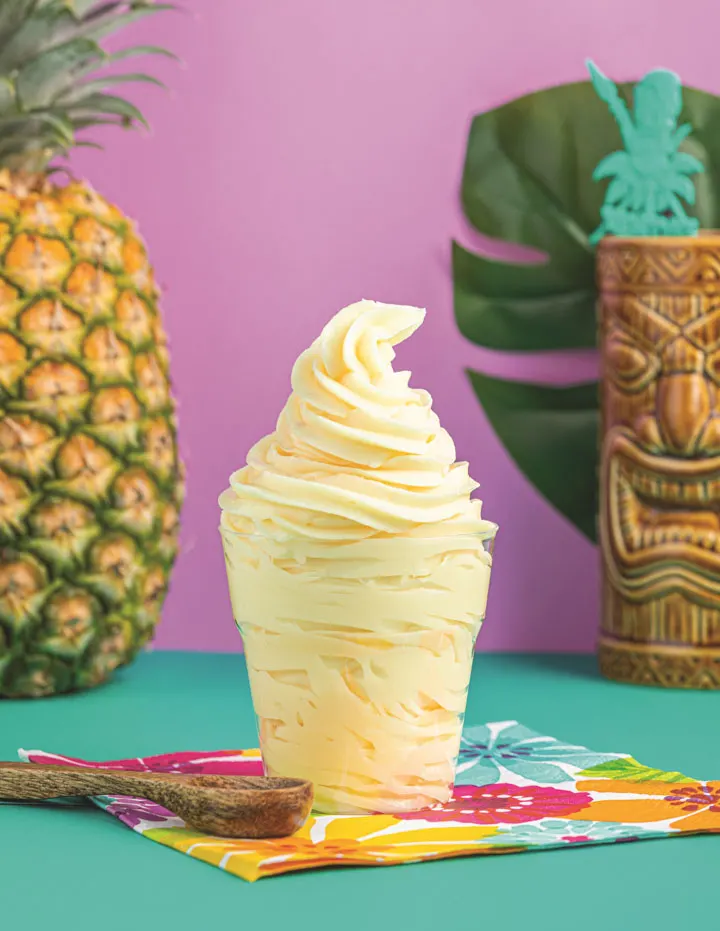 Dole Whip Recipe
Around the turn of the millennium, I worked at the Magic Kingdom in Florida as an Attractions Cast Member.
As part of my job, I operated quite a few rides and shows, including the Jungle Cruise, the Haunted Mansion, Pirates of the Caribbean, the Hall of Presidents, the Magic Carpets of Aladdin, the Swiss Family Treehouse, and the Enchanted Tiki Room.
I'm pretty sure I set a record for watching the most Tiki Room shows back-to-back during a particularly odd shift where I stayed in the theater for six hours straight, rather than rotating out to the entrance and pre-show areas.
While working in Adventureland, I frequently walked past Aloha Isle, the quick service Dole Whip spot. In fact, when I was stationed at the Swiss Family Treehouse across the way, I had to watch guests come and go with tempting cups of sweet, pineapple-flavored soft serve. Talk about temptation!
The new Unofficial Disney Parks Cookbook brought back those memories and more. It touches on the history of the recipe, which predates the Disney parks.
Dole Whip is arguably the number one cult-classic favorite treat of all time at Disney Parks. This fruity-sweet snack began in Hawaii on the Dole Plantation, where parched tourists got to sample the sorbet after a walk around the pineapple bushes. Promoted alongside Walt Disney's Enchanted Tiki Room, guests can buy the treat in line for the show and eat it while listening to the "birds sing words and the flowers croon!" (emphasis mine)

So, what's the secret? Let's talk about the ingredients…
What are the ingredients in Dole Whip?
According to The Unofficial Disney Parks Cookbook, "The 'real' Dole Whip at Disneyland is prepared with a premade powder and water mixture." This powder contains mostly sugar, plus some natural and artificial flavoring.
That's right: The SECRET is a powder made of sugar and flavorings! This recipe replicates the flavor with—you guessed it—sugar, and real fruit juice instead of the powdered flavorings. It tastes just like the Disney version, and it's all natural.
Is Disney Dole Whip dairy free?
Dole Whip at the Disney Parks has been dairy free for years. It's always worth double-checking, of course, as ingredients do change. This homemade version is completely dairy free.
Where can I get Dole Whips?
Currently, pineapple Dole Whips are available at quite a few Disney World locations: Aloha Isle in the Magic Kingdom, Refreshment Port in Epcot, Tamu Tamu Refreshments in Animal Kingdom, Disney's Polynesian Resort, and Marketplace Snacks at Disney Springs. In Disneyland, you'll find it outside the Tiki Room and at the Tropical Hideaway, as well as at the Tangaroa Terrace at the Disneyland Hotel.
For a list of other Dole Whip flavors and where to find them, check out Inside the Magic.
Pick up a copy of The Unofficial Disney Parks Cookbook at your favorite retailer and start reliving your own magical memories!
Dole Whip Recipe
The secret of the Disney Dole Whip recipe is out! Now you can make your own Dole Whip at home and taste the magic!
Processing Time
20
minutes
Ingredients
1

cup

room-temperature water

1 1/2

cups

granulated sugar

2

cups

chilled pineapple juice

1

tablespoon

lime juice
Instructions
In a medium microwave-safe bowl, combine water and sugar. Microwave 1 minute, stir, then microwave 1 more minute and stir to create a syrup. Cover and refrigerate at least 2 hours.

Pour pineapple juice into ice cream machine and add 1⁄2 cup chilled syrup. Add lime juice. Follow ice cream machine instructions and run about 20 minutes.

Serve immediately or transfer to a large plastic container, cover, and freeze overnight for a harder consistency.
Nutrition Facts
Dole Whip Recipe
Amount Per Serving
Calories 236
Calories from Fat 9
% Daily Value*
Fat 1g2%
Sodium 2mg0%
Potassium 102mg3%
Carbohydrates 60g20%
Protein 1g2%
Vitamin C 9mg11%
Calcium 10mg1%
Iron 1mg6%
* Percent Daily Values are based on a 2000 calorie diet.
Excerpted from The Unofficial Disney Parks Cookbook by Ashley Craft. Copyright © 2020 by Simon & Schuster, Inc. Photography by Harper Point Photography. Used with permission of the publisher, Adams Media, an imprint of Simon & Schuster. All rights reserved.