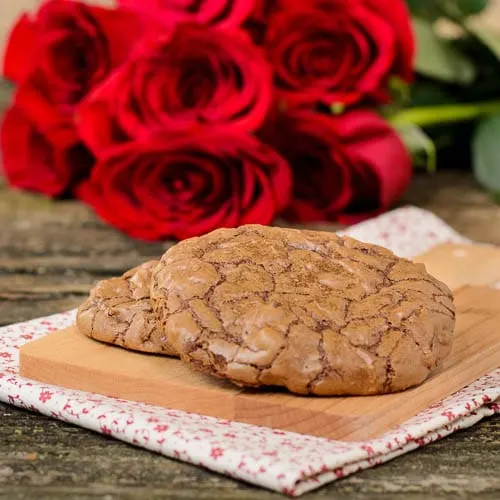 A sea of colorful hats fill the venue. Big, bold, bright, floppy ones are all around. They are adorned with flowers, feathers, ribbons, lace, veils, and more. It is a scene that happens each year as horse racing enthusiasts gather for the Kentucky Derby. The weekend is filled with food, beverages, fashion, flowers, and horses. The festivities peak for spectators at 6:24pm when the race begins. It's called "The Most Exciting Two Minutes in Sports". You might as well fuel up for those intense two minutes with chocolate pecan bourbon cookies.
Food and flowers always get my attention. I knew I could focus on those two aspects when I was asked to participate in a social media campaign for the Kentucky Derby including Sears. The fun came with learning more about the race, its history, and seeing all the excitement from the fans. Red roses are the official flower and any excuse to get some roses is a good one. The same goes with baking. I found there is a Derby pie made with chocolate and pecans. These cookies were inspired by it along with adding Kentucky bourbon to the mix.
How are the chocolate pecan bourbon cookies? They are soft on the inside with shiny, crackly top. There is a rich chocolate fudgy-ness to them. The richness is balanced with nutty bits of pecans. Bourbon gives a subtle flavor boost without being overpowering. They would be a great treat to serve at a derby party and many other occasions.
Do you watch the Kentucky Derby? Join in the fun from now until derby day by following and using hashtags #TalkDerbyToMe and #TDTM2 on twitter. There is also a great Talk Derby To Me Pinterest Board to follow. Check out Sears for attire and essentials for having or attending a derby party. For more party recipes, look at Pimento Cheese Balls and Blue Cheese Walnut Tarts.
Chocolate Pecan Bourbon Cookies
A recipe for Chocolate Pecan Bourbon Cookies. They are soft on the inside with a shiny, crispy top. Fudgy and loaded with pecans and hint of bourbon.
Ingredients
2

cups

semi-sweet chocolate chips

6

tablespoons

unsalted butter

1

cup

all-purpose flour

1/4

teaspoon

baking powder

1/4

teaspoon

salt

1

cup

firmly packed light brown sugar

3

large eggs

2

tablespoons

bourbon

1

teaspoon

vanilla extract

1

cup

chopped pecans
Instructions
Preheat oven to 350 degrees F. Line baking sheets with parchement or non-stick liner.

Melt chocolate chips and butter in a heat-proof bowl over simmering water. Cool for 10 minutes.

Whisk together flour, baking powder, and salt in a medium bowl.

Using an electric mixer on high speed, beat brown sugar, eggs, bourbon, and vanilla in a large bowl until well combined.

Add melted chocolate and butter. Beat on low speed until combined.

Fold in flour mixture until just combined. Stir in pecans.

Drop dough 2 inches apart onto baking sheets using a cookie scoop (about 2 tablespoons for each cookie).

Bake for 12 minutes; until cookies have a shiny cracked surface, firm to the touch on the edge, and somewhat soft in the middle.

Cool cookies 5 minutes on baking sheet.

Carefully transfer cookies to a cooling rack (the bottoms of the cookies will still be slightly moist). Cool cookies completely.
Recipe Notes
A recipe for Chocolate Pecan Bourbon Cookies. They are soft on the inside with a shiny, crispy top. Fudgy and loaded with pecans and hint of bourbon.
Recipe adapted from Hammerstone's Whiskey Disks – Salted Chocolate Bourbon Toffee Cookies
Disclosure: I received compensation for participation in a Kentucky Derby social media campaign including Sears. I was under no obligation to publish a blog post for the campaign. All opinions are my own unless otherwise stated on contained within a guest post.