A wine tasting is an exciting event for me. Add a cooking demonstration by a well-known chef, sampling the prepared food, and shopping = WOW! So much fun in one place. I was very excited when I won tickets from The Bluebird Patch. It was an opportunity to meet Virginia Willis IRL (in real life). I had already met her online on twitter.
Chefs in the City is a series of events by Grape Crush Productions. Each event features a cooking demonstration by a local chef, wine tasting, and shopping. The event is held in Bloomingdales's home store. This particular event was also to promote Virginia Willis' new cookbook Basic to Brilliant, Y-all: 150 Refined Southern Recipes and Way to Dress Them Up for Company.
The wine tasting featured 6 wines. "A Sip Around the World" was the name of the tasting:
Bodega Los Cerrillos Finca Peral Chardonnay from Argentina
Salmon Run Dr. Frank's Vinifera Riesling from USA
Le Dog de Pierre Pinot Noir from France
Cantine Lenotti Bardolino DOC Classic from Italy
Bodega Los Cerrillos Finca Peral Cabernet Sauvignon from Argentina
Canine Menhir Trelune Malvasia Nera IGT Salento from Italy
My favorite was the Bardolino DOC Classico. However, I must go find the Le Dog de Pierre because I just love the label and it was also a nice tasting Pinot Noir. During the tasting we shopped through the Bloomingdales's home store. It was a great opportunity to get some early holiday shopping done or to make a wish list. I purchased a copy of Virginia's cookbook to have for the book signing at the end of the evening.
The cooking demonstration featured 3 recipes from Virginia's cookbook; Mushroom Ragout, Sweet Tea-Brined Pork Blade Steaks, and Sweet Potato Grits. You can really tell Virginia loves to cook and tell stories. She had a genuine smile on her face the entire time. Her knowledge of food and cooking is vast. She made everyone feel at home and answered every question from the audience.
After the demo, we sampled the food Virginia had prepared. It was all so delicious! I know I will be cooking those dishes and others from her cookbook. I am particularly eyeing her Caramel Cake since I am still on my quest for the perfect one. Once we sampled her food I had to get in one of my lean-in photos by the food. My first lean-in photo is my twitter avatar and facebook profile picture with me by the dahlias. Since the first lean-in there have been several more…but that is another post yet to happen.
Finally was the cookbook signing. Virginia sat down and took the time to meet and have a brief chat with everyone. I enjoyed our conversation and laughter: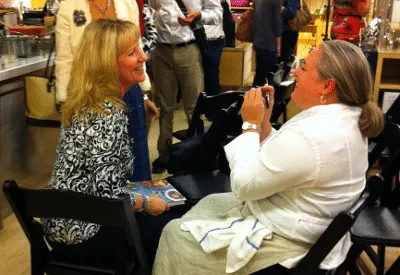 Many thanks again to: Grape Crush Productions for bringing such a fun event to Atlanta, The Bluebird Patch for the tickets, and my friend Terry for taking photos. It was a great night filled with fun, friends, food, wine, and shopping. Cheers!