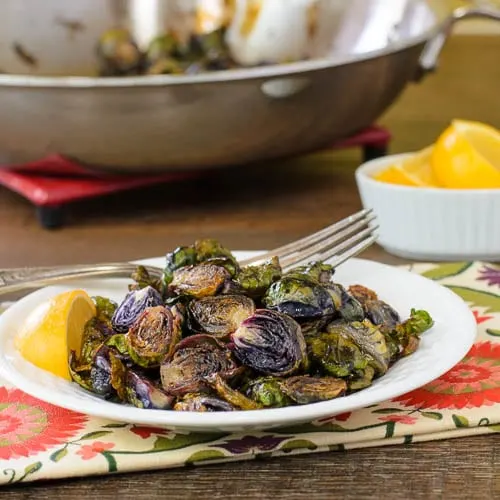 The doorbell rings and the hounds spring into action. They go from a complete slumber to an all-out run for the door. They split up and go to the flanking windows. Noses are pressed to the glass and ears are perked straight up. Their wagging tails clearly show excitement of a visitor. Opening the front door is not an option as they have escaped through it too many times. I head to the other door and they run to follow with loud happy barking. I slip out through the garage to get the package from the delivery man. What's in the package? It is an assortment of lovely winter citrus and vegetables. I'm immediately inspired to make Brown Butter Lemon Brussels Sprouts.
My hounds are so curious. They want to sniff and investigate whatever comes in the house. When I bring packages inside, they follow me to the kitchen as if the package is for them. After they realize it isn't, they go back to their comfy spots and snoozing. It's then when I make my plans for what has arrived. This package from Frieda's contained meyer lemons, Buddha's Hand, kumquats, and the prettiest little baby purple Brussels sprouts.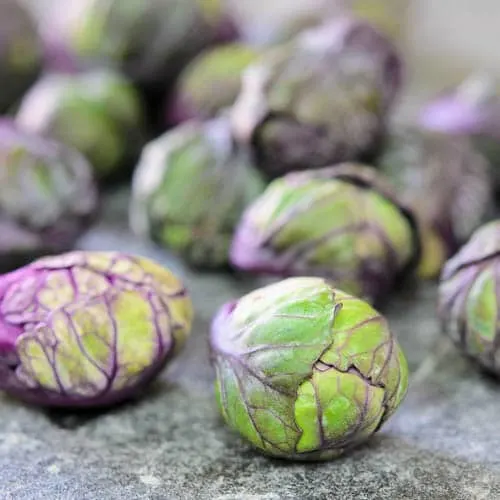 Roasting was the first method that came to mind. The next step was choosing complimentary flavors. One quick look in The Flavor Bible
and I zoned in on butter and lemon. Butter is great and brown butter is even better. Meyer lemon would give a nice citrus freshness to balance it out. From there it was easy to put it all together.
Brussels sprouts are delicious when prepared properly. Over-cooking can make them soggy and bitter. Complimentary flavors also reduce bitterness. The old method of boiling them or, dare I say, heating ones from a can is no representation of how they taste with other cooking methods. Roasting or quickly sautéing will get you the best results.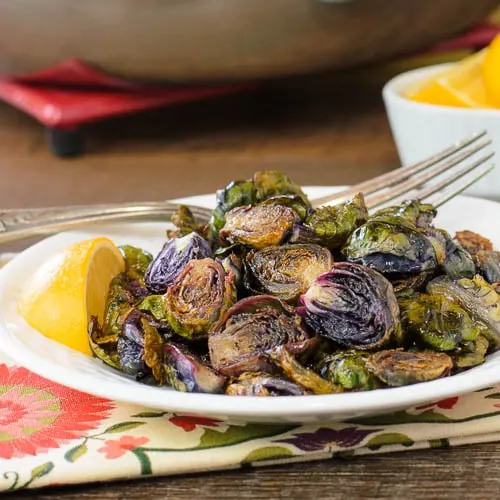 How often do you experiment with new foods? It's fun to do and such a great way to discover new favorites. Visit a market and pick something new that catches your eye. It may catch your taste buds too. Oh and take a look at roasted cauliflower for another vegetable enhanced by roasting.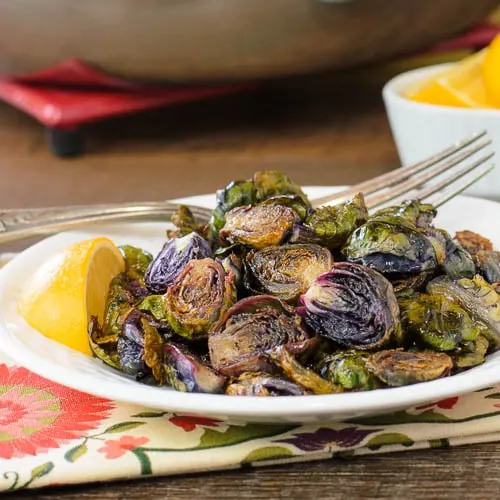 Brown Butter Lemon Roasted Brussels Sprouts
A recipe for Brussels sprouts roasted with fresh lemon and brown butter. Roasting brings out the wonderful flavor and citrus brightens this easy side dish.
Ingredients
2

tablespoons

unsalted butter

12

ounces

small/baby Brussels sprouts

1

teaspoon

lemon zest

Meyer lemon recommended

2

teaspoons

lemon juice

approximately

Salt and pepper
Instructions
Preheat the oven to 375 degrees F.

Melt the butter in a large skillet (oven-proof stainless steel recommened). Continue to cook the butter until it turns a light amber color.

Remove the skillet from the heat and let cool to about room temperature. This will prevent the Brussels sprouts from frying when added to the skillet.

Thinly trim off the ends of the Brussels sprouts and discard the ends. Cut the Brussels sprouts in half lengthwise.

Add the Brussels sprouts and any leaves that my have fallen off into the skillet.

Add lemon zest and about 1 teaspoon of lemon juice. Toss to combine and coat with the brown butter.

Spread out the Brusssels sprouts to an even layer in the skillet. Sprinkle lightly with salt and pepper.

Place the skillet in the oven and roast the Brussels sprouts until lightly browned and tender, about 20 minutes. Some of the loose leaves may be crispy.

Squeeze remaining 1 teaspoon lemon juice over cooked Brussels sprouts if a more lemony flavor is desired or serve with lemon wedges.
Recipe Notes
Cooking time may be longer if using larger Brussels sprouts. Also, if using larger ones, peel off and discard the outer leaves.
Disclosures: I received a variety package from Frieda's at no charge. I was under no obligation to post a review. All opinions are my own unless otherwise stated or contained within a guest post. This post contains an affiliate link to Amazon.