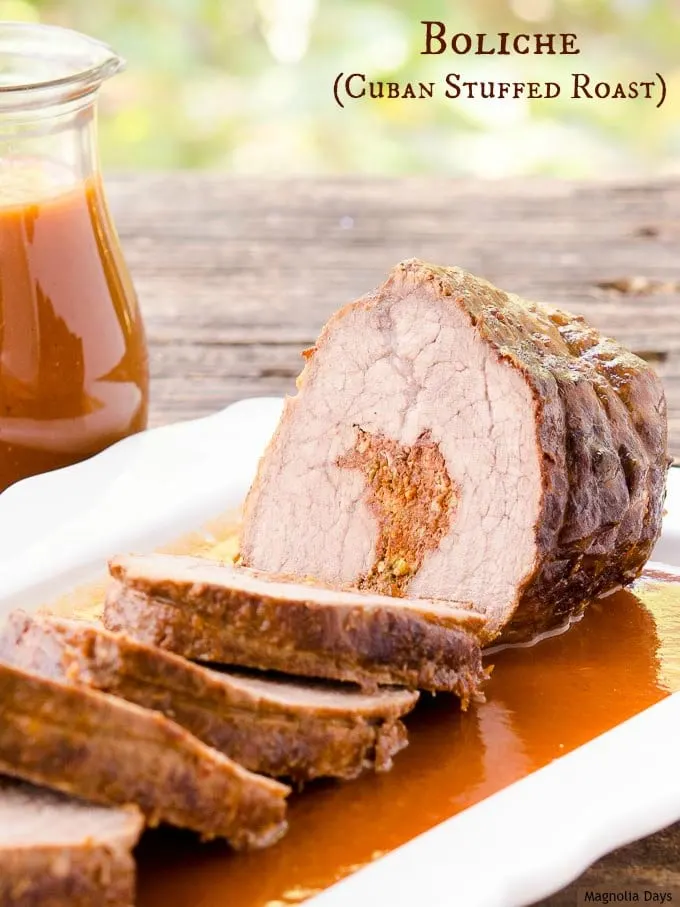 Years ago we vacationed in Miami. We actually visited the city many times. It was such a nice change of pace from home. The strip along the beach was always hopping. We were amazed at how you could get a drink to go and sip on while walking along. That was unheard of in Atlanta. We were also in Cuban food heaven. It was there when I first tasted Boliche (Cuban Stuffed Roast).
One bite is all it took. I was hooked. I ordered it every single time we went to this restaurant on Calle Ocho (8th street). I swore I would make it at home one day. It took almost 20 years for me to finally tackle it. Why did I finally get around to it? Because Certified Angus Beef® brand invited me to share a holiday roast recipe along with a trip to visit their headquarters in Ohio. I'd say that's a really good reason indeed.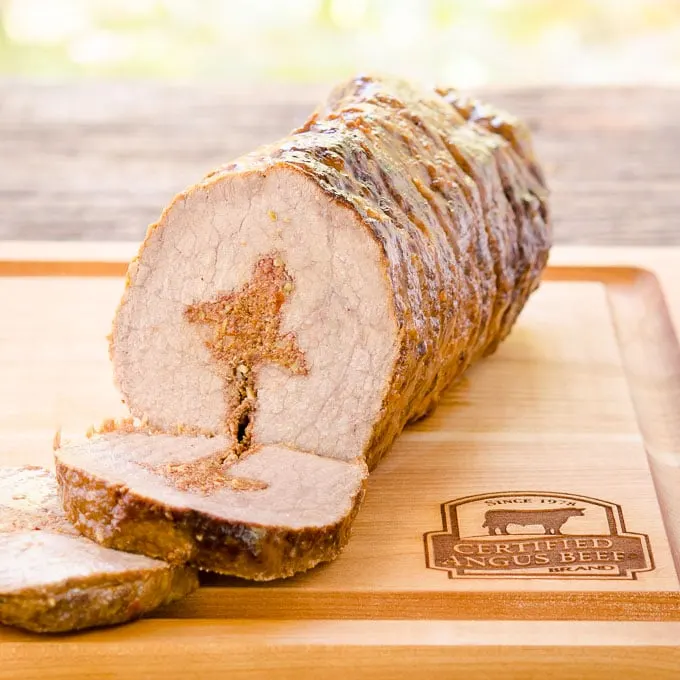 Boliche may not come to mind when you think of a holiday roast. The usual suspects are standing rib roast, tenderloin, or perhaps top sirloin. However, I like to serve something different during the holidays. I've often made Sauerbraten or Rouladen. This time I'm changing it up from German to Cuban.
What exactly is Boliche? It is usually an eye of the round roast stuffed with chorizo, garlic, and olives. Sometimes top round or rump roast is used. The stuffed roast is slow-simmered in citrus juices, wine, tomatoes, and beef broth. The gravy is so heavenly I could pour it in a cup and sip on it like soup. Anyway, the very first thing to start with is premium beef. You want excellent flavor of beef to stand up to the stuffing and sauce.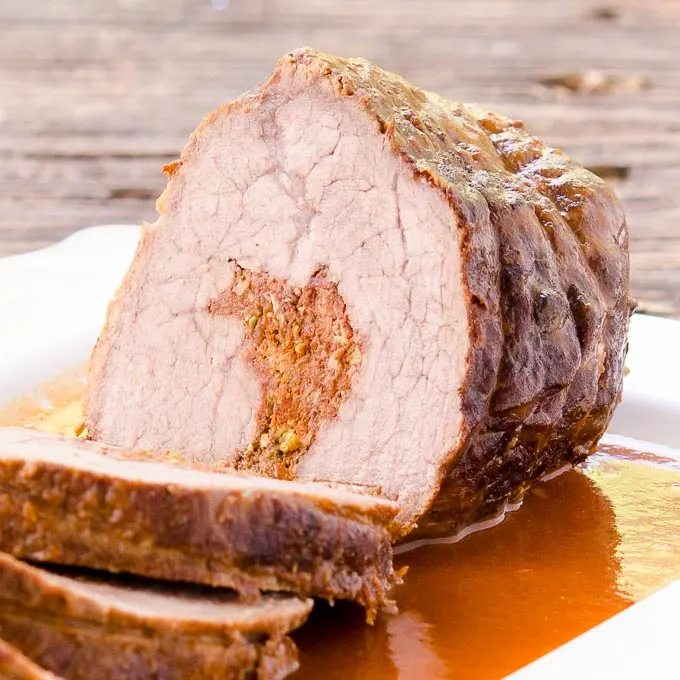 Where to find this premium beef? It's easy. All you have to do is use the Certified Angus Beef® brand locator to find both retail stores and restaurants. I'm glad to know I can get it at two of my favorite places to shop; Dekalb Farmers Market and Buford Highway Farmers Market.
The next step is cooking. What does take some real effort is stuffing the roast. It can be a challenge if you are using a long and narrow eye of round cut. Try your best to cut through the middle and make a big pocket. If it's too long or difficult, then slice the beef to open it up. Stuff it and then tie it back together. It is what I had to do this time.
The next question was how long to cook it. Getting the answer was super easy. All I had to do is refer to Certified Angus Beef® brand's Roast Perfect app. I used the app's roast timer to see how long to allow for searing and roasting. It worked like a charm. I'll be utilizing the app for more too. I can see how much to buy depending on how many people. I can find recipes for both beef and side dishes. It is such a handy dandy app.
Do you want to cook a roast for the holidays? Sunday Supper is proud to partner with Certified Angus Beef® brand to share recipes and cooking tips. Scroll down to find the list and each recipe is only a click away. Also check out the Roast Perfect Pinterest board for more inspiration.

More on Certified Angus Beef® brand: You can follow them on Facebook, Pinterest, Twitter, Instagram, YouTube, Periscope, and their website.
Boliche (Cuban Stuffed Roast)
Boliche is a Cuban pot roast stuffed with chorizo, garlic, and olives. It has an incredible gravy made with onion, red wine, citrus juices, and tomatoes.
Total Time
2
hours
30
minutes
Ingredients
2

links Spanish chorizo

4 ounces each, casings removed

6

garlic cloves

chopped

1/4

cup

pimento stuffed green olives

chopped

3

pound

eye of round roast

Certified Angus Beef brand® recommended

Salt and pepper

2

tablespoons

olive oil

1

large onion

chopped

1/2

cup

dry red wine

Juice of 1 orange

Juice of 1 lemon

Juice of 1/2 lime

14.5

ounce

can diced tomatoes

1/2

cup

low sodium beef broth

plus more if needed

2

bay leaves

Cornstarch

to thicken gravy if desired
Instructions
Place chorizo, garlic, and olives in a food processor fitted with a knife blade. Process until garlic and olives are finely chopped.

Cut a hole in the center of the roast lengthwise. Do this by inserting a long knife in the center until it is almost through to the end. Then turn the knife while it is in the roast to open up the pocket. Repeat with inserting the knife again at a 90 degree angle. You want to try and make as large of a hole as you can in the center of the roast.

Stuff the chorizo mixture into the hole in the roast. If you have a long and narrow roast, you may need to cut the roast open in order to get the stuffing all the way to the end. You will need to tie the roast back together with kitchen twine.

You may not be able to stuff all the chorizo mixture into the roast. You can form the extra into patties and cook them in a skillet. They make great breakfast sausage patties.

Season the roast with salt and pepper.

Heat oil in a large Dutch oven over medium-high heat. Place the roast in the Dutch oven and brown on all sides. Transfer browned roast to a plate.

Reduce heat to medium. Add onions and cook, stirring occasionally, until softened and becoming translucent, about 5 minutes.

Add wine, orange, lemon, and lime juices. Use a wooden spoon to stir and scrape up the browned bits from the bottom of the Dutch oven.

Add diced tomatoes and stir. Add roast back to the Dutch oven.

Add enough beef broth to make the cooking liquid 1-inch deep. Add bay leaves.

Bring to a boil then cover and reduce heat to simmer.

Cook for 1 hour and 45 minutes, turning roast every 20 minutes.

Use an instant-read thermometer to make sure stuffing is cooked through (160°F). The roast will be cooked to well done.

Transfer roast to a cutting board and cover loosely with aluminum foil.

Use a blender to puree the cooking liquid. You may need to do this in batches. Do not fill a blender over 2/3 full with hot liquids because they will expand while blending.

Return puree to the Dutch oven and bring to a boil.

If a thicker gravy is desired, stir together 1 tablespoon cornstarch with 1 tablespoon water to make a slurry. Slowly pour a little of the slurry into the gravy while stirring rapidly. Add only as much needed to desired thickness.

Remove kitchen twine if used to tie the roast.

Slice roast into 1/2-inch thick slices. Serve with gravy.
Recipe Notes
Boliche is a Cuban pot roast stuffed with chorizo, garlic, and olives. It has an incredible gravy made with onion, red wine, citrus juices, and tomatoes.
Holiday entertaining season has arrived. Be sure to get Certified Angus Beef® brand beef and use their Roast Perfect app when you are preparing the feast. Take a look at these recipes by Sunday Supper tastemakers for incredible roasts to make for your family and friends:
Plus Selecting the Perfect Roast by Sunday Supper Movement
Join the #SundaySupper family on twitter every Sunday! We tweet throughout the day and share recipes from all over the world. Our weekly chat starts at 7:00 pm ET. Follow the #SundaySupper hashtag and remember to include it in your tweets to join in the conversation. To get more great Sunday Supper recipes, visit the Sunday Supper Movement website or check out our Sunday Supper Pinterest board.
Would you like to join the Sunday Supper Movement? It's easy. You can sign up by clicking here: Sunday Supper Movement.
Disclosure: This post is sponsored by Certified Angus Beef® brand in conjunction with a social media campaign through Sunday Supper LLC. All opinions are my own.