The theme really stumped me. It's the first time one was set based on a book. And, of course, it's a book I've never read or even knew existed. I had no point of reference to bake a cake based on One Thousand and One Nights. Thank goodness the host expanded the details to include a list of ingredients and cuisines. All I could do is pick some from the list. I ended up baking an Almond Date Bundt Cake.
The list of ingredients was quite nice. It included pistachios, almonds, dates, raisins, cashews, spearmint, saffron, cardamom, rosewater, orange blossom water, figs, dried apricots, coconuts, and sesame. At least half of those were in my pantry. I was torn between figs and dates because I've never used either in a cake. Obviously I went with dates. Figs seemed more fitting for the holidays.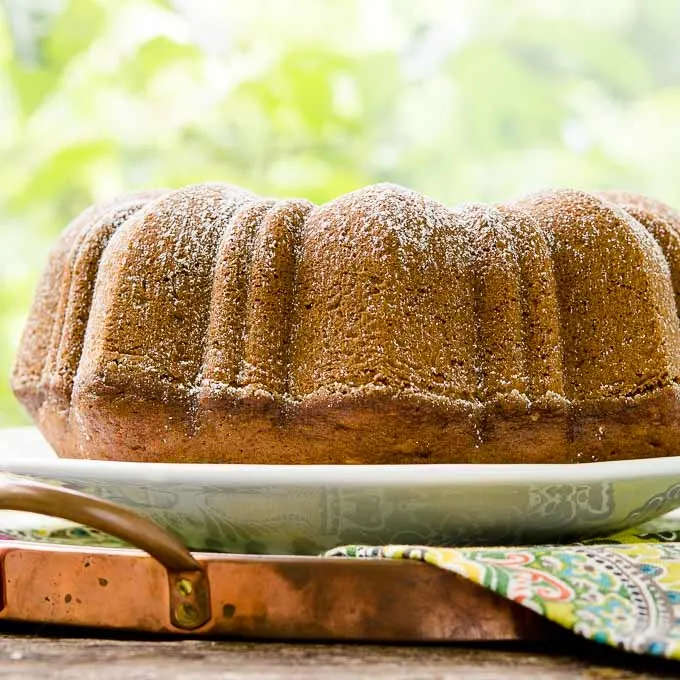 Next was to pair up dates with something. It was a simple matter of getting out a book, The Flavor Bible (Amazon affiliate link). Listed under dates were almonds and cardamom. Yay! That took care of three ingredients in the list. It was time to get baking.
Finally was deciding on a topping for the cake. Any sort of frosting or glaze did not seem right. Why? Because I imagined tents in the hot Persian desert. Frosting or glaze would melt in an instant. A simple dusting of sugar seemed more appropriate. Viola! Cake is done.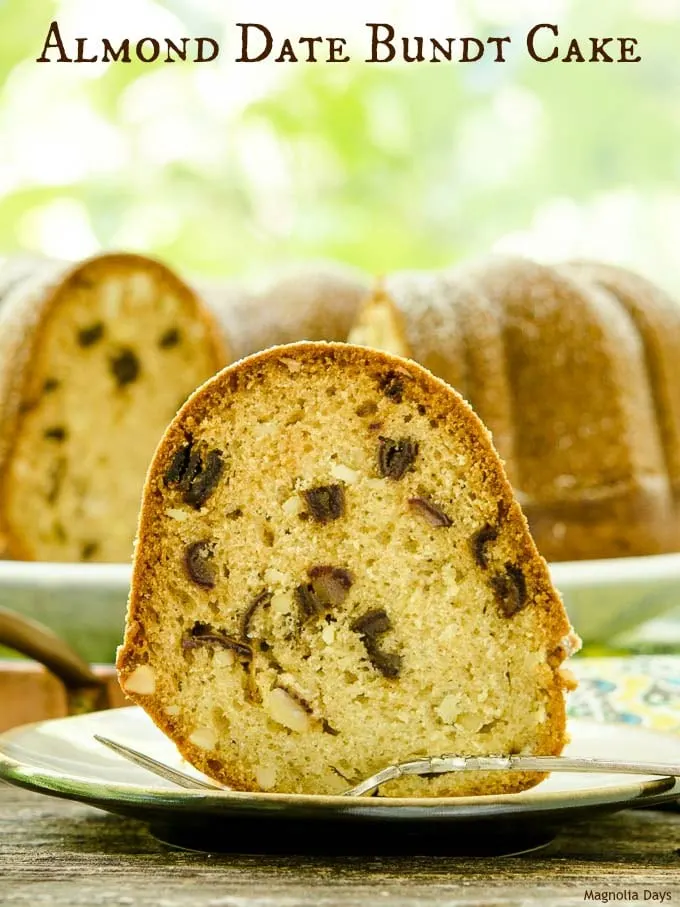 How does Almond Date Bundt Cake taste? It's moist with bits of chewy dates and crunch almonds. This is one of those cakes that is better the next day. Bake it the day before and keep it covered overnight. Then slice it up and enjoy lovely Persian flavors.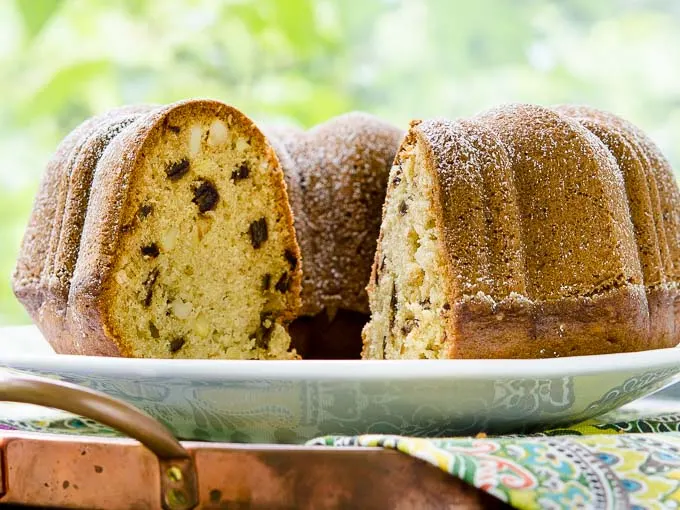 Have you read One Thousand and One Nights? Scroll down to find the list of cakes inspired by the story or ingredients in Arabic, Persian, or Indian cuisines. Thanks to Lara of Tartacadabra for hosting and setting a challenging and fun theme. Also look at my Whole Wheat Date Nut Bread and Sesame Tahini Cookies for recipes with dates or sesame.
Almond Date Bundt Cake
Almond Date Bundt Cake is lightly spiced with cinnamon, cardamom, and nutmeg. It's a moist cake with the sweetness of dates and crunch of almonds.
Total Time
1
hour
20
minutes
Servings
12
to 16 servings
Ingredients
1 3/4

cups

granulated sugar

1 1/3

cups

vegetable or canola oil

4

large eggs

at room temperature

1

teaspoon

vanilla extract

3

cups

all-purpose flour

1 1/2

teaspoons

baking soda

1

teaspoon

salt

1

teaspoon

ground cinnamon

1/2

teaspoon

ground cardamom

1/4

teaspoon

ground nutmeg

1 1/3

cups

buttermilk

at room temperature

1 1/3

cups

chopped dates

1

cup

chopped blanched almonds

Confectioners sugar for topping
Instructions
Preheat oven to 350°F. Lightly grease and flour a 10- or 12-cup bundt pan.

Beat sugar, oil, and eggs in a large bowl until smooth and creamy. Add vanilla and beat to combine.

Whisk together flour, baking soda, salt, cinnamon, cardamom, and nutmeg.

Add flour mixture to creamed mixture alternately with buttermilk, beginning and ending with flour mixture. Beat each addition until just combined and moistened. Do not over-mix.

Stir in dates and almonds. Pour batter into prepared bundt pan.

Bake for 55 to 60 minutes or until a toothpick or cake tester inserted in the center comes out clean.

Cool cake in the pan for 12 minutes. Remove cake from pan and cool completely on a wire rack.

Dust cake with confectioners sugar. Transfer to a cake plate to serve.
Recipe Notes
Almond Date Bundt Cake is lightly spiced with cinnamon, cardamom, and nutmeg. It's a moist cake with the sweetness of dates and crunch of almonds.
Recipe adapted from one in the Nordic Ware Bundt Cookbook published in 2004 (no longer in print).
It's time to get baking! Take a look at these recipes inspired by One Thousand and One Nights:
What is Bundt Bakers? It's a group of Bundt loving bakers who get together once a month to bake bundts with a common ingredient or theme. Follow our Bundt Bakers Pinterest board for incredible bundt cake recipes and inspiration. Stacy of Food Lust People Love heads up our group and has a #BundtBakers page where you can find information and links to the recipes for each month.
How is the monthly theme determined? We take turns hosting each month and choosing the theme/ingredient. Links for all of our past events and more information about BundtBakers can be found on our homepage.