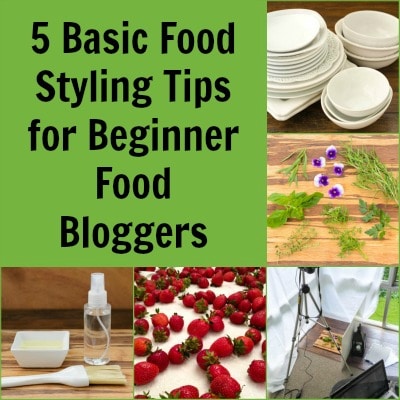 If only I had known. When I launched this blog and had no clue. Well, no clue about food styling and many other aspects of blogging. I was so excited to share all these great recipes. I have always been complimented on my cooking and baking. I knew I had good stuff to share. Posts were published and all I heard were crickets chirping. Why didn't my fabulous recipes get attention? Probably because the photos were awful. I'm quite sure some of the worst food photos ever are right here on this blog. I'm keeping them as-is though. I want to show my improvement over time and look back to see how far I've come along.
It has been a learning process. It is the same for almost every food blogger. Even the Pioneer Woman admits her first photos have a lot to be desired. (I'm sure she didn't state it in those exact words). Unless you have been a professional food stylist and photographer before you start blogging, you have a lot to learn. Even the professionals keep learning and improving their skills. It has to start somewhere though. It's why I want to share 5 basic food styling tips for beginner food bloggers. I only wish I utilized these in the beginning.
1. Small White Plates And Bowls
Colored or patterned plates can be a distraction. You want the focus to be on the food and not on the tableware. White is the most widely used color for a good reason. It allows the color, shape, and texture of food to stand out. Think of a colorful salad on a patterned plate. There is too much going on visually. Keep it simple. Size matters too. A large plate or bowl can make a single serving look tiny. You will be surprised at how much easier it is to style using small plates and bowls too. Less is more.
2. Garnish, Garnish, Garnish
The easiest way to visually enhance a dish is to add a garnish. Fresh herbs and edible flowers give a color pop to even the most bland food. Grow them if you can so they are readily available. If you don't have the space or a green thumb, remember to purchase some along with your recipe ingredients. It's even easier when a fresh herb is a part of the recipe. The same goes for other garnishes besides herbs and flowers. Does your recipe include a lemon? Use a lemon slice, wedge, or zest as the garnish.
3. Oil and Water For Shine
Some foods have a tendency to look flat, dry, or dull. A roast cooked for hours and then sliced will dry out in a matter of minutes. Paint it with cooking oil and see the difference. Pasta will dry out quickly too. Spritz it with water. Fruit, vegetables, and lettuce will glisten after lightly spraying with water. Be careful not to spray or paint too much. You do not want the opposite effect of water or oil droplets taking away from the food. There is one thing to watch with oil, especially dressings and salads. It's best to not put the dressing on the salad or only use a small drizzle right before photographing. Dressings will make salads limp, oily, and sometimes wilted in minutes.
4. Fresh Ingredients Make A Difference
See those bright red strawberries? They were picked the day the photo was taken. Now imagine them after a few days in the fridge – the plump, bright berries start to look sad. Using and photographing food when it is at its finest is essential. Take the time to pick through the produce when you are at the market to get the prettiest and freshest ones. Pick out and set aside the best of the best when preparing your recipe. Put the perfect blueberry or grape tomato on top. Steam, blanch, or quickly saute veggies to retain their wonderful natural color. Showcasing the beauty of food is done easily with keeping it fresh and using the best.
5. Learn Food Photography
Even the most perfectly styled dish will not look good with bad photography. The wrong lighting can make the entire photo blue, yellow, green, or unnatural. Blurry photos can the be result of shaky hands or a camera setting. Flash can wash out a photo and make your food look grey. Getting familiar with your camera will do worlds of good. Practice, practice, practice. Experiment with different settings. Enhance, adjust, and crop the photo with post-processing. As the saying goes "A picture is worth a thousand words".
Want to learn more about food styling? You can learn about it and so much more at the Food and Wine Conference. There is a fabulous line-up of sessions to help you with:
Writing that gets noticed by the media
Working with brands and PR agencies
Publishing a cookbook
Marketing your blog and small business
SEO (Search Engine Optimization)
Using social media
Food photography and video
And more!!
Plus there are incredible speakers. Watch and learn from industry professionals. I'm one of the speakers too. It's an honor to be among such a talented group. Visit the Food And Wine Conference website for all the details.