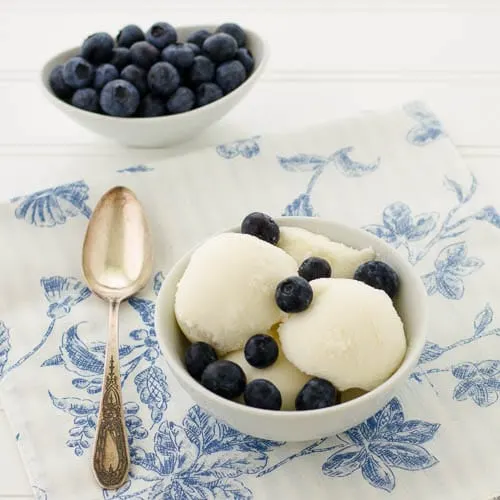 It only took a split second. He took one look at the box on the kitchen table and said "you can make frozen yogurt". My husband loves frozen treats. There is a special koozie in our cabinet that is designed to fit a pint of ice cream. He bought it years ago when there was a major ice cream eating phase going on here. We definitely made our contribution to a certain frozen treat company that year. Anyway, I thought his suggestion was brilliant and I made vanilla frozen yogurt.
Why did I choose vanilla for the batch of frozen yogurt? There are so many flavor possibilities and yet I chose a simple one. It has to do with how I enjoy snacking on plain Greek yogurt. I will stir in a teaspoon of sugar to sweeten it slightly. Occasionally I'll get vanilla when I want something other than plain. It seemed fitting to make my first frozen yogurt with the flavor profile of how I enjoy it non-frozen.
Frozen yogurt is tricky to make. The difficulty comes with using non-fat or low-fat as it will get hard after setting in the freezer. I found a recipe that had gelatin in the ingredients. I thought it would help with keeping it from becoming hard as a brick. It does give it a fluffy instead of icy texture. It is still hard when straight out of the freezer. All you have to do is let it set out a few minutes and then it softens enough to scoop. This vanilla frozen yogurt is slightly sweet with the tang of Greek yogurt. A light vanilla flavor makes it a good base for many toppings.
I have plenty yogurt to try more recipes. Thanks to the kind folks at Chobani for sending a big variety pack to enjoy. Now to decide what flavor for the next batch. I have a feeling it will be utilizing fresh summer fruit. Stay tuned…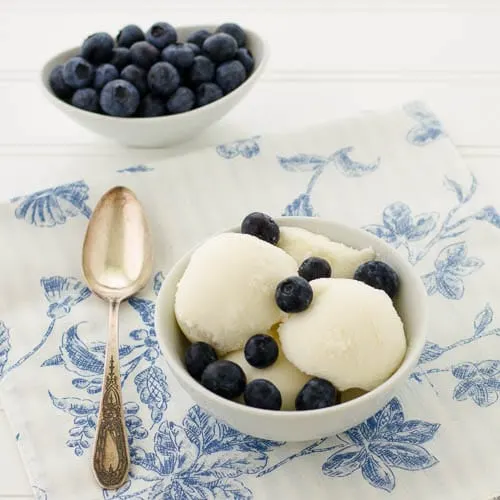 Vanilla Frozen Yogurt
A recipe for vanilla frozen yogurt made with Greek-style yogurt. It is a lightly sweetened and tangy frozen treat with the simple flavor of vanilla.
Ingredients
2 1/4

cups

whole milk

1/2

cup

sugar

1

envelope unflavored gelatin

1 1/2

cups

vanilla Greek yogurt

1

teaspoon

vanilla extract
Instructions
Combine the milk, sugar, and gelatin in a saucepan. Set stand for 1 minute.

Cook over medium-low heat for 5 minutes or until the gelatin dissolves.

Let the mixture cool completely to room temperature.

Stir in the yogurt and vanilla. Cover and refrigerate for 8 hours or overnight.

Pour the mixture to an ice cream maker and freeze according to the manufacturer's instructions.

Transfer the frozen yogurt to a freezer safe container. Enjoy immediately for soft-serve consistency or freeze for at least 2 hours.

If frozen hard, let it set out for a few minutes to soften before serving.
Recipe Notes
A recipe for vanilla frozen yogurt made with Greek style yogurt. It is a lightly sweetened and tangy frozen treat with the simple flavor of vanilla. Time doesn't include freeze time.
Recipe adapted from one in the booklet that came with my Krups Ice Cream Maker which is no longer on the market.
Disclosure: I received a variety pack of Greek yogurt from Chobani. I was under no obligation to give a review, positive or otherwise. All opinions are my own unless stated or contained within a guest post.