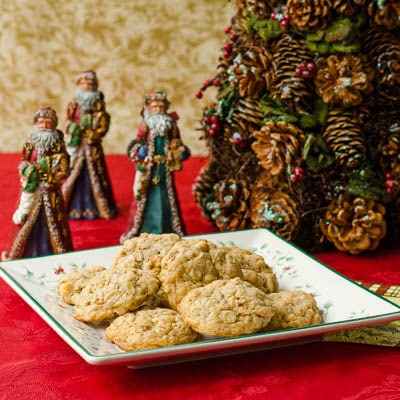 Attention holiday bakers! Today's Sunday Supper event is all about cookies. I was really excited as soon as I saw the notification. I have been known to bake a few cookies for Christmas. Well, that and a whole bunch of other treats. I know I my oven gets a real workout during the holidays. This year I wanted to try something new and I chose Christmas Crunchies cookies.
It is always fun to try new recipes. There are favorites like Carrot Cake and Rocky Road that I make every year. The new stuff keeps the routine from getting old. I like to surprise my family and friends with something different. These cookies have already been given to several friends and they were a hit. Now I have another recipe to add to my annual holiday cookie baking list.
It is your lucky day if you are looking for cookie recipes. Not only do we have a big list from the Sunday Supper team, we also have an opportunity for you to win a signed copy of the Cookielicious
cookbook. The book is by Janet Keeler, the Food & Travel Editor for the Tampa Bay Times. How to enter? Hold on…first you need to check out these recipes:
Wow! I'm ready to start baking now. So many fabulous cookies! Do yourself a favor and check them out. I am sure you will find many heartwarming Christmas cookie stories and wonderful blogs to follow. Oh, and be sure to add Christmas Crunchies to the top of your baking list (hint hint).
How to enter to win the cookbook: All you have to do is join in the #SundaySupper twitter chat on Sunday, December 9th, from 7 to 8pm Eastern Time. Janet Keeler will be joining in the chat with tips on baking and to answer any of your baking questions. Five winners will be chosen so remember to use the #SundaySupper hashtag in your tweets. If you don't want to take a chance, you can order one of the cookbooks today. Click on the photo of the book to go to Amazon to place your order:
Want even more cookie inspiration?
Check our our 
#SundaySupper Pinterest board
 for fabulous recipes and food photos.
Christmas Crunchies Cookies
A recipe for crunchy cookies for Christmas. Oats, coconut, pecans, and cornflakes give these cookies a delightful crunch with a hint of cinnamon. Make Christmas Crunchies for a holiday treat.
Yield:
Makes about 3 dozen cookies.
Ingredients
½ cup unsalted butter, at room temperature
½ cup sugar
½ cup firmly packed brown sugar
1 egg, at room temperature
½ teaspoon vanilla extract
1 cup all-purpose flour
¼ teaspoon baking powder
½ teaspoon baking soda
¼ teaspoon salt
½ teaspoon ground cinnamon
1 cup old-fashioned oats (not quick cooking)
1 cup corn flakes
½ cup shredded coconut
½ cup chopped pecans
Instructions
Preheat the oven to 350 degrees F. Line baking sheets with parchment paper or silpat liners.
In a large bowl, cream butter using high speed of an electric hand mixer. Add sugar and beat on high speed until light and fluffy. Add egg and vanilla and beat well until combined.
In a medium bowl, whisk together flour, baking powder, baking soda, salt, and cinnamon. Add flour to creamed mixture and beat until combined.
In a medium bowl, stir together oats, corn flakes, coconut, and pecans. Add to creamed mixture and stir, using a spoon, until ingredients are combined.
Shape dough into 1-inch balls and place 2 inches apart on the baking sheets. Bake for 10 to 12 minutes. Cool cookies on baking sheet for 1 minute and then transfer to a wire rack to cool completely.
Recipe adapted from the Christmas Cookies from Southern Living
cookbook.
Disclaimer: This post contains affiliate links.