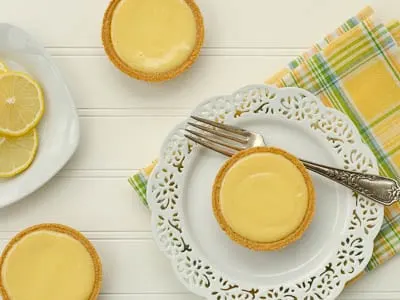 It is time for pie! Perhaps you want one all to yourself. Ever feel that way? I have. Although I am more of a cake person there are a few pies I could devour easily. One thing I am not so skilled at is the first slice. It looks like a mangled, broken wad of pie on a plate. This is something I need to work on since I'm a food blogger. Mangled pies don't look so good. At least slicing is not an issue with lemon pie tartlets.
I have not been a fan of lemon most of my life. There was a time when the only thing lemon I liked is my mother-in-law's pie. It has only been recently that I started enjoying the flavor. I even embraced it with a salad dressing. My tastes keep evolving as time goes by. My mother-in-law's pie is still my all time favorite. I adapted her recipe to make these tartlets.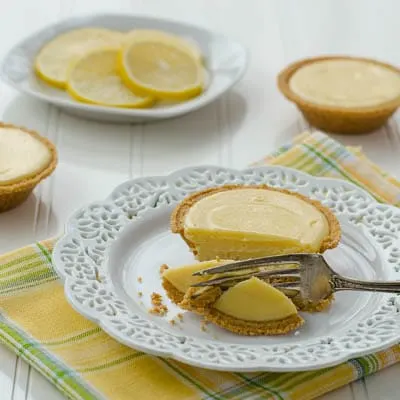 The pie crust is store-bought. I know, I know. It does make the tartlets super easy to make. No fussing with a crust or having to get mini tart pans. If you want to make a graham cracker crust and you have mini tart pans, then go homemade. The key to the flavor is the fresh lemon juice and zest.
Now you can have your pie and eat the whole thing! I think it would be fun to tell someone you just ate a whole pie. No need to admit it was only a little lemon pie tartlet. Your secret is safe with me. Oh and on the subject of crusts…what is your secret to the perfect pie crust?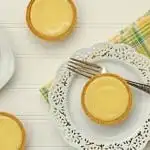 Lemon Pie Tartlets
An easy recipe for lemon pie tartlets. Fresh lemon juice and zest give the tartlets fresh flavor.
Ingredients
1

package of 6 graham cracker tart shells

1

can sweetened condensed milk

14 ounces

3

egg yolks

6

tablespoons

fresh squeezed lemon juice

1/2

to 1 teaspoon grated lemon zest
Instructions
Preheat the oven to 350 degrees F. Place the tart shells on a baking sheet. (Do not remove the crusts from the little aluminum pie pans)

In a medium bowl, whisk together the sweetened condensed milk and egg yolks. Stir in the lemon juice and zest. (The more zest the stronger the lemon flavor). Fill the tart shells with the lemon filling mixture.

Bake the tartlets for 15 minutes. Cool tartlets to room temperature and then refrigerate for at least 2 hours. Serve and enjoy!
Recipe Notes
An easy recipe for lemon pie tartlets. Fresh lemon juice and zest give the tartlets fresh flavor.