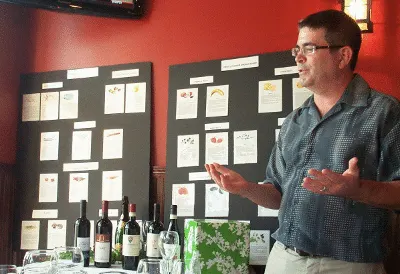 My favorite local pizza restaurant had their first wine tasting. 15th Street Pizza & Pub had recently moved to a new location with much more room. At the new location, they expanded their wine list and offer a greater selection than before. The new wine list is a very good one and features wines you do not find anywhere else in the area. They also went the extra step to serve wine in Riedel glasses which is quite wonderful. I had suggested to one of the owners, Dennis, for them to have a wine tasting. Actually I suggested it a few times and I am so glad I did!
"Discovering the Wines of Italy" Wine Tasting and Aroma Challenge featured 7 Italian wines and a fun game of identifying 20 different aromas with prizes for the top 2 scores. The event was also an opportunity for 15th Street to get feedback on wines they may add to their selection. There was a table set up of specially prepared food for the tasting. The cheese tray and caprese salad were my favorites (great appetizers – hint hint 15th Street).
Master Sommelier Michael McNeill began the evening with an introduction followed by a Master Sommelier's Secrets of Tasting overview about the aromas found in wines from fruit to non-fruit, the categories within each, and the individual ones like vanilla and pear. Michael discussed reading Italian wine labels, the grape varieties of Italy, and then outlined the aroma challenge. The tasting would be by region; Veneto, Tuscany, Campania, and Piemonte. After all the introductory information we were excited and ready to start the tasting.
Bisol Desiderio Jeio Cuvee Rosé Prosecco from Veneto was the first wine of the tasting. This is a beautiful pink sparkling wine that tastes as good as it looks. I am a fan of prosecco as it is a nice bubbly and not as expensive as champagne. The Jeio prosecco full of fresh fruit and citrus flavors. It is crisp and a great apéritif to go with appetizers. I wish I had a photo of the label to share but the ones taken were attacked by the blurry gremlin.

Tommaso Bussola Ca' del Laito Valpolicella Superiore Ripasso from Veneto was the second wine and completely different from the prosecco. This wine is almost like a Madeira or port with flavors of chocolate and dried fruits. I would drink this wine after dinner just like I would a Madeira. I hope 15th Street will add this wine their list. It would be nice to have it to sip on after a meal while enjoying company of the locals at the bar.

Avignonesi Rosso di Montepulciano from Tuscany was the third wine. It has bright red fruit, tartness, and seemed very dry and high in tannins (or as I describe it as a tongue scraper). It needs to be served with food and not one for sipping only. It was my least favorite of the evening however others at the table enjoyed it.

Cantine Antonio Caggiano Aglianico Irpinia Tari from Campania was the fourth wine. Not as dry/tannic as the Montepulciano we tasted so it was a little smoother and easier to drink. It has a deep garnet color. It is more of a winter wine with flavors of black fruits and wild spices. Aglianico is the noble varietal from the region of Campania. It would be great with a hearty beef stew or heavy pasta dish.
Elio Perrone Tasmorcan Barbera d'Asti from Piemonte was the fifth wine and my favorite of the tasting. I could drink this wine every day. Light, fruity, and smooth from start to finish. I have had several Barberas and I am putting this one at the top of the list for now. (Never know what the future holds). It would be a great addition to 15th Street's wine list. This wine is versitile and would go with many foods. Great summer red wine.
Langhe Produttori del Barbaresco Nebbiolo from Piemonte was the sixth wine. This wine has dark fruit and mineral flavors. It is a bit higher in tannins and goes better with food. After this tasting, it seems to me a lot of Italian wines were made to be enjoyed with food. I can see big Italian meals with many bottles of wine. Nebbiolo is a noble grape and this wine is a good choice if you have not tasted Nebbiolo before. Good everyday wine.

Elio Perrone Bigaro Rosé from Piemonte was the seventh and final wine. What a better way to end the tasting than with this delicious sweet treat! This wine is another beautiful one. It actually changes color when poured into the glass. It goes from a pink to a salmon color. It is a sparkling wine but not as bubbly as a prosecco or champagne. Peaches, apricots, honeysuckle, and cotton candy flavors. My parents would love this wine and so would anyone who drinks sweet wines.
Thank you Dennis and Katie (and Patrick too) for having the event. May it be the first of many wine tastings at 15th Street Pizza. I enjoyed Michael's presentation and the information he provided. I learned so much more about Italian wine and feel more prepared for selecting Italian wine.
Wine tastings are even more fun with friends. It was Ladies Night Out and we had a blast! We laughed, we learned, we drank, we ate, but we did not drive. (Thanks to a couple of husband chauffeurs). I cannot wait for the next wine tasting adventure. Cheers!