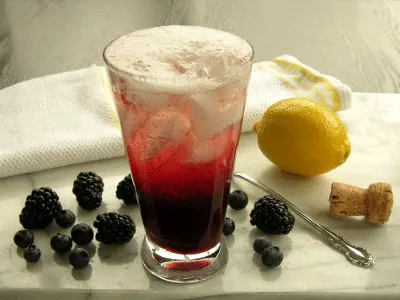 The Holiday Recipe Club and blog hop today features recipes having at least one of three flavors: wine, white chocolate, and/or marscapone. As it turns out, the fine folks at Driscoll's Berries had sent some recipes to me to try. One of them really sparked my interest: Blackberry Cobbler Cocktail. Although I am primarily a red wine drinker, I do enjoy a nice cocktail on occasion.
This cocktail has dark fruit flavors found in red wine. Blackberry, blueberry, and black currant are all in there. The gin gives it a bit of spice. A splash of sparkling wine gives it a bit of fizz for a lovely, festive beverage. Full of anti-oxidant real fruit juices, it packs a dose of healthy into the mix. The fruit flavors really shine and blackberry lovers will enjoy it a great deal.
Cobblers are popular here in the South. I have had and made many cobblers and crisps, including a Blueberry Crisp. With the availability of blackberries now at the store, I can use the leftover topping from that recipe to make a quick blackberry crisp. Or I will use the blackberries to make this cocktail for my friends. New Year's Eve is almost here and it would be another excuse to pop open the bubbly!
Thanks to Erin (@BigFatBaker) for inviting me to participate in the Holiday Recipe Club and blog hop again. Thanks also to Driscoll's Berries for the recipe of this delicious cocktail. Are you a blogger and would like to participate in the next Holiday Recipe Club event? If so, click on this link → Holiday Recipe Club.
Please take the time to visit the other posts with wonderful recipes by Holiday Recipe Club bloggers. Just click on the links below.
[print_this]
Blackberry Cobbler Cocktail
Recipe courtesy of Driscoll's Berries (adapted)
5 ripe blackberries, plus extra for garnish
10 ripe blueberries
1 ounce fresh lemon juice
1 ounce simple syrup
½ ounce gin (Driscoll's recommends Bulldog brand)
½ ounce Crème de Cassis
Splash of sparkling wine (Driscoll's recommends Yellow Tail Bubbly)
In a mixing glass, muddle 5 of the blackberries with the blueberries, lemon juice, and simple syrup. Add the gin and Crème de Cassis. Top with ice and shake vigorously. Pour into a tall glass (strain if you do not want skins and seeds in the drink). Top with the sparkling wine. Stir from the bottom up. Garnish with the remaining blackberries.
[/print_this]