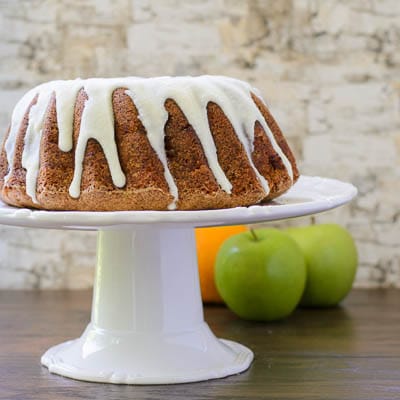 Another month has flown by. It seems like yesterday when #BundtAMonth celebrated berries. I baked a Orange Blueberry Yogurt Bundt and this cake too because I got the themes mixed up (oops!). Back when I heard the swirly theme I wondered what to do. Should I bake a cake with a swirl in it or one in a swirly pan? I even thought about doing swirly decorations however I'm not that talented with a piping bag. I went right for my little bundt cookbook and there it was: Apple Swirl Bundt Cake.
The recipe did not call for swirling. The only thing I can figure is the apples make a swirl when baking. The test was to see how it looked when sliced. As you can see in the photo, it kind of looks that way. I'll go ahead and call it swirls.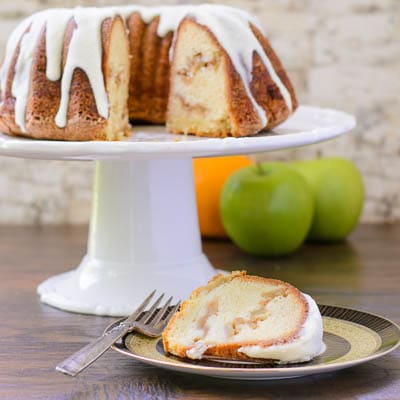 Adapting the recipe was quite fun. The original one called for a cup of oil. I've used oil for several cakes although I prefer butter. This time I decided to go with browned butter. I thought it would give an extra flavor boost over plain oil. It sure did. I'm certain I'll do this with just about any cake recipe calling for oil from now on. How to top a cake with browned butter? Make a glaze with it. Oh yes! It's double good.
How does the cake taste? Well, it was another one of those times I'm glad no one had video going when I tasted it. I was in the kitchen and broke off the corner of a slice. About two seconds later the slice was gone. I probably looked like one of those chipmunks with their cheeks full. Should I really admit that? Oh well, the truth is the truth. My husband liked the cake very much too. Apples, cinnamon, browned butter, and a touch of orange juice all swirled together in a cake. What a wonderful combination!
What do you think of when you hear "swirly cake"? Is it what is on the inside or how the outside looks? Scroll down past the recipe to find what other cakes were baked for this month. You can join the the fun too. Details are below.
Apple Swirl Bundt Cake with Browned Butter Glaze
Yield:
Makes 1 bundt cake, about 12 servings
Ingredients
For the cake:
8 tablespoons (1 stick) unsalted butter
½ cup vegetable or canola oil, plus more if needed
3 cups all-purpose flour
1 tablespoon baking powder
½ teaspoon salt
3 tart apples (Granny Smith recommended)
2 cups plus 3 tablespoons granulated sugar, divided
1 teaspoon cinnamon
4 eggs, at room temperature
¼ cup orange juice
2 teaspoons vanilla extract
For the glaze:
4 tablespoons (1/2 stick) unsalted butter
1 cup confectioners sugar
4 tablespoons half-and-half or milk, plus more if needed
Instructions
For the cake:
Preheat the oven to 325 degrees F. Grease and flour a 10- or 12-cup bundt pan.
In a small skillet (stainless steel recommended), melt butter over medium heat. Continue to cook until it turns light amber in color. Watch carefully and do not burn. Pour browned butter through a fine mesh sieve into a measuring cup. Add enough oil to make 1 cup. Set aside.
In a medium bowl, add flour, baking poweder, and salt. Whisk to combine and set aside.
Peel, core, and chop apples into small pieces. Place the chopped apples in a large bowl. Sprinkle with 3 tablespoons sugar and 1 teaspoon cinnamon. Stir to coat apples with sugar and cinnamon. Set aside.
In a large bowl, add the remaining 2 cups of sugar and butter/oil mixture. Using an electric mixer on high speed, beat for 2 minutes to combine.
Add the eggs, one at a time, beating well after each addition.
Add the orange juice and vanilla and beat to combine.
Add the flour mixture and beat on medium speed until smooth and combined. Do not over-mix.
Pour one third of the batter into the prepared bundt pan and spread evenly. Spread one half of the apples evenly over the batter. Repeat layers. Top with remaining batter and spread to cover the apples.
Bake for 1 hour or until a cake tester or toothpick inserted into the center of the cake comes out clean.
Cool cake in the pan for 15 mintues. Remove cake from pan and cool completely on a wire rack.
For the glaze:
In a small skillet (stainless steel recommended), melt butter over medium heat. Continue to cook until it turns light amber in color. Watch carefully and do not burn. Pour browned butter through a fine mesh sieve into a small bowl. Set aside to cool to room temperature.
Add the confectioners sugar to the bowl with the browned butter. Add the half-and-half 1 tablespoon at a time, stirring to combine until smooth. Add more half-and-half if needed to get to desired consistency for drizzling on cake.
Drizzle glaze over cooled cake.
Recipe adapted from one in the Bundt Cookbook by Nordic Ware 2004 edition. (Book currently out of print).
Ready for more bundts? These 16 gorgeous swirly cakes in every form will be inspiration enough for you to bake with us this month:
Here's how you can be a part of Bundt-a-Month:
Simple rule: Bake a swirly cake for June
Post it before June 30, 2013
Use the #BundtaMonth hashtag in your title. (For ex: title could read – #BundtaMonth: Swirl Bundt)
Add your entry to the Linky tool below
Link back to our announcement posts
Even more bundt fun! Follow Bundt-a-Month on Facebook where we feature all our gorgeous bundt cakes. Or head over to our Pinterest board for inspiration and choose from hundreds of Bundt cake recipes.
Happy Baking!