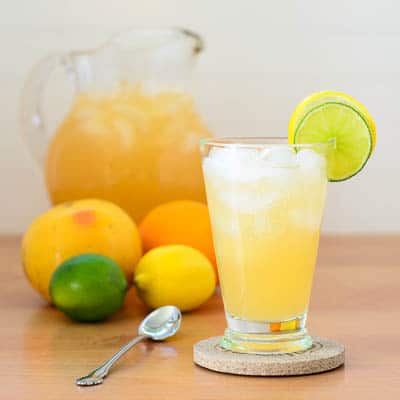 My neighborhood had a mid-summer social. It was an outside event by the pool with music and ice cream treats for everyone. Being on the social committee, I was assigned the job of handing out tickets for the ice cream. We had contracted an ice cream truck and gave everyone a ticket to redeem for a treat. I thought I would be able to hand out the tickets in the nice cool air-conditioned clubhouse but a lightning strike the night before took out the a/c unit.
I knew I needed an icy cold drink to stay cool. It was a super hot day. I usually take wine when it is BYOB but not this time because of the heat and glass is not allowed at the pool. I was in the mood for something citrus-y but didn't want the typical bottled mixer or pre-mixed drink. I also did not want plain orange juice. I decided to go to the grocery store and see what I could find. I wandered around and came up with the idea of mixing lemonade, fruit juices, and vodka. When I got home I mixed the ingredients together and from the first taste I knew the recipe was a keeper. Delicious!
This citrus cocktail is not too sweet or too tart. You can leave out the vodka and for a nice non-alcoholic fruity beverage to drink at any time. It is very refreshing and loaded with good vitamins from the fruit juices. You can easily adjust the amount of each juice to your taste. Happy sipping!
Refreshing Citrus Cocktail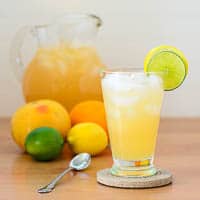 59 ounces lemonade (I used Simply Lemonade®)
Juice of 6 limes
Juice of 2 large oranges
1 cup unsweetened red grapefruit juice
Vodka
Combine the lemonade and the fruit juices. Strain to remove pulp. In a glass filled with ice add a shot of vodka and fill with juice blend. Stir. Garnish as desired. Enjoy!
http://magnoliadays.com/2011/refreshing-citrus-cocktail/
Copyright Magnolia Days - http://magnoliadays.com/
You may also like...
Subscribe to Magnolia Days by Email