Print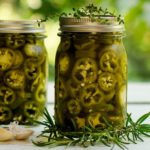 Refrigerator Pickled Jalapeños with Herbs
A recipe for and how to make refrigerator pickled jalapenos with herbs using fresh jalapeño peppers, fresh herbs, garlic, and peppercorns.
2

tablespoons

chopped fresh herbs

such as rosemary and thyme

2

garlic cloves

chopped

20

mixed or black peppercorns

20

to 25 medium to large jalapeño peppers

1 1/2

cups

white vinegar

1 1/2

cups

water

3

tablespoons

kosher or pickling salt

not table salt
Place 1 tablespoon of herbs, 1 chopped garlic clove, and 10 peppercorns in the bottom of two 1-pint mason jars.

Use vinyl or latex gloves when chopping and handling the jalapeños to protect your hands from the capsaicin in the peppers (will cause burning

sensation).

Cut jalapeño peppers into 1/4- to 1/3-inch slices. Discard tops and stems of the peppers.

Add jalapeño slices to the jars, pressing down to pack them tightly.

Bring the vinegar, water, and salt to a boil in a saucepan. Cook until salt is dissolved.

Carefully pour the hot liquid into the jars to cover the peppers.

Cool to room temperature. Put the top lid and ring on the jars. Chill. Allow to marinate for 3 days before using.
Time stated is hands-on and does not include marinating for 3 days prior to using.