Print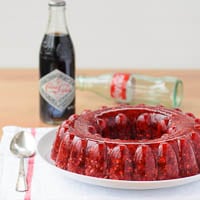 Coca-Cola Salad
A recipe for Coca-Cola salad, a gelatin salad made with Jello, Coca-Cola, cherries, pineapple, and nuts. Serve it as a side dish or dessert.
Place the Jello in a large bowl. Pour the boiling water over it and stir until dissolved. Stir in the Coca-Cola. Refrigerate mixture until partially firm, about 30 minutes. NOTE: check and stir every 3 to 5 minutes. You want it a thickened but not set.

Place the cherries and juice in a food processor fitted with a knife blade or in a blender. Pulse or blend a few times to lightly chop the cherries.

Once the Jello mixture has thickened, stir in the chopped cherries and it's juice, pineapple and it's juice, and pecans. Pour into a Jello/gelatin mold. Refrigerate until set or overnight. Remove salad from the mold by inverting onto a serving platter. Serve cold.
If you do not have a Jello or gelatin mold then you can leave it in the large bowl. Invert onto a serving dish when ready to serve.