Print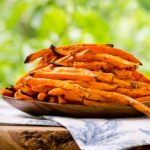 Baked Sriracha Sweet Potato Fries
Baked Sriracha Sweet Potato Fries have tasty sweet/hot combination. They are fries for spicy food fanatics and anyone wanting to kick up the ordinary.
Position oven racks to leave about 4 inches between them. Preheat oven to 425°F. Place wire racks inside rimmed baking sheet pans (half sheet pans).

Peel and cut sweet potatoes into even sticks about 1/4-inch thickness.

Lay a sheet of aluminmum foil on work surface. Place cut sweet potatoes on foil.

Drizzle potatoes with oil and sriracha seasoning. Toss to coat evenly.

Transfer coated sweet potatoes onto the wire racks leaving at least 1/4-inch space between them. Discard foil.

Bake for 10 minutes then rotate pans (switch them between racks). Continue baking for about 20 minutes and rotating pans every 10 minutes until potatoes are dark brown on the edges and cooked through.
These fries have a similar texture to roasted potatoes (soft on the inside and only slighly crisp on the outside). For crispier fries, toss them with cornstarch and shake off excess before tossing fries with oil and seasoning.