Print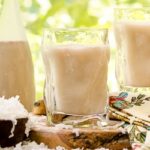 Horchata de Coco (Mexican Coconut Rice Drink)
Horchata de Coco is a popular Mexican sweet coconut rice drink. It's a dairy-free, creamy, and cold beverage made with white rice, rice milk, and coconut.
Place coconut and rice in a blender. Pour boiling water on top. Allow to set for 15 minutes.

Blend 1 minute on high speed.

Strain mixture through a fine mesh sieve into a bowl, pressing mixture with a spoon or silicone spatula to remove as much liquid as possible. Discard solids.

Add coconut milk, rice milk, sugar, vanilla, and cinnamon. Whisk to combine and until sugar dissolves.

Transfer mixture to a pitcher. Chill thoroughly.

Serve chilled over ice.
Time stated does not include time for chilling prior to serving.