Print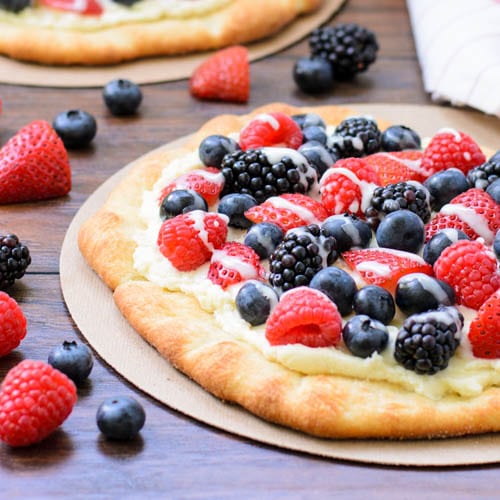 Summer Berry Pizza
A recipe for a summer berry pizza topped with mascarpone cheese and fresh summer berries; strawberries, blueberries, raspberries, and blackberries.
Servings
1
large or 4 small pizzas
Place a pizza stone on the bottom oven rack.* Preheat oven to 425 degrees F.

If making smaller pizzas, divide the dough into 4 equal pieces.

Roll, stretch, or pat out the dough to about 1/4-inch thickness on a rimless sheet or pizza peel lightly dusted with cornmeal or flour.

Brush the dough with melted butter.

Transfer the crust to the stone and bake until golden brown, about 7 minutes.

Cool baked crust completely on a wire rack.

Stir together the mascarpone cheese, lemon juice, and honey in a bowl.

Spread cheese mixture over the cooled crust. Top with berries.

Stir together confectioners sugar, vanilla, and enough milk for a drizzling consistency.

Drizzle glaze over berries.
*If you do not have a pizza stone, you can bake the crust on a baking sheet lined with parchment or non-stick liner.