It rarely snows here in winter. The South does not have the pristine beauty of a snow-covered landscape often. Brown, dormant lawns and leafless trees prevail. Thankfully, there are hints of color with a few evergreens and seasonal flowers. I became more aware of the beauty found in winter when I started my Project 365 this year. Capturing nature in photographs has added to my passion for gardening. It gives me even more drive to make my surroundings beautiful.
Winter gardening includes preparing for spring. Landscape plants, trees, flowers, and indoor plants need attention during winter. Prevention of weeds, insects, and disease is vital to a healthy garden. What you do in the off-season impacts the rest of the year. Here are a few items to do before spring arrives (most apply to southern plant zone 8-a):
Service lawn equipment. Sharpen blades and trimmers.
Check trees for branches to prune later in the growing season.
Plant or transplant shrubs and trees.
Give houseplants a turn weekly to prevent leaning.
Check indoor plants for insects and treat as needed.
Till your garden soil to reduce weeds and insects.
Spread pre-emergent on lawns (note: depends on your type of grass).
Spread weed preventer on flower beds (use caution around bulbs or use one specifically for bulbs or they may not grow)
Trim down liriope using the highest setting of your lawn mower or with a power string trimmer.
There are more detailed lists available. I use the seasonal gardening calendar by Walter Reeves, master gardener. I also use the monthly tips from Wilson Bros, my favorite local nursery. Both take the guess-work of knowing what to do when. They have been valuable resources in my gardening journey.
I have captured a variety of colors this winter. It includes the bright yellow of the voila above and the mixture of colors in these: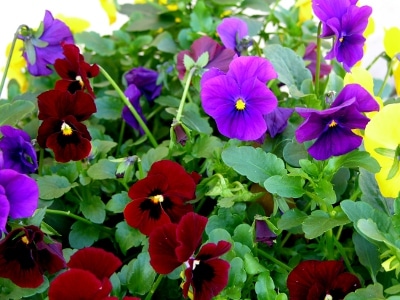 The tiny orange spikes in moss growing on a block wall:
The bright red of nandina berries:
The green of Autumn Fire Sedum emerging from the ground:
The pink flower of winter daphne against the green leaves:
The pink blossoms of a cherry tree against the blue sky:
The white of a miniature rose blooming inside:
The purple of streptocarpella flower from a plant I am rooting inside:
The purple of a miniature grape hyacinth growing randomly by rocks:
I originally thought the miniature grape hyacinth was a weed. I do mean miniature, as the flower top is only 1 inch tall (the photo is a real close-up). It does not look like the ones sold in nurseries. To say it is growing randomly by rocks is not the complete story. It is growing where nothing else has survived. It is in a spot that gets little, if no, sunlight. I know what has been planted in that area and it was never grape hyacinths. I can only figure it washed down from one of the homes up the hill. How it survived there and keeps coming back every year is a complete mystery. Nature continues to amaze and delight. Seeing a tiny plant survive in tough conditions is inspiring.
What beauty have you discovered in winter? Are you preparing for spring? Take the time to enjoy the wonders of nature and get your landscape ready for summer. Happy gardening!