It was the first day of school. My arms were heavy with books and notebooks. I walked down the hallway looking for my locker. The number and location were on a small piece of paper from the office. Kids all around were talking, laughing, and getting ready for the day. I knew there was little time before class. The combination to the lock would not work. I tried several times and became very frustrated. Suddenly the bell rang and I woke to find myself in bed and realizing it was another crazy dream. I went to the kitchen, poured a cup of coffee, and ate a couple of white chocolate chip oat cookies.
Cookies for breakfast? Well, they do have oats in them. They also have white baking chips, coconut and walnuts. A lot of flavors are packed in them. These are cookies I've made many times over the years. I found the original recipe in one of those little books by the cash register at the grocery store. It was way back in 1990. The cookies have been a hit wherever I've taken them. I've donated them to bake sales and they always sold quickly. The great thing is the recipe makes 5 dozen cookies (if you don't eat too much of the dough like, um, perhaps some people like me).
My back to school dream was sparked by a theme. There's a new group called the Creative Cookie Exchange where bakers and bloggers share recipes each month based on a theme. CCE is hosted by Laura of The Spiced Life and Rebecka of At Home With Rebecka. And this month's theme? You guessed it: Back To School. You can join in the fun too. Scroll down to see the details and find links to more great cookies.
What kind of cookie is your favorite? Do you like chewy, crunchy, soft, filled, or frosted? It varies with me and depends on my cravings. There's seasonal ones too like Christmas Crunchies. I see a lot of cookies in my future thanks to this new group. Stay tuned…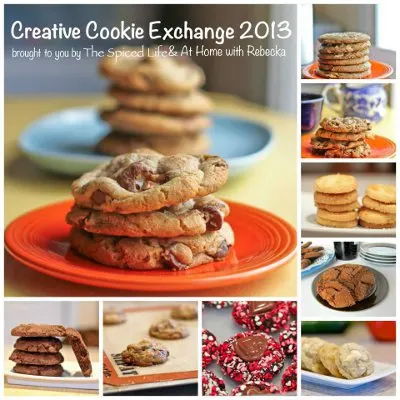 White Chocolate Chip Oat Cookies
A recipe for white chocolate chip oat cookies made with old-fashioned oats, white baking chips, coconut, and walnuts. These cookies are great for snacks and dessert.
Prep Time
1
hour
15
minutes
Total Time
1
hour
30
minutes
Ingredients
2 1/2

cups

unbleached all-purpose flour

1

teaspoon

baking powder

1

teaspoon

baking soda

1/2

teaspoon

salt

1

cup

unsalted butter

at room temperature

3/4

cup

granulaed sugar

3/4

cup

firmly packed brown sugar

3

eggs

1

teaspoon

vanilla

1

cup

sweetened coconut flakes

1/2

cup

old-fashioned or rolled oats

1/2

cup

chopped walnuts

1

package white baking chips

11 to 12 ounces
Instructions
Preheat oven to 350 degrees F. Line baking sheets with parchment paper or non-stick liner.

Whisk together flour, baking powder, baking soda, and salt in a medium bowl.

Cream butter, granulated sugar, and brown sugar in a large bowl using a hand mixer on high speed.

Add eggs one at a time, beating well after each addition.

Add vanilla and beat to combine.

Add flour and beat on low speed until just combined. Do not over-mix.

Stir in coconut, oats, walnuts, and white baking chips.

Drop by rounded tablespoons full 2 inches apart onto prepared baking sheets.

Bake for 12 to 14 minutes or until light golden brown.

Cool cookies on baking sheets for 1 minute. Transfer cookies to a cooling rack and cool completely.
Recipe Notes
A recipe for white chocolate chip oat cookies made with old-fashioned oats, white baking chips, coconut, and walnuts. These cookies are great for snacks and dessert.
Recipe adapted from one in the Pillsbury Classics Cookbooks Home Baking 1990 November Edition.
Want to join in the Creative Cookie Exchange fun? Here's how:
1. Write a blog post with recipe and original photo (please include some language here specific to that month's theme). We would like the recipe to be one you're making for the first time, and photos must be original.
2. Post the Cookie Exchange logo somewhere on your blog post so others can join in the fun: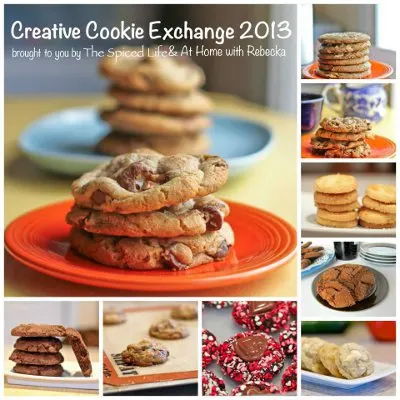 3. Make a good faith effort to visit and comment on the other cookies in the Linky party. We all love cookies so that should be easy!
4. LIKE the Creative Cookie Exchange Facebook Page
5. FOLLOW the Creative Cookie Exchange Pinterest Board
6. LINK your blog post below using the Linky tool
You can also just use us as a great resource for cookie recipes–be sure to check out our Facebook page, our Pinterest Board, and our monthly posts. You will be able to find them the first Tuesday after the 15th of each month! Below find the links to all of the exchanges we have had so far! Also, if you are looking for inspiration for this month's theme, check out what all of the hosting bloggers have made so far:
Peanut Butter No-Bakes from Cookie Dough and Oven Mitt