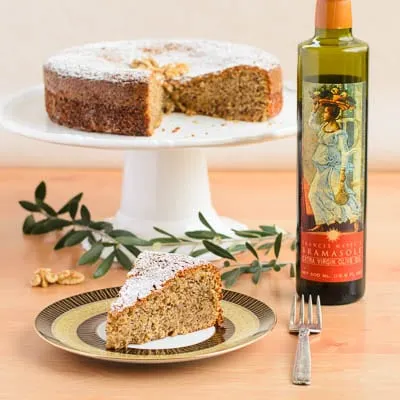 Raise your hand if you like olive oil. My hand is raised and I'm waving it like crazy. I love olive oil. I use it for most all of my cooking and salad dressings. One reason is the health benefits although my main reason is flavor. There is a wide range of flavors with olive oil. The type of olive, where it is grown, and how fresh it is are some of the factors. How I use it depends on the flavor too. Recently one inspired me to make a wonderful walnut olive oil cake.
Frances Mayes Bramasole Olive Oil is what inspired the cake. I was contacted recently to find out if I would like to try some olive oil. Well, yes, of course, absolutely. I'll try olive oil any day of the week. I've been to olive oil tastings. My pantry has quite an assortment. The oil arrived during the holidays and I set it aside. Yea, too busy. Once I got around to tasting it, I could kick myself for letting it set for a moment. It is so good I could almost drink it. Almost. Next closest thing is to soak it up into a piece of bread and try to stop eating it.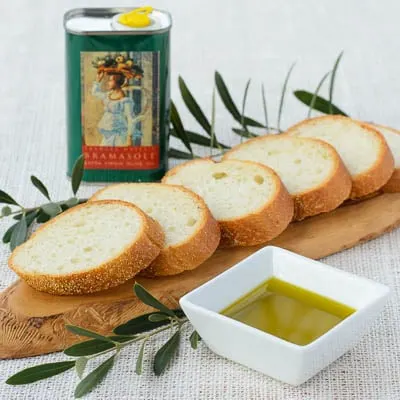 Bramasole is 100% Tuscan. The oil is made from hand-picked olives and is I.G.P. (Indicazione Geografica Protetta) certified for both origin and processing in Tuscany. It is pressed immediately and air-shipped so the freshness can be enjoyed right away. It is fruity, green, and a little "spicy". The fruitiness and spiciness is what made me think of cake. I've wanted to bake an olive oil cake for the longest time. I now had the perfect oil for it.
I decided on walnut olive oil cake after an extensive recipe search. Most all the recipes I found were orange or lemon. My citrus cocktail mini bundts had satisfied my citrus craving. I wanted something different. A nut cake was in order. I found a recipe calling for hazelnuts. Ever been through the process of peeling hazelnuts? It's a big pain. I would rather go with walnuts and I thought they would be right for the olive oil and it's fruity/spicy flavors.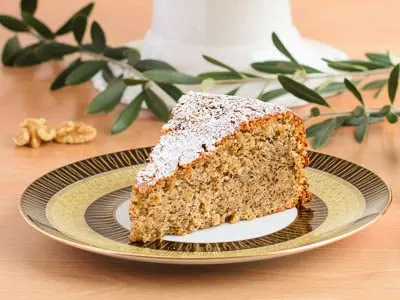 The cake sank a little in the center. No worries. The taste is what counts. The cake is moist, nutty, and has a hint of citrus from some lemon zest. Besides, you can fill in the sunken middle with some whipped cream or fruit. I would have went with whipped cream except a friend I was sharing it with does not eat it. I thought it looked pretty enough with the dusting of confectioners sugar.
Are you interested in Frances Mayes Bramasole Olive Oil? You can visit the website, The Tuscan Sun, for more information. It is a special olive oil and would be a real treat for yourself or a foodie friend. I am glad I had the opportunity to taste it. Special thanks to Chef Robin White for making it happen.
The beautiful olive branches are courtesy of my friend Terry – thanks for clipping them from your trees!
Walnut Olive Oil Cake
A recipe for an olive oil cake made with walnuts. A moist cake with a light dusting of confectioners sugar on top. It can be served with whipped cream or ice cream.
Total Time
1
hour
10
minutes
Ingredients
5 1/2

ounces

walnuts

lightly toasted and cooled

1

cup

unbleached all-purpose flour

1

tablespoon

baking powder

4

large eggs

at room temperature

1 1/2

cups

sugar

1/2

cup

extra-virgin olive oil

plus more for pan

1/2

cup

whole milk

at room temperature

Finely grated zest of 1 large lemon

1/2

teaspoon

vanilla extract

Confectioners sugar for dusting
Instructions
Preheat oven to 350 degrees F. Lightly coat a 9-inch springform pan with olive oil. Place the pan on a rimmed baking sheet and set aside.

Place walnuts in a food processor fitted with a knife blade. Chop nuts until finely ground.

Transfer the ground nuts to a bowl. Add the flour and baking powder and whisk to combine. Set aside.

In the bowl of an electric mixer fitted with a whisk, beat the eggs on medium-high speed until foamy or frothy, about 2 minutes. Slowly add the sugar in increments and beat until light pale yellow and thick, about 4 minutes. Gradually add the flour/nut mixture and beat until just combined. Add the oil, milk, lemon zest, and vanilla. Beat until just combined. Do not over-mix.

Pour the batter into the prepared springform pan. Bake until lightly browned and a cake tester or toothpick inserted into the center comes out clean, about 50 minutes. Cool cake completely in the pan on a rack. The center of the cake may sink during cooling. Remove cake from pan and transfer to a serving platter. Dust top with confectioners sugar. Slice, serve, and enjoy.
Recipe Notes
A recipe for an olive oil cake made with walnuts. A moist cake with a light dusting of confectioners sugar on top. It can be served with whipped cream or ice cream.
Recipe adapted from one on the La Cucina Italiana website.
Disclosure: I received a 2013 engagement calendar, one bottle and one tin of Bramasole olive oil at no charge. I was under no obligation to give a positive review. All opinions are my own except otherwise noted or within a guest post.