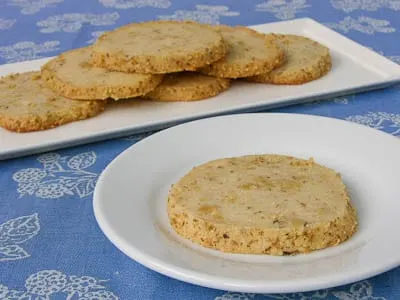 Martha Stewart made these cookies for me. Well, that might be stretching it a little lot. It is more like Martha's team arranged for these cookies to be made for me at her book signing (okay, okay…me and a few other people). It was an interesting experience for sure. It was the first time I had ever been to a celebrity book signing. It is also where cookies were a highlight and these walnut cream cheese cookies came into my life.
My friend Terry invited me to the book signing. We got our limited tickets and was excited about going. It was held at the Georgia Aquarium. The Titanic exhibit was going on there at the same time. We thought we would leave early, check out the exhibit, and then go to the book signing. We had our limited tickets so there wasn't any hurry. We saw the exhibit and walked across the aquarium to the signing. And there we joined a few thousand other people. So much for "limited" tickets.
The line was incredibly long. It snaked through room after room. We waited, and waited, and then waited some more. Then suddenly these people appeared carrying trays of cookies and milk. At that moment they were the most popular people ever. I had at least one of every kind of cookie they offered. The walnut cream cheese cookies were both Terry's and my favorite. I knew I would be baking them one day.
Here is a photo of me during my two seconds with Martha. She may have looked up at smiled at me. At least she signed my copy of her cookbook.
Here is a photo of Terry with Martha. Terry actually got Martha to look up and speak to her. All the time spent waiting in line was worth it to her at that moment: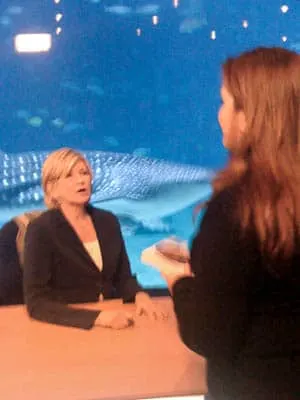 I baked the cookies a few times after the event. Terry's daughter Casey tried them and loved them. She asked if I would make them again for her when she went off to start her first year of college. That was a couple of years ago. This summer Casey spent a quarter at SCAD in Lacoste, France. While she was there she asked if I would make them for her again. It was my pleasure to bake another batch of these to for her to take with her when she left for her third year of college.
Have you been to a celebrity book signing? If so, who was it? I'm glad I went to this one and discovered these cookies and Martha Stewart's Cookies
cookbook. The recipe is slightly adapted to reflect my method of preparation. You can find the original recipe on page 159 in her book. Click on the photo to order it from Amazon (affiliate link).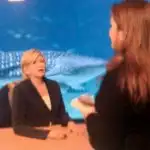 Walnut Cream Cheese Cookies
A recipe for homemade walnut cream cheese cookies. The slice and bake dough can be made in advance and frozen for up to two weeks.
Ingredients
4

cups

all-purpose flour

1 1/4

teaspoons

kosher salt

2

cups

unsalted butter

4 sticks, at room temperature

6

ounces

cream cheese

at room temperature

1 1/4

cups

sugar

2

tablespoons

plus 1/2 teaspoon vanilla extract

2 1/2

cups

walnut halves

1 1/2 cups toasted and coarsely chopped, 1 cup finely chopped, divided
Instructions
In a large bowl, whisk together flour and salt.

In the bowl of a mixer fitted with the paddle attachment, add the butter and cream cheese. Mix on medium speed until light and fluffy, about 2 minutes, scraping down the sides as needed. Add the sugar and vanilla, and mix until well combined. Add the flour and mix on low speed until just combined (do not over mix). Mix in the toasted walnut pieces.

Transfer dough to a work surface and divide in half. Shape each half into a log, 8 1/2 inches long and 2 inches in diameter. Wrap each log in parchment paper and freeze overnight or up to 2 weeks.

Position oven racks in the upper and lower thirds of the oven. Preheat the oven to 350 degrees F. Take out one log from the freezer and let it set out for 30 minutes. Unwrap the log and roll it in the remaining chopped walnuts, coating completely. Slice into 1/4-inch rounds. Space 1 in apart on baking sheets lined with parchment paper or a silpat.

Bake cookies for 18 to 20 minutes, rotating halfway through, until golden around the edges. Let cookies cool completely on the baking sheets on wire racks. (Do not remove cookies from baking sheet until completely cooled). Repeat with remaining log and walnuts. Store cookies in a airtight container at room temperature up to 3 days.
Recipe Notes
A recipe for homemade walnut cream cheese cookies. The slice and bake dough can be made in advance and frozen for up to two weeks.