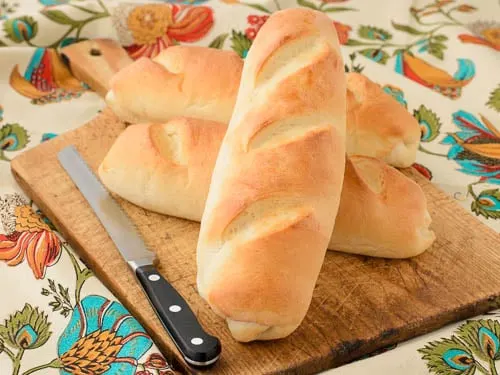 Bread is an essential part of a sandwich. The type of bread can define what kind of sandwich. Such is the case with a sub (or submarine). Subs are near and dear to me. They are special in that I rarely make them at home. My idea of getting fast food is stopping by the local deli to get one. That has changed recently after I baked Vienna Hoagie Buns.
Why did I bake these buns? It is for the June Twelve Loaves challenge. As I was baking I thought about my recent post on Brötchen and sharing German food. Well, this is close because Austria is next door. I don't think these are a traditional Austrian recipe, only that they are a type of roll or bun. They have a "chewy" inside and a semi-hard outside. They are not hard or as crunchy as Brötchen. They make a wonderful sub sandwich.
What sandwich did I make with these buns? Well, it's kind of funny because it was quite German. I grilled bratwurst and made braised sauerkraut. I sliced open the buns and stuffed them with some mustard, a bratwurst, and topped it with sauerkraut. We feasted on them along with potato chips. It was a great meal and one I could have again and again. My next homemade sub will probably be Dagwood-style with lots of meats, cheeses, and toppings.
May Twelve Loaves is all about summer buns. They can be sweet, savory, big, or small. Take a look at what the talented bakers have to share:
#TwelveLoaves June: Summer Buns. Summer is all about lazy mornings and easy lunches. Outside barbecues and lots of grilling! Share your favorite summer bun recipe (sweet or savory). Let's get baking!
Want to join the #TwelveLoaves group? It's easy!
When you post your Twelve Loaves bread on your blog, make sure that you mention the Twelve Loaves challenge in your blog post; this helps us to get more members as well as share everyone's posts. Please make sure that your bread is inspired by the theme!
Please link your post to the linky tool at the bottom of my blog. It must be a bread baked to the Twelve Loaves theme.
Have your Twelve Loaves bread that you baked this June, 2013, and posted on your blog by June 30, 2013.
Happy Baking!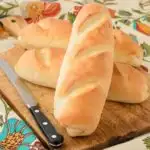 Vienna Hoagie Sandwich Buns
A recipe for Vienna Hoagie Buns that are great for sandwiches. These white buns have a chewy inside and a crisp crust on the outside.
Ingredients
5 1/2

to 6 1/4 cups all-purpose flour

2

packages active dry yeast

1/4 ounce each

1

tablespoon

sugar

1

tablespoon

salt

1 1/4

cups

water

1

cup

whole milk

1

tablespoon

shortening

1

egg white

1

tablespoon

water
Instructions
In the bowl of a stand mixer, combine 2 1/2 cups flour, yeast, sugar, and salt. Whisk to combine.

In a small saucepan, heat 1 1/4 cups water, milk, and shortening until 120 to 130 degrees F. (Shortening will not melt)

Add warm liquid to the bowl and stir to combine. Place bowl on stand mixer with the flat beater. Add 1 cup of flour and mix on medium-low speed for 3 minutes.

Switch flat beater to dough hook. Turn mixer to speed recommended for using the dough hook. Gradually add enough remaining flour to make a firm dough.

Knead with the dough hook for 4 to 5 minutes. While dough is kneading, grease a large bowl.

Turn dough out on a lightly floured surface and hand knead a few times until the surface is smooth and elastic.

Place dough in the greased bowl and turn to coat surface. Loosely cover with plastic wrap or a tea towel.

Let rise in a warm place (72 - 75 degrees F) until doubled, about 1 hour.

While the dough is rising, grease two baking sheets.

Punch down dough. Divide into 8 equal pieces (recommended to use a scale).

Roll or pat each piece to an 8- X 4-inch rectangle. Start with the longer side and roll up tightly while pressing dough into roll with each turn. Pinch edge and ends to seal.

Place buns on the cookie sheets, 4 per sheet and spaced equally apart.

With a serrated or very sharp knife, cut 2 to 3 slashes across the top of each bun.

Cover buns with a tea towel and let rise until double, about 20 minutes.

Pre-heat oven to 425 degrees F. In a small bowl, whisk together the egg white and 1 tablespoon of water to make an egg wash.

Brush egg wash on tops of buns.

Bake buns for 15 to 20 minutes, until golden-brown. Rotate buns half way through baking for even browning.

Remove buns from cookie sheets and cool on a wire rack.
Recipe Notes
A recipe for Vienna Hoagie Buns that are great for sandwiches. These white buns have a chewy inside and a crisp crust on the outside.
Recipe adapted from one in the Red Star Centennial Bread Sampler cookbook published in 1981 (currently out of print).