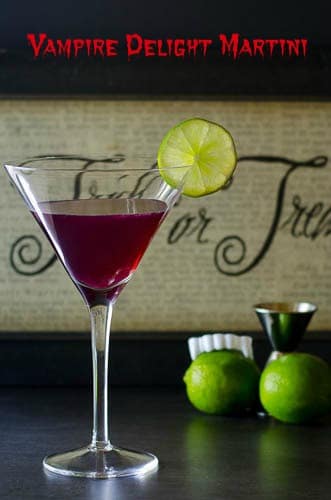 He planned the decoration for a while. Branches and leaves were cut and gathered to create a woodsy scene. He placed them around an aluminum wash tub filled with red-colored water. A light was hung to shine down on the tub. The setup was next to the steps leading up to the door. Right before it was time for trick-or-treaters to arrive, he dropped dry ice in the tub. It started to bubble and mist rose and fell all around. I thought it was the coolest thing ever and I'll never forget my dad and that Halloween. Remembering that night and the red-colored water is what inspired me to make a Vampire Delight Martini.
Halloween has evolved for me over the years. Of course, it began as dressing up in a costume and going trick-or-treating. As a young adult I would get loads of candy to hand out to trick-or-treaters. Then came a phase of not celebrating at all. The past several years has been a big celebration with my friend Terry. It is her favorite time of year and she does it up big. It's her Trick or Treat sign I borrowed for the photos. I'm usually responsible for bringing wine however this year I'll bring martinis too.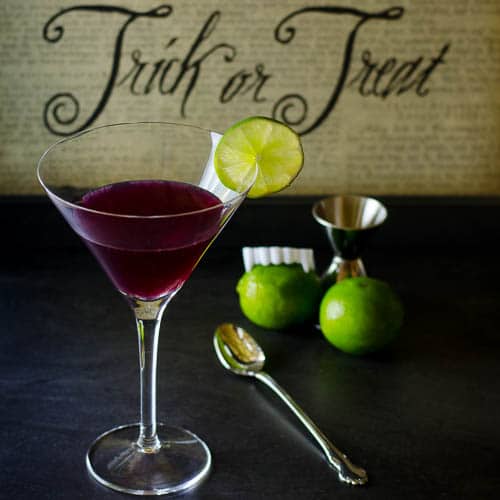 The martini has a deep red color. It comes from pomegranate-blueberry juice. Using only pomegranate juice came out pink after adding vodka and lime juice. The blueberry part gave it the right color and more flavor. A touch of simple syrup or vanilla syrup sweetens is enough to balance the tartness of pomegranate. Omit the syrup if you prefer a more tart martini. Shake it up and serve it to vampires, other creatures of the night, and regular folks at your celebration.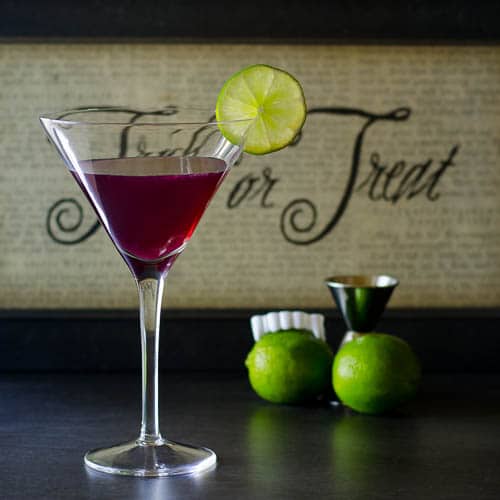 What is your favorite treat for Halloween? It is homemade or store-bought? While I enjoy chocolate trick-or-treat candy from the store, homemade goodies are the best. Scroll down to see more recipes from the Holiday Food Party bloggers. Oh, and check out my Jack O Lantern cookies – they are a lot of fun to make all the different faces on them. Then afterwards it's time to relax and sip on a Vampire Delight Martini. Cheers!
Vampire Delight Martini
A recipe for Vampire Delight Martini made with pomegranate, blueberry, and lime juices, vodka, and simple syrup. A great cocktail beverage for Halloween.
Ingredients
2

ounces

pomegranate-blueberry juice

1 1/2

ounces

vodka

1/2

ounce

fresh lime juice

1/2

teaspoon

simple syrup or vanilla syrup

Lime slice or wedge for garnish
Instructions
Add pomegranate-blueberry juice, vodka, lime juice, and simple syrup to a cocktail shaker filled with ice.

Shake vigorously and strain into a chilled martini glass.

Garnish with a lime slice or wedge if desired.
Recipe Notes
A recipe for Vampire Delight Martini made with pomegranate, blueberry, and lime juices, vodka, and simple syrup. A great cocktail beverage for Halloween.
Halloween is coming soon. Are you ready for it? I've teamed up with some very talented blogger friends to share recipes for a fun and tasty celebration. It's a fabulous Halloween Food Party for sure! Special thanks to Jen at Jen's Favorite Cookies for hosting this event. Check out what we have to share: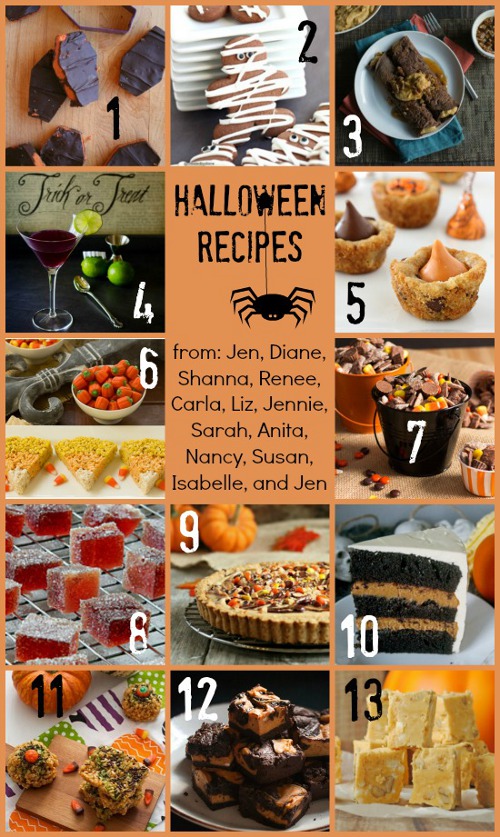 Get the best Southern food, wine, and gardening tips!
Subscribe to get our latest content by email.