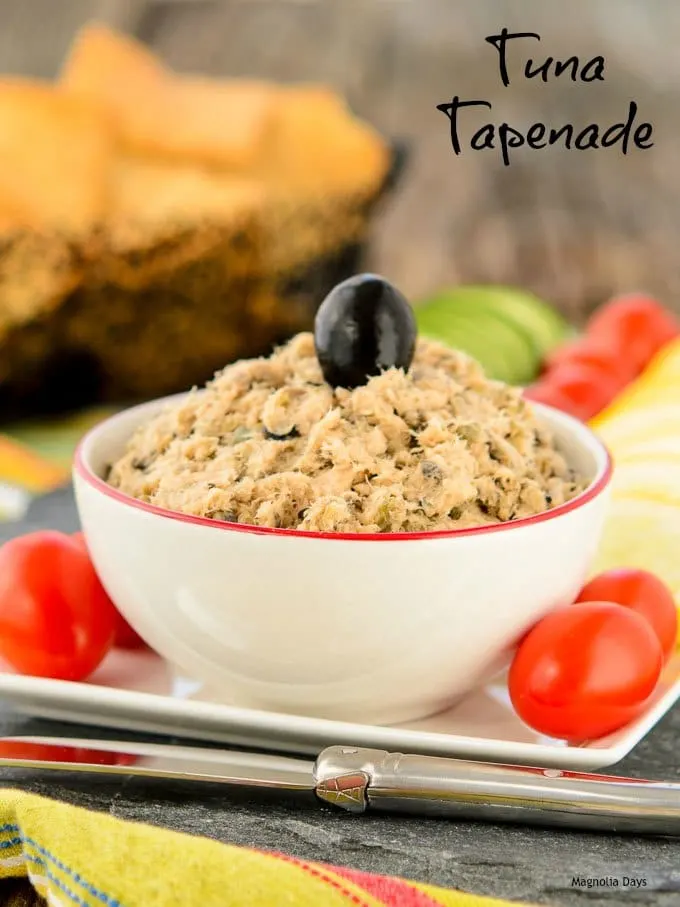 Another cookbook arrived in the mail. It was about a month ago and right before the busy holiday season. One look at the cover made me smile. It was a whole book about one of my favorite categories that I affectionately call party food. I thought I would dive right in however other things on the to-do list took over and the book was set aside. It was placed on the desk upstairs until my house was back in order after Christmas. I needed to make something for a New Year's Eve party and headed straight for the book. The one recipe that jumped out immediately was Tuna Tapenade.
Tapenade is mixture of olives and other ingredients. It's an appetizer I simply adore. Long ago I posted a recipe for Greek Olive Tapenade with Fresh Herbs that I swear is awesome however the photos of it are awful. It doesn't help that tapenade itself is not very aesthetically pleasing as I noted in my post for Citrus Herb Olive Tapenade. Anyway, something so tasty deserves an on-going challenge of flavor variety and photo taking skills. A gal has to have goals.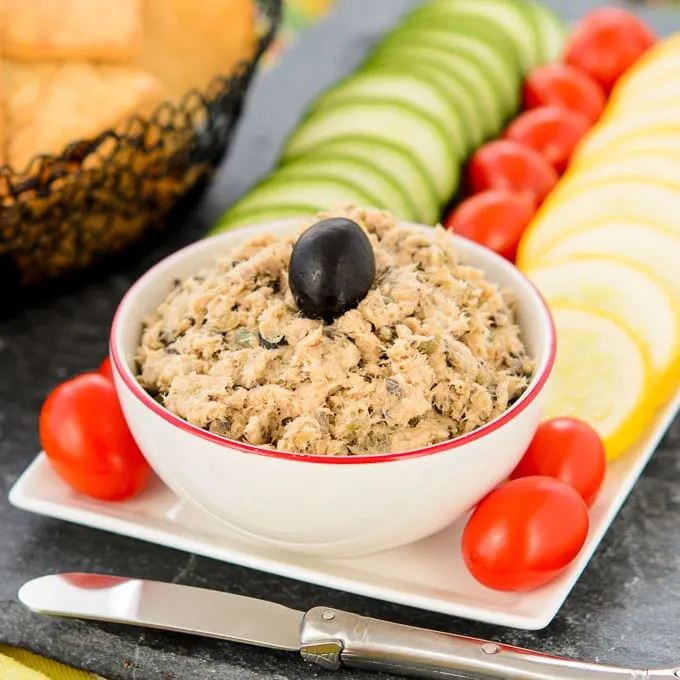 Tuna tapenade definitely is a nice change of pace. Typical ones made primarily with olives tend to be rather salty. This one has a good balance of salt and citrus in a seafood base. Capers give it saltiness and lemon lightens both tuna and black olives. Anchovies bring in that wonderful umami factor. It is to be served as an appetizer with vegetables, crackers, or crostini. It was a hit at the party and something I foresee making many times. I like it so much I could eat it between slices of bread as a sandwich.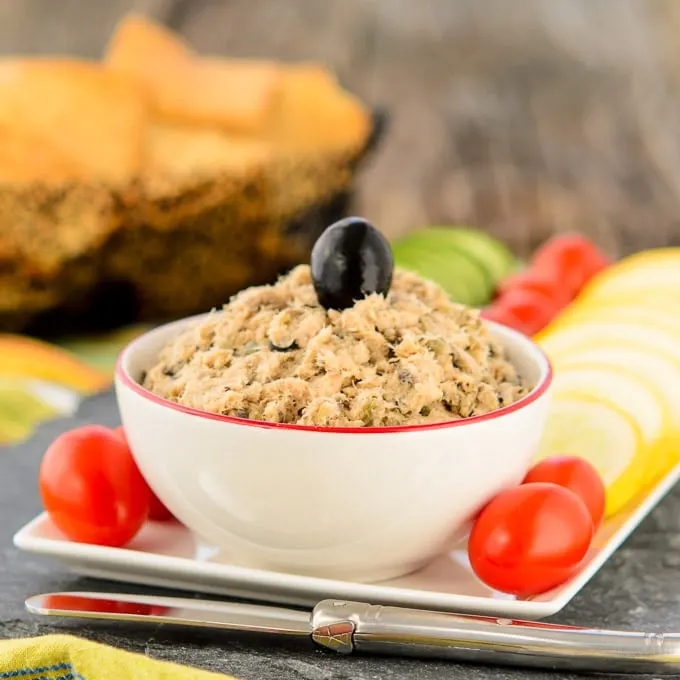 A note on my preparation: The recipe calls for a 6 ounce can of Italian tuna in oil. The cans of Italian tuna at my grocery store were 5 or 5.5 ounces. I opted to use a jarred one that was 6.7 ounces. I added a smidgen more olive oil to compensate for the extra tuna.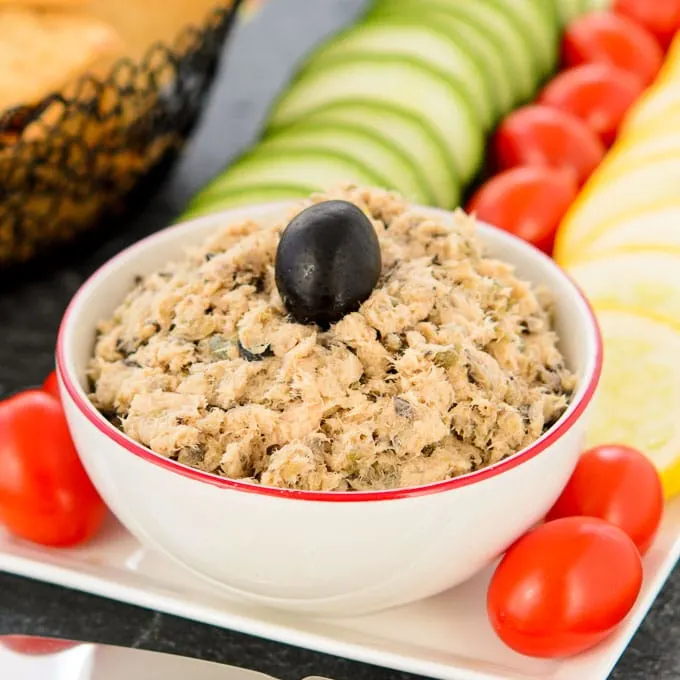 About the cookbook: 150 Best Dips and Salsas
by Judith Finlayson and Jordan Wagman is a book I'll have close by throughout the year. There are seven categories or chapters ranging from vegetable to dessert. Most of the recipes are gluten-free or they provide a gluten-free alternative. There are also recipes for things to dip with too such as chips, crostini, flatbreads, etc. I found most of the recipes to be easy and quick to prepare. The book is well laid out and in an easily readable font. You can purchase the book on Amazon by clicking on the photo of the book cover. Note the links to the book title above and the photo of the book are affiliate ones.
Tuna Tapenade
Tuna Tapenade is a Mediterranean-style appetizer made with canned tuna, olives, anchovies, garlic, and lemon. Serve it with vegetables or crackers.
Ingredients
1

can tuna

6 ounces/170 grams, preferably Italian, packed in olive oil, drained

4

anchovy fillets

2

tablespoons

drained capers

1

tablespoon

freshly squeezed lemon juice

1

clove

garlic

coarsely chopped

10

pitted black olives

1/4

cup

extra virgin olive oil
Instructions
In a food processor fitted with metal blade, pulse tuna, anchovies, capers, lemon juice, garlic and olives until ingredients are combined but still chunky, about 10 times.

Add olive oil and pulse until blended, about 5 times.

Spoon into a bowl, cover tightly and refrigerate for at least 2 hours or for up to 3 days.
Recipe Notes
Recipe copyright © 2014 Judith Finlayson and Jordan Wagman in the 150 Best Dips & Salsas cookbook. Used with permission from the publisher Robert Rose Inc.
Disclosure: I received a copy of 150 Best Dips & Salsas cookbook at no charge from the publisher (Robert Rose Inc). I was under no obligation to post a review. All opinions are my own unless otherwise stated or contained within a guest post.