This is a sponsored post written by me on behalf of Orlando North, Seminole County. All opinions are 100% mine.
Sample the very best tea and coffee on a scenic walk through downtown Sanford, Florida, including the historic downtown area and the Sanford Riverwalk.
My travel took place on March 12, 2020, and is intended to inspire future travel inspiration.
Tea and Coffee Crawl Through Downtown Sanford, FL
Have you ever heard of a bar crawl? How about a coffee crawl? A "crawl" is a great way to see the area on foot and get a real feel for a neighborhood. Meet the newest addition to the crawl lineup: a tea and coffee crawl! I visited one of my favorite local downtown areas to sample the local tea and coffee specialties from a variety of local vendors. Downtown Sanford, FL, is located in the area known as Orlando North, Seminole County. Orlando North was recently named by the Orlando Sentinel as one of the region's hottest food and beverage scenes. Sanford's neat and pretty historic area encompasses many beautiful buildings and is within a short walking distance of Lake Monroe, the Monroe Harbor Marina, and the newly expanded Sanford Riverwalk.
Caffe Di Riverwalk
I started my crawl at the Caffe Di Riverwalk, a cozy shop with indoor and outdoor seating facing the glittering Lake Monroe. You can choose from an assortment of books on the bookshelf, settle in at one of the tables, and start your day in a leisurely way. This cafe offers a wide range of coffees, including several signature roasts, and plenty of food choices for breakfast and lunch, such as sandwiches, smoothies, quiche, bagels, breakfast burritos, cakes, and pies. I had a lovely cappuccino at one of the outdoor tables. Don't miss the local art for sale on the cafe walls.
When you're ready to depart, you can leave your car here, walk east along the river to the roundabout with the flagpole, and turn right on Park Avenue to head into the downtown area, which is about 1/4 mile away. Many downtown shops open at 10:00 a.m. on weekdays, so if you time it right, you can finish your breakfast and get to the shops just as they open.
The Rosie Lee Co.
The Rosie Lee Co. is on Park Ave after you cross the main downtown road, 1st Street. This charming English tea shop carries over 100 blends of tea, including the city's namesake blend, Sanford Sunshine. I sampled the Sanford Sunshine—a blend of green tea, spearmint, lemongrass, lemon verbena, orange peels, and marigold—as an iced tea, the perfect refreshment to keep you hydrated on your crawl. Pick up a few ounces of your favorite loose tea to take home.
From here, return to 1st Street and head east. You'll pass Magnolia Square (make a note of this spot) and continue on to a row of shops, starting with Jeanine Taylor Folk Art and Gallery on First.
Jeanine Taylor Folk Art / Gallery on First
Jeanine Taylor Folk Art specializes in southern contemporary folk art. This gallery has a relaxed and welcoming vibe, so if you're not usually one to browse art galleries, make an exception for this one. Inside, you'll find a fascinating range of works from paintings to sculptures and jewelry. Surrounding the Jeanine Taylor Folk Art gallery, and sharing the same space, are eight studios that comprise the Gallery on First. These studios are home to eight working artists who create and display their work in their own individual spaces. You can even take classes from the artists, so check the schedule and sign up to start your own artistic journey.
Continue east to Magpie's Modern General Store.
Magpie's Modern General Store
This eclectic shop is where to go if you want to treat yourself or someone you love to a little something special. Magpie's Modern General Store has everything from unique jewelry to handcrafted soaps and clothing to beautiful leather goods—and more! Whether you need a give that's thoughtful, thought-provoking, or will elicit a chuckle from the recipient, you'll find it here.
Turn around and head west on 1st Street to return to Magnolia Square. Head south to cross the square and look for Hollerbach's Magnolia Square Market on your left.
Magnolia Square Market
Billed as "A True German Deli," Magnolia Square Market is that and so much more. This adorable authentic German deli carries groceries, wine, beer, and gifts from Germany alongside a fantastic selection of meats, cheeses, and baked goods. Deli sandwiches are made with freshly-baked bread. The pastry case overflows with tempting sweets, and they even have an assortment of gluten free goodies. German teas can be brewed on demand, so order one of the unique German teas along with a sandwich or pastry—whatever suits your mood—then take your selections to one of the outdoor cafe tables.
Fully fortified, you can return through Magnolia Square and cross 1st Street at the crosswalk to reach Maya Books and Music, Wondermade, and the Historic Sanford Welcome Center.
Maya Books and Music
If you're a book lover or a music fan, plan to spend a long time browsing Maya Books and Music. This gem of a shop is the ideal place to duck into on a hot or rainy afternoon. I guarantee you'll be tempted to emerge with more books than you can carry. Don't miss the record loft on the second floor, where you'll find loads of records, memorabilia, and autographs.
Continue east on 1st Street to Wondermade.
Wondermade
Known for its hand-crafted gourmet marshmallows, ice cream, and beverages, Wondermade appeals to the kid in all of us.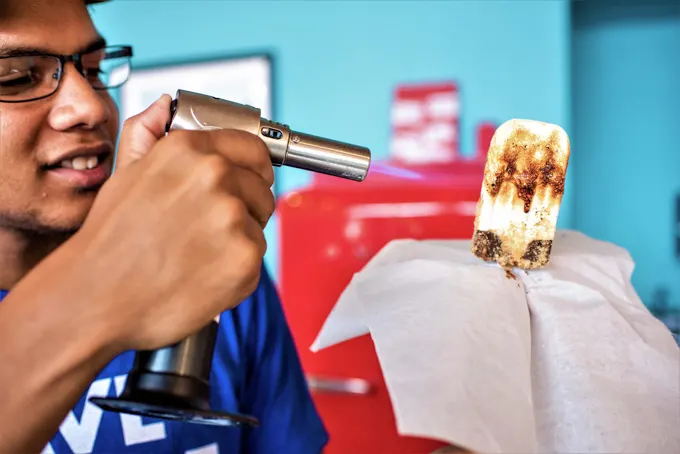 Stop in for a treat and browse the carefully selected gifts while you enjoy your confection. Take home a box of gourmet marshmallows.
Continue east on 1st Street to the Historic Sanford Visitor Center.
Historic Sanford Welcome Center
Stop in at the Historic Sanford Welcome Center to pick up brochures and get information about things to do in the Historic Sanford area, like the free downtown trolley and upcoming local festivals. Friendly representatives can fill you in on great restaurants to visit and direct you to even more shops within easy walking distance.
From here, walk west on 1st Street to return to Park Ave. Head south on Park Ave to 2nd Street. Cross 2nd Street and look for Palate Coffee Brewery on your right.
Palate Coffee Brewery
The tables at this coffee shop are made from real pallets, lending a twist of wordplay to the shop's moniker. Palate Coffee Brewery is an inviting place to settle in for a while. Often, you'll find local workers cozied up with their laptops to get a bit of work done in between sips of coffee. I highly recommend their cappuccino, but if you've reached your caffeine maximum already, go for the signature Sanford Fog, a blend of black tea, honey, vanilla, lavender, and foamed milk.
To return to Caffe Di Riverwalk, simply follow Park Avenue back to the flagpole roundabout and turn left.
---
Check out Orlando North as a great add-on to Central Florida theme parks and beaches, and be sure to explore Orlando North food and beverage to discover farm-to-table freshness, international fare, sweet treats, and more!