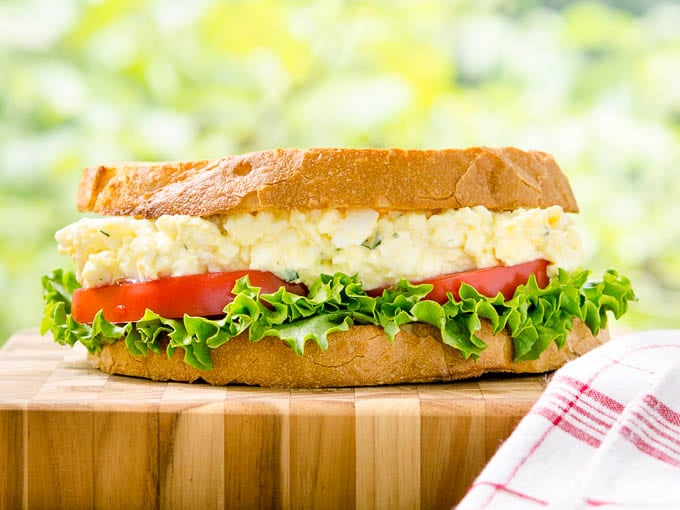 No need to check your calendar. It is mid-summer and not springtime. Egg salad is actually something to enjoy all year long. Only thing is most recipes appear pre-Easter. You know all those what to do with leftover hard-boiled eggs. Call me a rebel in the food blogging world. Anyway, now is the time to make a Tarragon Goat Cheese Egg Salad Sandwich.
Actually this recipe is for a few sandwiches. You and a couple of others can enjoy the tastiness. So what made me want to make it? It's simply because of tarragon in my garden. Finally it got big enough to harvest a little. This harsh summer sure put a strain on its growth.
Tarragon and eggs are a lovely pairing. I've mentioned it before when I made deviled eggs. Those deviled eggs were inspired by my favorite omelette. Now I've got omelette on the brain as I'm typing this at six o'clock in the morning. Focus… Back to the sandwich…
What bread to use for the sandwich? I recommend sourdough first. Then it would be a lighter flavored wheat or oatmeal one. Rye would be too much of a flavor conflict. Lightly toast it no matter which one you use. Put some lettuce and tomato between the slices with the egg salad.
Tarragon Goat Cheese Egg Salad Sandwich will be messy to eat. I think it is part of the fun and enjoyment of it. You take a bite and some squishes out and drops down. Just have a fork or potato chips handy to scoop up the bits.
What do you like with tarragon? Chicken is another popular pairing. Béarnaise sauce is a classic. I'm looking for suggestions so I can use more of my plant. Summer will be over before long. I've not had much luck keeping tarragon alive during winter. So I need to get cooking before it's gone.
How about more recipes with eggs? Okay… There's Zabaglione Gelato, a frozen Italian custard. I have to mention Spaetzle, homemade German Egg Noodles to go with Sauerbraten. Finally, tasty Mini Chorizo and Cheese Quiches are great for game day or brunch.
Tarragon Goat Cheese Egg Salad Sandwich
Tarragon Goat Cheese Egg Salad Sandwich stands above the ordinary. Fresh herbs and tangy cheese give brightness and elegance to a classic recipe.
Total Time
1
hour
25
minutes
Ingredients
6

large eggs

3

ounces

goat cheese crumbles

1

teaspoon

finely chopped fresh tarragon leaves

1/4

teaspoon

salt

1/8

teaspoon

pepper

6

tablespoons

mayonnaise

8

slices

bread

sourdough recommended, toasted

2

cups

lettuce leaves

green leaf or romaine

2

tomatoes

sliced
Instructions
Place eggs in a single layer in a saucepan and cover with 1 inch of water. Add 1/4 teaspoon salt. Bring to a boil. Cover and remove from heat.

Let stand for 15 minutes. Drain water and replace with cold water and ice. Let eggs cool for 5 minutes.

Peel eggs. After you peel each egg, lightly rinse it to make sure you remove all shell bits. Then place the egg on paper towels.

Place eggs in a medium bowl. Use a fork to mash and crumble the eggs.

Add goat cheese, tarragon, salt, and pepper. Stir to combine.

Fold in mayonnaise. Cover and chill for at least 1 hour.

Top 4 slices of bread with lettuce, tomato, and egg salad. Cover with remaining slices of bread.
Recipe Notes
Tarragon Goat Cheese Egg Salad Sandwich stands above the ordinary. Fresh herbs and tangy cheese give brightness and elegance to a classic recipe.
Get the best Southern food, wine, and gardening tips!
Subscribe to get our latest content by email.