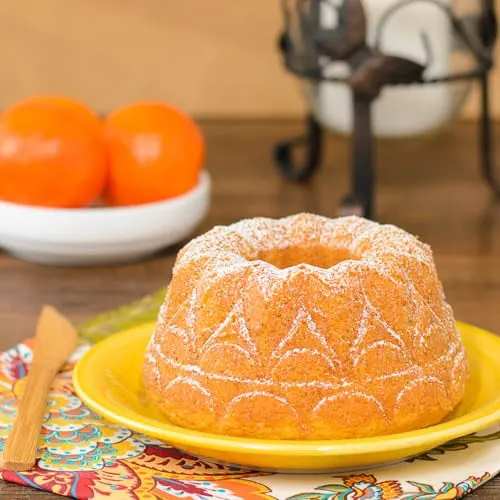 Cake baking has a critical moment. You carefully measure your ingredients. Each one is added in the necessary order and with noted method. You whisk, cream, beat, stir, and pour the finished batter into the pan. Into the oven it goes and the room is soon filled with a delightful aroma. Just at the right time you remove it from the oven. The critical moment comes after a few minutes of cooling time. That moment is when you remove the cake from the pan. It's fabulous when it comes out perfectly. It's not so fabulous when it sticks to the pan and breaks apart. Preparation of the pan helps the cake to come out right. I tested a new pan prep method with this tangerine yogurt cake.
Prepping a cake pan took a while for me. I have always used shortening and flour. It is quick to do when the cake pan is a standard round, square, or loaf shape. However, an intricate pattern of a bundt pan is a whole different thing. I had to use a pastry brush and paint a thin layer of shortening on every nook and cranny. This took a lot of time but was worth it. The reason is because using those convenient sprays caused another problem. Those sprays would create a buildup on the pan over time. The buildup would cause the cake to stick to the pan. Lecithin is the culprit. Avoiding lecithin sprays have kept my pans in the right condition for many years.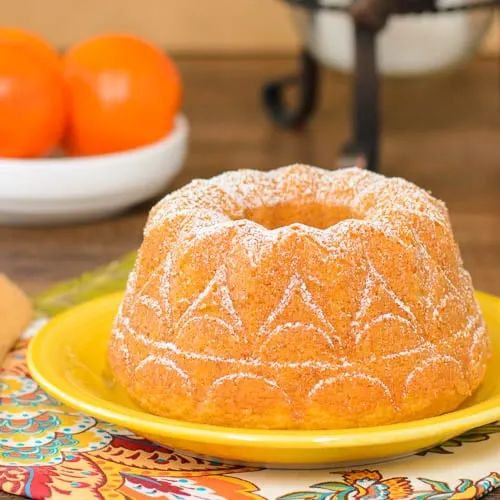 There is a new spray on the market. I received a bottle of Pompeian Grapeseed oil spray to try. I looked at the ingredients and there was only one. The first thing that popped in my mind was a bundt cake. I had to see how it worked. I sprayed the pan with the oil. There was some pooling in the bottom of the pan. I took a pastry brush and spread the oil out evenly and removed any excess. I dusted the pan with flour and poured in the batter. The critical moment came after baking. I turned the pan and the cake fell out. The cake was flawless. Actually there were two of them. Both fell out of the pan without a trace of cake left behind.
The spray saved me a lot of time. It worked like a charm. I'm thrilled to not have to paint shortening on my pans anymore. I can't wait to use it again.
How is the tangerine yogurt cake? The citrus flavor stands out thanks to a new method I learned. Rubbing zest into sugar releases the oils (flavor) much more than stirring it in. I picked tangerine because I haven't baked or used it in ages. I wanted something different than orange or lemon. I also picked it after being inspired by a drink I had at a recent convention. Oh, and I used Pompeian grapeseed oil in the cake. It was another first and won't be the last time either.
To learn more about the spray and oil: Pompeian Grapeseed Oil
To get a coupon: Pompeian coupon
Like Pompeian on facebook: Pompeian facebook
How do you prepare your cake pans? Have you had cakes that stuck to the pan? So far I've been lucky and haven't had any fails at that critical moment. I hope it continues on. Time will tell. Oh, and if you like citrus and/or yogurt cake, check out my Orange Blueberry Yogurt Bundt Cake too.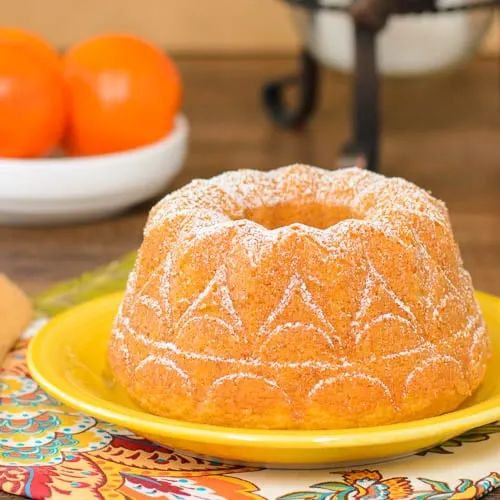 Tangerine Yogurt Cake
A recipe for Tangerine Yogurt Cake made with Greek yogurt and tangerine zest and juice. It is a moist loaf or bundt cake dusted with confectioners sugar.
Total Time
1
hour
15
minutes
Ingredients
1 1/2

cups

all-purpose flour

2

teaspoons

baking powder

1/2

teaspoon

kosher salt

1

cup

sugar

1

tablespoon

finely grated tangerine zest

3/4

cup

whole milk Greek yogurt

1/2

cup

grapeseed oil*

1

tablespoons

fresh tangerine juice

2

large eggs

at room temperature

1/2

teaspoon

vanilla extract

Confectioners sugar for dusting
Instructions
Preheat oven to 350 degrees F. Lightly coat a 9- X 5-inch loaf pan with grapeseed oil* and dust with flour, tapping out excess flour.

Whisk together flour, baking powder, and salt in a medium bowl.

Use your fingers to rub the tangerine zest into the sugar in a large bowl until sugar is moistened.

Add yogurt, oil, tangerine juice, eggs, and vanilla to the tangerine-sugar. Whisk to combine until smooth.

Add the dry ingredients to the wet ingredients and stir until just combined.

Pour batter into prepared pan and smooth out evenly in the pan.

Bake for 50 to 55 minutes or until a toothpick or cake tester inserted into the center comes out clean.

Cool cake in the pan on a wire rack for 12 minutes. Remove cake from the pan and cool completely on a wire rack.

Dust cake with confectioners sugar prior to serving.
Recipe Notes
*You can substitute grapeseed oil with vegetable or canola oil. Recipe photo is this cake baked in a small bundt pan.
Recipe adapted from French Yogurt Cake on the Epicurious website.
Disclosure: I received a can of Pompeian Grapeseed Oil Spray and a pie cutter from Smiley360 in exchange for my honest review.
You can join Smiley360 by clicking here: Smiley360