Our trip to Tampa was provided in part by Visit Tampa Bay. All opinions are my own.
With a plethora of great restaurants, up-and-coming chefs, and ambitious new dining halls, Tampa has one of the most exciting dining scenes in Florida.
On our recent stay at the newly renovated Home2 Suites by Hilton Tampa Downtown Channel District, we found ourselves with so many dining choices that it was almost a challenge to narrow them down. Many of Tampa's top dining destinations are located on or near the Tampa Riverwalk, a 2.4 mile path bordering the Hillsborough River and Garrison Channel.
The Riverwalk takes you through the very best Tampa has to offer, including many of the restaurants featured in Tampa's hometown cookbook, Tampa's Table. We took home a copy of this cookbook as a souvenir, since it contained several recipes from restaurants we'd visited, and many more recipes from restaurants we'll be coming back to visit.
One of the great things about Tampa is that it offers so many ways to get around. We got to our destination restaurants in a variety of ways, using our convenient hotel shuttle, the free TECO Historic Streetcar Line, and the scenic Pirate Water Taxi. Excellent restaurants were often within easy walking distance of our favorite Tampa attractions.
---
Tampa Dining Destinations
Columbia Cafe
A well-known classic for a reason, the Columbia Cafe maintains its high standards for flavorful Spanish- and Cuban-inflected cuisine. This outpost of the Columbia restaurant family is located at the Tampa Bay History Center, a must-see stop on any Tampa itinerary. Our family enjoyed savory Chicken Valenciana (included in the Tampa's Table cookbook), fried calamari, bean soup, and the famous Cuban sandwich.
Oxford Exchange
Located in a painstakingly restored historic building near the campus of the University of Tampa, this elegant spot combines a restaurant, a coffee bar, a tea bar, a champagne bar, and several appealing shops all under one roof.
Start with a meal at Oxford Exchange—in the sunlit conservatory if you can—then follow up your dining experience with leisurely shopping in the luxurious shops. Pick up your choice of beautifully brewed coffee or tea before you go, or plan your visit for later in the day, when the champagne bar is open.
Heights Public Market at Armature Works
Heights Public Market is a hopping food hall located at the north end of the Riverwalk inside Armature Works, a restored trolley barn with soaring ceilings and gorgeous vintage design elements. We enjoyed a quiet Sunday morning at Heights Public Market, where we visited Soho Juice Company and Union by Commune + Co for a light breakfast.
We carried our treats outside to the large plaza by the water, where we sipped and snacked while watching the sunlight sparkle on the Hillsborough River. During lunch and dinner, you can choose from savory options like ramen, Neapolitan pizza, Southern specialties, gourmet salads, and much more. It can get quite busy, so if you're bringing a family or large group, plan your visit for the off-hours.
Sparkman Wharf
This innovative entertainment district uses colorful shipping containers to house food and drink purveyors run by some of Tampa's top chefs. In addition to the gauntlet of dining options, there's an open-air biergarten, a large lawn with seating, and Splitsville, a sit-down restaurant with bowling and other fun gaming options.
We enjoyed our snacks, including gourmet popsicles from the Sparkman Wharf location of Whatever Pops, from the comfort of a table situated between the lawn and the biergarten, with a view of the water. Sparkman Wharf continues to grow, and is slated to add even more dining and shopping venues in the near future.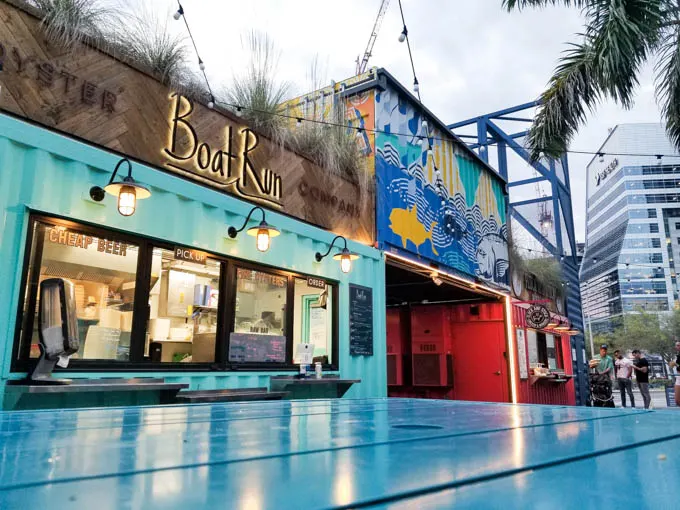 For more ideas of where to eat in Tampa, check out Visit Tampa Bay, and see also these gluten free Tampa dining recommendations.