One year my mom and I went to Germany in February. It was a trip for her birthday to visit family. It was bone-chilling cold. It lightly snowed every day. Yet it didn't stop us from going out and about. In the evening we would sit near the fireplace at my uncle's house. One night he had a treat for us. It was blueberries he had picked during the summer. He defrosted them and warmed them slightly in the microwave. It was delightful. I thought of that night when I was making Summer Fruit Salad with Ginger-Lime Dressing.
His blueberry treat was simple. What made it so special was having a warm taste of summer in the middle of winter. Sometimes simplicity rises above the complex. A perfect example is fruit. An assortment tossed together can be quite satisfying. A touch of dressing elevates it to a tasty salad.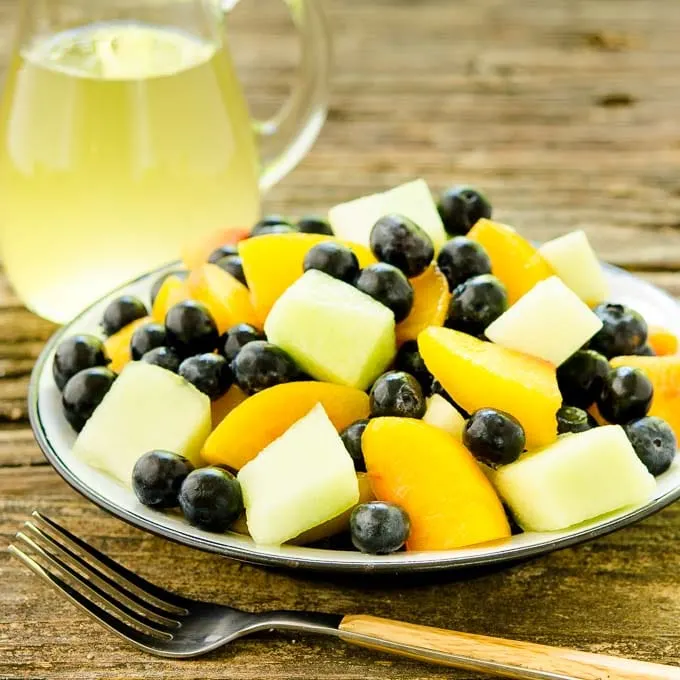 What kind of dressing for fruit? It varies widely. It can be yogurt based like with my Mom's Fruit Salad. There is also a citrus bubbly kind as with Sparkling Fruit Salad. Ginger-lime syrup becomes the dressing for this Summer Fruit Salad. It's the same syrup I used in Ginger Lime Sparklers.
Why did I choose ginger-lime syrup for the dressing? Because both ginger and lime pair beautifully with blueberries, peaches, and melon. The syrup adds a little sweetness to the mix. You can vary the amount you use based on the sweetness of the fruit at the time or to your taste preference.
Blueberries are my go-to fruit. I totally enjoy the flavor and they are quite nutritious too. Of course when I saw the blueberry recipe contest of I had to enter. It is held by Wish Farms for the Food Wine Conference. First place winner receives a $500 Visa gift card, one flat of blueberries, ticket to the conference, and the recipe featured at the conference and on the Wish Farms website. For full contest info go here: FWCon Blueberry Toss recipe contest.
What's your favorite way to eat blueberries? Is it simply by themselves, tossed in salads, or in desserts? Mine is all of the above and more. There is something about the flavor that hits the spot with me. I can already see lots of blueberries being tossed in things around here. Stay tuned…
Summer Fruit Salad with Ginger-Lime Dressing
Summer Fruit Salad is a delightful combination of blueberries, melon, and peaches tossed with ginger-lime dressing. Make it to celebrate the season.
Ingredients
For the ginger-lime syrup:
4

ounces

ginger root

about 8-inch piece

2

limes

1 1/2

cups

granulated sugar

1

cup

water
For the fruit salad:
2

cups

fresh blueberries

2

cups

bite-sized chunks honeydew melon

2

cups

bite-sized chunks peaches

about 2 medium-sized peaches
Instructions
For the ginger-lime syrup:
Scrub and rinse ginger and cut into 1/4-inch rounds. Use a vegetable peeler to remove zest from limes.

Combine sugar and water in a small or medium saucepan. Cook until sugar dissolves, stirring occasionally.

Add ginger and lime zest. Bring to a simmer then remove from heat. Set aside for 1 hour.

Strain syrup into a container. Discard ginger and lime zest.

Store syrup in a sealed container in the refrigerator for up to 3 months.
For the fruit salad:
Place blueberries, melon, and peaches in a large bowl. Pour 1/3 cup ginger-lime syrup over fruit. Toss gently to combine.

Taste and add more syrup if desired.
Recipe Notes
Time stated does not include time for cooling syrup.