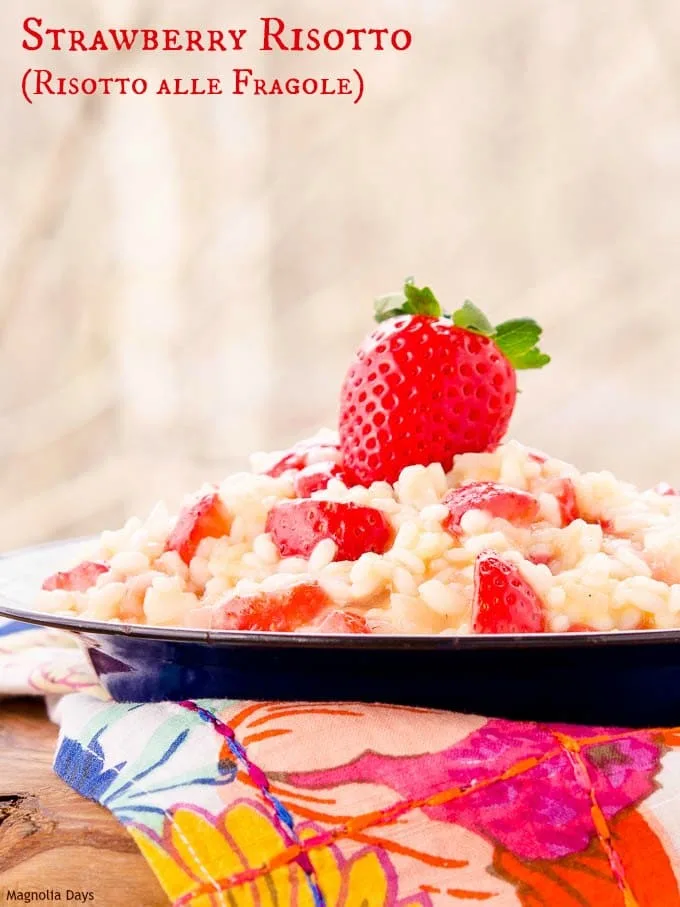 December weather in Atlanta has been odd. Well, odder than usual. The first part of the month was quite warm. It felt like spring. One day nearly reached 80 degrees. Then it turned cold, back to warm, and back cold again. I was flip-flopping between craving fresh berries and comfort food. What to do? Combine the two with Strawberry Risotto.
Where to get fresh strawberries in Georgia in winter? Luckily it just so happens to be prime season for Florida strawberries. All I have to do is go to my local grocery store. There I will find berries picked from Florida Strawberry Growers Association farms in the produce section.
Strawberry Risotto is a savory dish. It may not sound that way. Yet anything made with onion, garlic, pepper, wine, vegetable broth, and olive oil has to be savory. It is a classic Italian dish called Risotto alle Fragole and served as either a first or main course.
Strawberries are a great source of nutrition. The vitamin C in them is especially great in winter. It's a good thing to have anti-oxidants in your system to fight off colds and flu. Only eight medium strawberries can provide the daily requirement. For more strawberry nutrition information go here: 10 Reasons To Eat Strawberries.
Real risotto takes time and effort. Be ready to stand and stir for a while. The type of rice to use in critical. You need arborio or carnaroli as both are short grain and have a natural starch. Stirring releases the starch and is what makes it creamy. Once you have tasted real risotto you will know the difference. Everything else, all the cheater methods, are only rice with sauce.
Keeping up with the latest on Florida Strawberries is easy! All you have to do is follow them and Strawberry Sue on social media plus visit their websites:
There's more! Show your love of strawberries on Instagram to enter to win a Visa gift card. There are three prizes: $100, $50, or $25. All you have to do is post a photo with a strawberry in it on Instagram and include the #FLStrawberry hashtag along with it. You must be a United States resident 18 years of age or older to enter and be eligible to win. Contest runs from 12/27/15 through 01/17/16. Winners will be chosen at random and announced during the live #SundaySupper Twitter party on Sunday, January 17, 2016 from 7 to 8pm Eastern Time. This promotion is not sponsored, endorsed, administered by, or associated with Instagram. For complete contest rules and details go here: Show Us Your Strawberries Instagram Contest
How about more strawberry recipes? Oh yes! All you have to do is scroll down to find a list of them. The Sunday Supper Movement is proud to partner with the Florida Strawberry Growers Association to share some summer sunshine in the dead of winter. You can also bring in a little cheers by making either a Strawberry Martini or German Strawberry Wine Punch (Erdbeerbowle).
Strawberry Risotto
Strawberry Risotto (Risotto alle Fragole) is a savory rice dish made with strawberries. It's comfort food to brighten up a cold winter day.
Ingredients
1

tablespoon

olive oil

3

tablespoons

unsalted butter

divided

3/4

cup

chopped onion

2

garlic cloves

minced

1/2

teaspoon

ground white pepper

1

cup

uncooked arborio or carnaroli rice

1/2

cup

dry white wine

4

cups

low-sodium vegetable broth

warm before starting risotto, simmering

1/4

cup

grated parmesan cheese

parmigiano-reggiano recommended

1 1/2

cups

chopped fresh strawberries
Instructions
Heat olive oil and 1 tablespoon butter in a heavy bottom sauté pan over medium heat.

Add onion and cook until softened and opaque, stirring occasionally, about 5 minutes. Add garlic and pepper, stir, and cook until fragrant, about 1 minute.

Add rice and stir to combine. Continue stirring and cooking until the edges of the rice are translucent and the center is still opaque, about 2 minutes.

Add wine and stir to combine. Cook until the rice absorbs the wine, stirring constantly.

Add warm broth, a ladle at a time, stirring after each addition and constantly stirring while cooking. Wait to add each ladle of broth until the rice has almost soaked up the last addition.

Test the rice after you have added about 3 cups of broth to see if it is done. It should be al dente, with just a bit of chew to it and not completely soft or mushy.

Note the risotto will not taste fully seasoned at this point. It will get saltiness from the parmesan cheese.

The risotto is ready when it is similar to a thick porridge and has a creamy consistency.

Add one more ladle of broth, remaining 2 tablespoons butter, and parmesan cheese. Stir to combine and keep stirring until butter and cheese has melted.

Gently stir in strawberries. Serve immediately.
Recipe Notes
Strawberry Risotto (Risotto alle Fragole) is a savory rice dish made with strawberries. It's comfort food to brighten up a cold winter day.
Do you want to enjoy summer freshness in winter? Take a look at these savory strawberry recipes by Sunday Supper tastemakers:
Strawberries for Starters
Strawberries for Breakfast
Strawberries for Lunch
Strawberries for Dinner
Plus don't miss Delicious Strawberry Ideas and Sweet Recipes by Sunday Supper Movement
Join the #SundaySupper family on twitter every Sunday! We tweet throughout the day and share recipes from all over the world. Our weekly chat starts at 7:00 pm ET. Follow the #SundaySupper hashtag and remember to include it in your tweets to join in the conversation. To get more great Sunday Supper recipes, visit the Sunday Supper Movement website or check out our Sunday Supper Pinterest board.
Would you like to join the Sunday Supper Movement? It's easy. You can sign up by clicking here: Sunday Supper Movement.
Disclosure: This post is sponsored by Florida Strawberry Growers Association in conjunction with a social media campaign through Sunday Supper LLC. All opinions are my own.