Strawberry season has arrived! I finally received notice that a local farm has strawberries ready to pick. I've been waiting on this for months. The anticipation of how the fruit will be grows as the season gets closer. One year they are big, plump, juicy, and almost as sweet as candy. Another year they are small, firm, and quite tart. The weather is a factor and hopefully all the recent rain won't dilute their flavor this year. To celebrate the season's arrival, I had to shake up a Strawberry Martini and sip on the goodness of it.
What happens in Vegas stays in Vegas. Well, not all of the time. Some of it really should. And yet other things are so good and fun it has to be brought home. Such is the case with this martini. I discovered it when we visited Vegas with friends. It was the best strawberry cocktail I ever tasted. Re-creating it at home was inevitable. The search for the recipe began immediately and I quickly found it. I was beyond excited to make it for friends after our trip.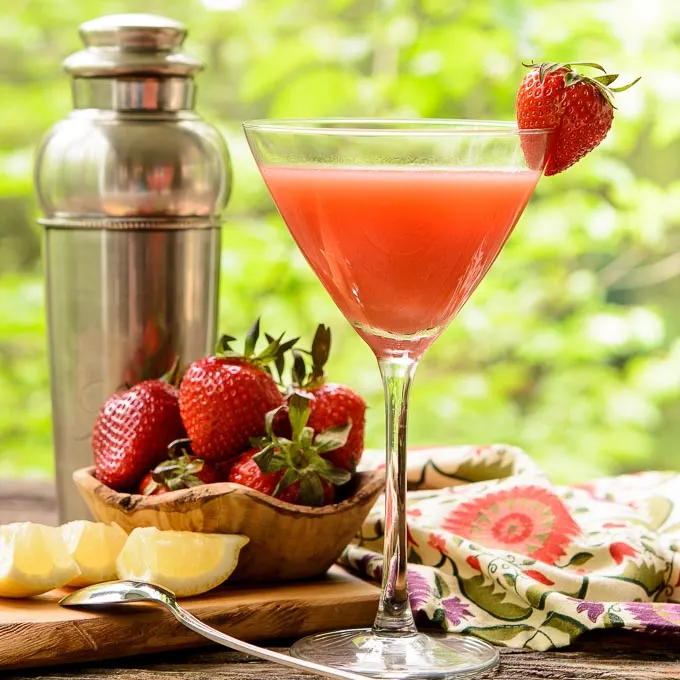 Muddling strawberries for a martini has its downsides. First there is how you can get bits of pulp in the drink. I prefer my cocktails to be smooth. Then there is the seeds. I'm not a fan of having those tiny seeds in my drink either. That meant this part of the recipe had to be changed. The answer was the blender. It also made for an easy way to make a part of the martini in advance and not have to take the time to muddle each one individually.
The rest of the martini ingredients are simple. There's vodka, lemon juice, balsamic vinegar, and pepper. Yes, you read that correctly. Balsamic vinegar may sound odd however it just works. Cracked pepper sprinkled on top works too. Those savory components balance strawberry sweetness in a wonderful way. There is only a touch of each for a background accent.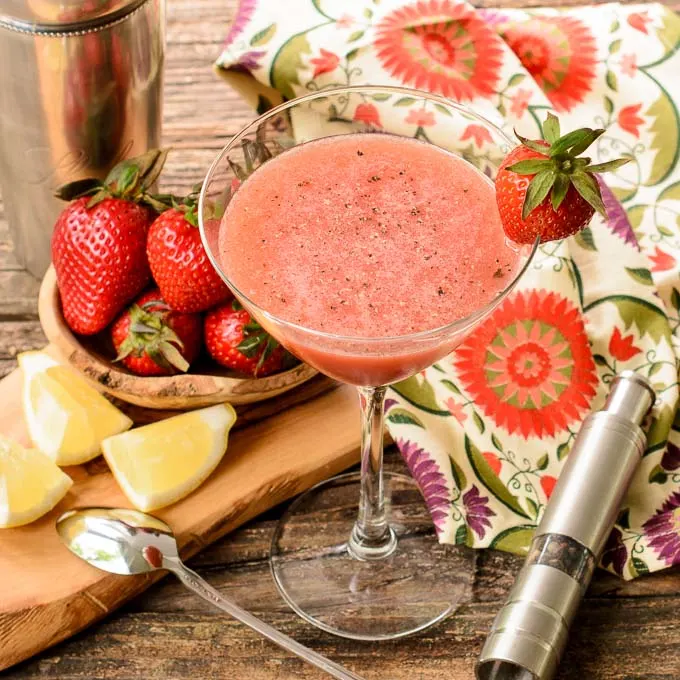 Cheers to strawberry season! Each year I get buckets and use some right away and freeze the rest. It's so nice to enjoy local strawberries in the middle of winter. I've made Strawberry Cake, Strawberry Almond Quick Bread, and Strawberry Sorbet with the wonderful berries. I'm always on the hunt for more ways to use and enjoy strawberries so let me know your favorite way. I do plan to get a bunch to play with this year.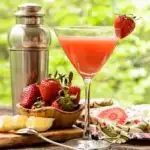 Strawberry Martini
This strawberry martini is made with fresh strawberries, lemon juice, and a touch of balsamic vinegar. It's a delightful berry cocktail to sip and enjoy.
Ingredients
1

cup

hulled and chopped fresh strawberries

1

ounce

simple syrup

3

ounces

vodka

2

teaspoons

fresh lemon juice

1/2

teaspoon

balsamic vinegar

Cracked fresh pepper

Fresh strawberries for garnish
Instructions
Place chopped strawberries and simple syrup in a blender. Blend until smooth.

Use a flexible spatula to press blended strawberry mixture through a fine mesh sieve into a small bowl. This will remove seeds and pulp (you should have at least 1/2 cup strawberry purée in the bowl). Discard seeds and pulp.

Add strawberry purée, vodka, lemon juice, and vinegar to a cocktail shaker filled with ice.

Shake well and strain into 2 chilled martini glasses.

Sprinkle cracked fresh pepper on top. Garnish with fresh strawberries.
Recipe Notes
This strawberry martini is made with fresh strawberries, lemon juice, and a touch of balsamic vinegar. It's a delightful berry cocktail to sip and enjoy.
Adapted from Boa 405 on Food & Wine website.