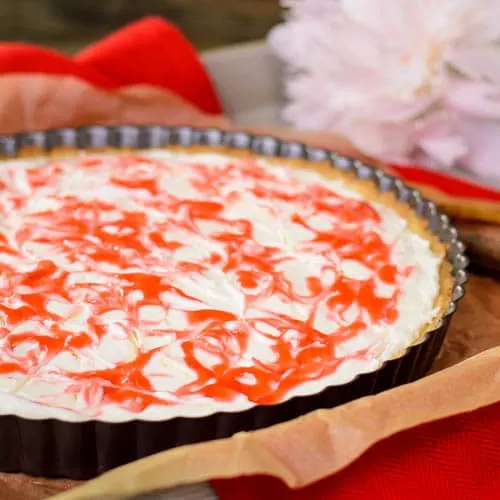 Strawberry season is in full swing. It coincides with another special event, Mother's Day. Each year I prepare a feast for the moms in my family. It would not be the same without one or more strawberry treats. I visit our local farm and pick up buckets of berries. Chocolate covered strawberries are a must. Then each year I try something new. This year it was making curd and using it for a Strawberry Cream Cheese Tart.
We wondered if the berries would be good this year. It was a wet winter and cool spring. Rain has been plentiful. Too much rain dilutes the flavor. Other conditions make them very tart. I drove to the farm hoping for the best. Buckets upon buckets of the most gorgeous berries were spread out on tables. Choosing which ones to buy was difficult. I wanted to bring home a carload.
The scent in the car was incredible. I thought about taking the long way home so I could drive around breathing in the heavenly aroma. Yet I wanted to get home and taste the berries right away. This batch was the best I've gotten in years. They were big, beautiful, red, and oh so sweet strawberries. I started working on the curd right away. It's a simple recipe without eggs or butter.
Strawberry Cream Cheese Tart has a homemade crust. It's different than a typical pie or tart crust as it doesn't have to be chilled or rolled. About a minute in the food processor is all it takes. Press it out in the pan and bake. After the crust is cooled, it is filled with a cream cheese and whipped cream mixture. Dollops of curd are dropped on top and swirled with a knife. I used a paring knife and the tip gave the top an interesting texture. I think it added to the beauty of the swirls.
Do you use lots of strawberries when they are in season? The ones this year are so good I plan to go back to the farm and get more. I want to freeze some to enjoy this winter with a pound cake. I also have plans for another new strawberry treat. Stay tuned…
Strawberry Cream Cheese Tart
A recipe for a strawberry cream cheese tart. It has an easy homemade crust, cream cheese and whipped cream filling, and swirled with strawberry curd.
Prep Time
3
hours
45
minutes
Ingredients
For the strawberry-lemon curd:
2

cups

sliced fresh strawberries

3

tablespoons

granulated sugar

4

tablespoons

fresh lemon juice

2

tablespoons

cornstarch
For the crust:
1 1/4

cups

all-purpose flour

1/3

cup

granulated sugar

1/4

teaspoon

salt

1/2

cup

unsalted butter

at room temperature

2

tablespoons

milk
For the filling:
1

cup

heavy cream

1/4

cup

granulated sugar

8

ounces

cream cheese

at room temperature

1

cup

confectioners sugar

1/2

teaspoon

vanilla extract
Instructions
For the strawberry-lemon curd:
Combine strawberries and sugar in a food processor fitted with a knife blade. Process until smooth, scraping down sides as needed.

Stir together lemon juice and cornstarch in a small bowl. Pour into the food processor. Process until combined and smooth.

Press mixture through a fine-mesh sieve into a small saucepan. Discard seeds and pulp.

Slowly bring to simmer over medium heat. Stir constantly and cook until somewhat thickened.

Press mixture again through the sieve into a heatproof container. Cool to room temperature then chill overnight.
For the crust:
Preheat oven to 400 degrees F. Lightly grease a 10-inch tart pan with a removable bottom.

Combine flour, sugar, and salt in a food processor fitted with a knife blade. Pulse to combine.

Cut butter into pieces and add to the food processor along with the milk.

Process until dough forms a ball.

Press dough into bottom and up the sides of prepared tart pan.

Bake for 10 to 12 minutes, until light golden brown. Cool crust completely.
For the filling:
Beat heavy cream in a large bowl until foamy. Add sugar, a little at a time, while beating until soft peaks form.

Beat cream cheese, confectioners sugar, and vanilla in a separate large bowl until smooth.

Fold whipped cream, a little at a time, into cream cheese mixture.

Spread filling evenly in tart crust.

Drop small dollops of curd on filling. Use a knife to swirl curd on the filling.

Chill tart at least 2 hours before serving.
Recipe Notes
Time stated does not include chilling curd overnight. Remaining curd should be chilled in a sealed container until used for another purpose within 5 days.