Mother's Day was this past weekend. I had my annual event of cooking for all the moms in my and my husband's families. It also happens to be strawberry season. I take full advantage of the season and make lots of treats with the fresh fruit. I go (or I send my husband) to the strawberry farms to pick up a couple of buckets filled with just-picked strawberries. This year my husband went and came home with crates instead of buckets. It was strawberry central here.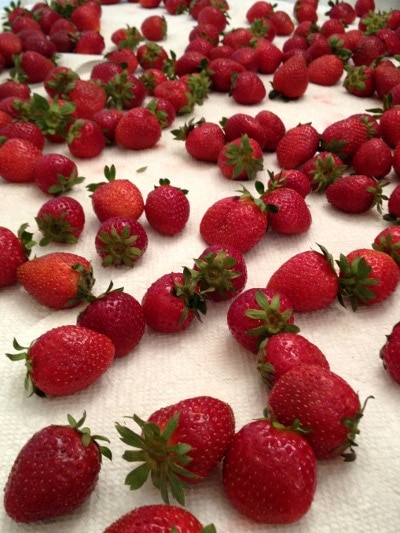 Something always seems to happen right before the event. It causes me to go back to the store to get more supplies. Last year was because of the cake. Actually, it was because of my dog, Tiger. I had baked the cake and set it out on the counter to cool. I also set out the cream cheese and butter to soften for making the frosting. I went outside for a few minutes and came back inside to find this: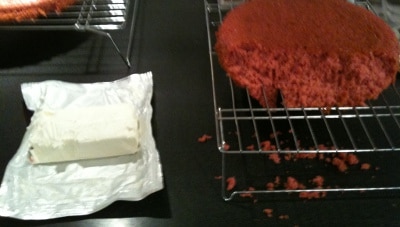 Some little Tiger hound had helped himself to the cake. He ate the butter (notice there is none in the photo). If you look close you can see teeth marks in the cream cheese. The photo is not the best but it is all I have. I cleaned up the mess and went back to the store to get ingredients for another cake.
This year it was cucumbers. Then cutlery. I went to the store on Mother's Day morning to get fresh bread, lettuce, and a couple more things. I came home and started chopping veggies for the veggie tray. The cucumbers I had purchased were bad and soggy in the middle. I had to go back to the store to get more. Later I pulled out the package of plastic cutlery (not fancy here) and realized there were no knives. Yep, off to the store for the third time. It is a good thing Publix is across the street from my neighborhood.
Strawberry cake was one of the dessert treats. I wanted to make something different than the ones I had made before. I saw a pin on Pinterest that inspired my creation. The pin lead me to this recipe on Perry's Plate blog which I used as the basis for the layering. I used the Elegant White Cake recipe from The King Arthur Flour Baker's Companion: The All-Purpose Baking Cookbook
because I wanted white cake layers (recipe slightly adapted because my nephew is allergic to nuts and I had to leave out the almond extract). The frosting is adapted from one by Paula Deen on the Food Network website.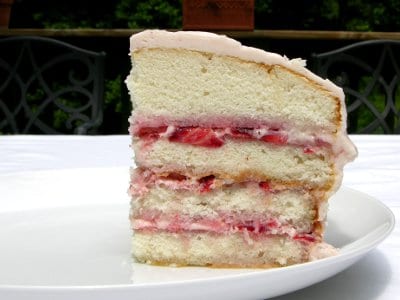 What did you do for Mother's Day? Do you have an annual event or tradition? I am glad I can treat the moms of my family with cooking for them. Having all of us together is such a special and wonderful occasion.
Subscribe to Magnolia Days by Email
Strawberry Cake
A recipe for a from scratch strawberry cake made using white cake layers, fresh strawberries, strawberry jam, and strawberry cream cheese frosting.
Ingredients
For the white cake layers:
8

tablespoons

unsalted butter

1 stick, softened

1/2

cup

vegetable shortening

1

tablespoon

baking powder

1 3/4

cups

sugar

3/4

teaspoon

salt

2 1/2

teaspoons

vanilla extract

5

large egg whites

at room temperature

2 3/4

cups

cake flour

1

cup

milk

at room temperature
For the filling:
Strawberry jam

About 2 cups sliced strawberries

1/4-inch thick
For the frosting:
1/2

cup

strawberries

sliced or cut into quarters

1

to 2 teaspoons sugar

1/4

cup

unsalted butter

at room temperature

1

package cream cheese

8 ounce, at room temperature

1/4

teaspoon

salt

7

cups

confectioners sugar

sifted
Instructions
For the white cake layers:
Preheat oven to 350 degrees F. Grease 2 8-inch round cake pans. Line bottom of pans with parchment. Grease parchment and lightly flour pans (shake out excess flour).

In a large mixing bowl, cream together the butter, shortening, baking powder, sugar, salt, and vanilla until light and fluffy, at least 5 minutes. Add the egg whites one at a time and beating well after each addition.

Alternately add the flour and milk to the creamed mixture, beginning and ending with the flour, and mixing until combined. Scrap down the sides and bottom of bowl throughout the process.

Pour the batter equally into prepared cake pans. Bake for 26 to 30 minutes, or until a toothpick or cake tester inserted in the middle comes out clean. Cool cakes for 10 minutes then remove cakes from the pans. Cool completely on a rack and then refrigerate layers for at least an hour.
For the frosting:
In a small bowl, combine chopped strawberries and sugar. Refrigerate 2 hours. Place strawberries and juice in a blender and puree until smooth.

In a large bowl, beat butter, cream cheese, and salt at medium speed until creamy. Add 1/4 cup of the strawberry puree and vanilla and beat until combined. Gradually add confectioners sugar and beat until smooth. More strawberry puree or milk can be added if needed for spreading consistency.
For the assembly:
Use a serrated knife to cut down the top of one of the cake layers to level it (flat). Cut both layers in half horizontally. Place the bottom half of the leveled layer on a cake plate. Spread about 2 tablespoons of jam on top (thin layer). Spread some frosting over the jam. Arrange sliced strawberries on top of frosting. Place top layer half of the leveled layer on top. Repeat topping it with jam, frosting, and strawberries. Place bottom half of the other layer on top. Repeat with jam, frosting, and strawberries. Place remaining layer half on top. Spread remaining frosting over top and sides of the cake. Keep cake refrigerated.
Recipe Notes
A recipe for a from scratch strawberry cake made using white cake layers, fresh strawberries, strawberry jam, and strawberry cream cheese frosting.
Get the best Southern food, wine, and gardening tips!
Subscribe to get our latest content by email.