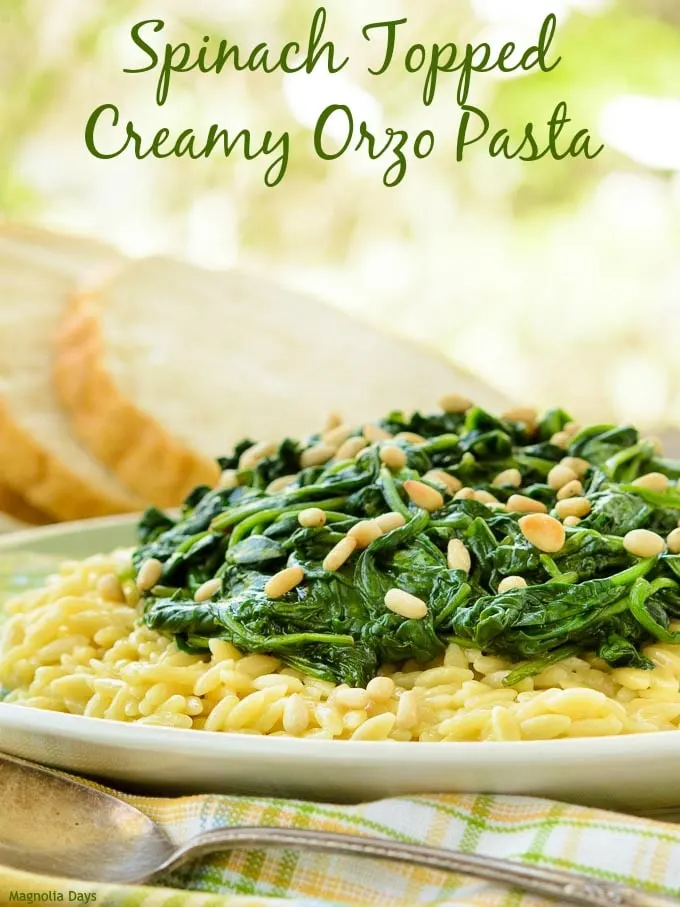 Have I mentioned green is my favorite color? I'm pretty sure I have and especially this time of year. March really kicks it off with the first day of spring and St. Patrick's Day. I get so excited about it that my mind stays focused on green and cravings follow along. Rainy spring days prompt the desire for comfort food too. The combination of it all is why I made Spinach Topped Creamy Orzo.
I spotted the recipe several weeks ago. Another stack of magazines had grown a little too big. It was time to go through them and get rid of the ones I really didn't need. It's amazing how a pile can get out of hand so quickly. Anyway, I saw spinach as I was flipping through the pages of a booklet. It caught my attention because it was a topper instead of a filler or a side.
The base is creamy, cheesy pasta. Orzo is something I enjoy and yet not make it that often. I tend to use it more for soup than anything else. Coating it with a quick sauce of parmesan, cream, and egg sounded quite nice. The sauce is so simple it only takes minutes. All you have to do is whisk it together, add hot pasta, and stir. Then top the orzo with sautéed spinach and a sprinkling of pine nuts and you are done.
Are you a fan of spinach? It seems most folks either really like it or not at all. There was absolutely, positively no way I would have eaten it as a kid. Although back then the only spinach I had was from a can. It was bitter and slimy and awful. Once I discovered fresh spinach it was all it took. Now I'll have it often and in so many different ways. One way I haven't tried it yet is in a smoothie. That's a whole different story and I'll save that one for another day.
Spinach Topped Creamy Orzo Pasta
Spinach Topped Creamy Orzo pasta is a quick and easy side dish. The sauce is made with parmesan cheese, egg, and cream. It's comfort with healthy on top.
Ingredients
1

cup

uncooked orzo pasta

1/4

cup

grated parmesan cheese

1

large egg

3

tablespoons

heavy cream

2

tablespoons

olive oil

1

garlic clove

finely minced

1/4

teaspoon

red pepper flakes

10

ounces

fresh baby spinach

Salt and pepper

1

tablespoon

toasted pine nuts
Instructions
Cook pasta according to package directions. Drain and do not rinse.

While the pasta is cooking, whisk together cheese, egg, and cream in a large bowl.

Add cooked pasta to cheese mixture and stir to combine. The heat from the pasta will cook the egg and melt the cheese. Let sit while preparing spinach.

In a deep saute pan or skillet over medium heat, add olive oil, garlic, and red pepper flakes. Cook for a couple of minutes until the garlic is fragrant and the oil has warmed. Do not brown the garlic or it will become bitter.

Add spinach and toss frequently while cooking. Add salt and pepper to taste. Cook until the spinach is completely wilted, it only takes a few minutes.

Transfer orzo to a serving plate. Top with sauteed spinach. Garnish with pine nuts.
Recipe Notes
Spinach Topped Creamy Orzo pasta is a quick and easy side dish. The sauce is made with parmesan cheese, egg, and cream. It's comfort with healthy on top.
Recipe adapted from a Cuisine At Home recipe booklet (no issue date or number noted on the publication).