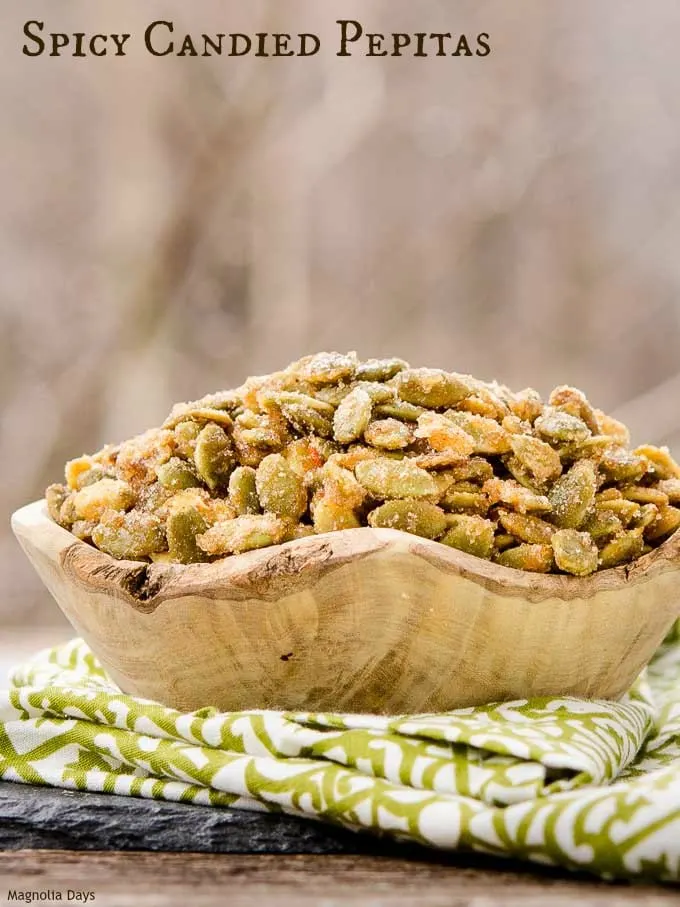 The pile of magazines continues to grow. I used to have it under control. I'd accumulate a few then go through them and toss out ones I didn't want. Not anymore. I keep them around as I do cookbooks. Now is the challenge of storing them. I need a better way than a pile next to my fireplace. Anyway, going through them the other day I found inspiration to make these Spicy Candied Pepitas.
I was attempting to tidy up the pile. I did manage to eliminate two things from the stack. One was a Dillard's Christmas catalog and I have no idea how it got there. The other was a cookbook a PR firm sent to me ages ago hoping I would review it. The book arrived at a busy and rough time and I never got around to it. So it was moved to the shelf with my other cookbooks.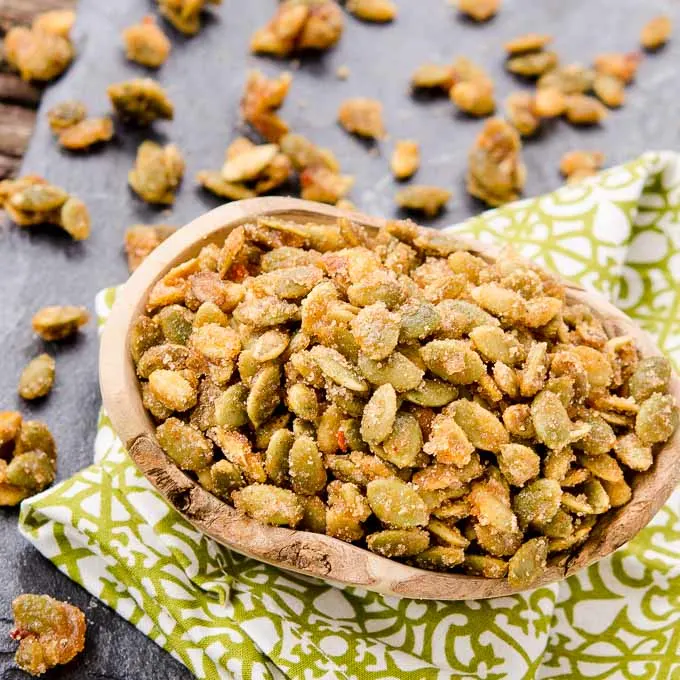 What attracted me to the pepitas recipe? Two reasons. One is because I had an abundance of raw pepitas in my freezer. I've been wanting to clear out and use overages. The other is a bowl of candied seeds was intriguing. Of course I had to tinker with the recipe and add some heat. And what kind of heat? My go-to spicy seasoning these days: sriracha.
Making Spicy Candied Pepitas was interesting. I'm used to a completely different method as with Spiced Pecans. The pecans are made by cooking syrup on the stove. The nuts are stirred into the syrup then spread out on parchment paper to "sugar up" when cooling. The pepitas are coated and baked on a parchment paper lined baking sheet.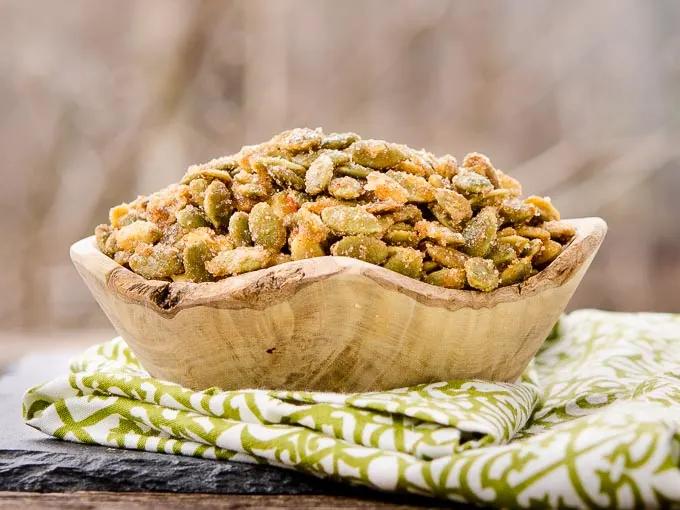 I almost ditched the parchment paper. It kept sliding around as I was trying to spread out the pepitas. I was glad in the end I kept it. Why? It worked wonderfully for breaking apart the pepitas after they cooled. Roll up the paper and press down while rolling. The seeds will fall apart nicely. There will be some clumps and that's okay. They eat just as good as the individual ones (insert smiley face).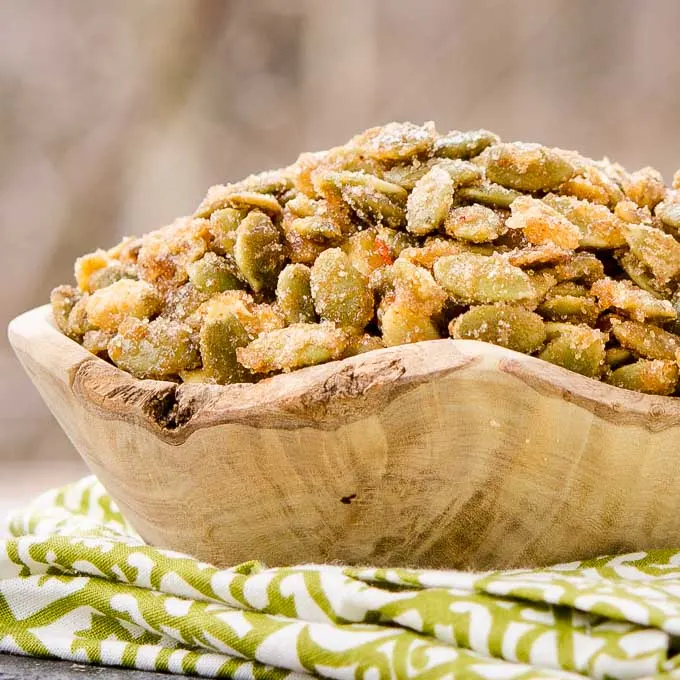 Where to find sriracha seasoning? It's a question I get often since I posted Sriracha Herb Roast and Sriracha Spiced Peanuts recipes. Look for it in the spice section at the grocery store. If you can't find it then the only suggestion I have for a substitute is any of the ground hot peppers such as cayenne.
Spicy Candied Pepitas
Spicy Candied Pepitas are a tasty appetizer or snack with sugary sweetness and a touch of sriracha heat. Make them for your next party.
Ingredients
1/2

cup

granulated sugar

1/2

cup

firmly packed light brown sugar

2

teaspoons

sriracha seasoning

not sauce

2

cups

raw pepitas

pumpkin seed kernels

3

tablespoons

fresh orange or tangerine juice
Instructions
Preheat oven to 350°F. Line a jelly roll pan with parchment paper.

Stir together granulated sugar, brown sugar, and sriracha seasoning in a small bowl.

Place pepitas in a large non-stick skillet over medium heat. Cook, stirring constantly, about 8 minutes or until pepitas have puffed slightly and will start to pop (do not let them brown).

Transfer pepitas to a large bowl. Pour juice over pepitas and toss to coat. Add sugar mixture and stir to coat.

Spread pepitas evenly on prepared jelly roll pan. Bake for 6 minutes, stirring once.

Cool pepitas in the pan on top of a wire rack for 30 minutes.

Use the parchment paper to break apart pepitas by rolling it up and pressing down while rolling.

Store pepitas in an airtight container for up to 2 days.
Recipe Notes
Spicy Candied Pepitas are a tasty appetizer or snack with sugary sweetness and a touch of sriracha heat. Make them for your next party.
Recipe adapted from Southern Living Special Collector's Edition 5 Ingredient Recipes Magazine published in 2015.