A table of cookie samples was spotted from across the store. Distraction set in. It was difficult to concentrate on shopping when treats were waiting to be sampled. Restraint helped keep the task at hand. The moment of tasting finally arrived. Something was different. These were savory cookies. Oh wow! From that day until now, Spicy Blue Cheese Shortbread Cookies have been on my to-bake list. The perfect excuse is all that was needed.
What was my excuse to bake this time? The Creative Cookie Exchange with a Red, White, and Blue theme. It is for the upcoming July 4th/Independence Day holiday. However, the colors are what resonated with me the most. Blue cheese plus red peppers equals a scrumptious fire cracking taste combination. These are spicy cookies for sure with both cayenne pepper and red pepper flakes.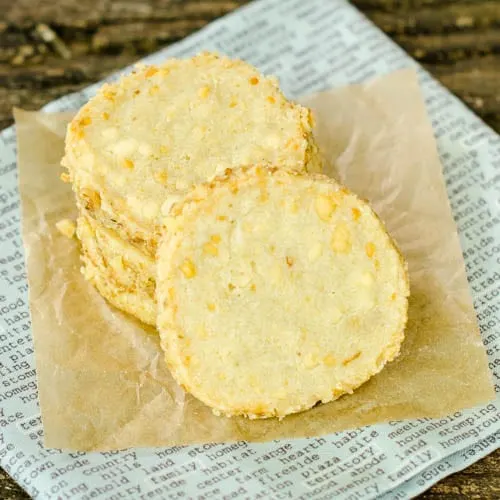 Spicy Blue Cheese Shortbread Cookies are slice and bake. The dough is very crumbly when mixed and needs to be tightly pressed together then rolled to form a log. It should be chilled thoroughly too. The outside is coated with an egg wash and chopped walnuts right before slicing. Keep the slices chilled until baking. Take them out of the oven when they are lightly browned. And for those like me, try not to eat all of them yourself.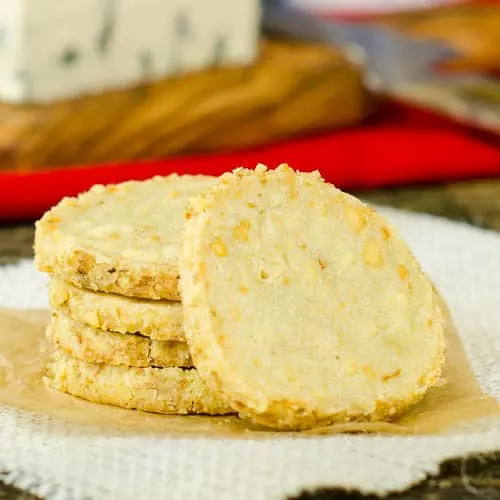 Are you ready to bake cookies? Scroll down to find a list for Red, White, and Blue ones by talented bakers. Click on the links to get the recipes. And if you want other July 4th recipes take a look at my Summer Berry Pizza and Red Velvet Brownies. Have a fun, safe, and tasty holiday!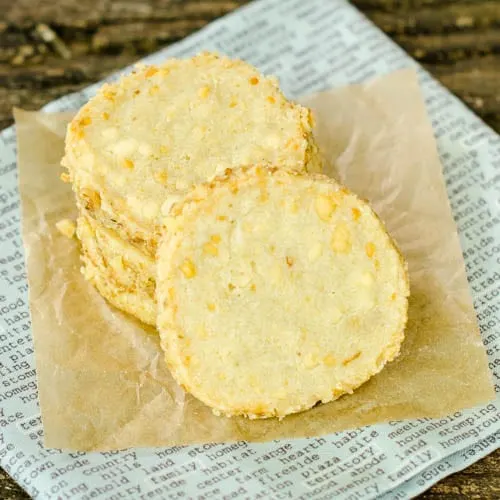 Spicy Blue Cheese Shortbread Cookies
A recipe for Spicy Blue Cheese Shortbread Cookies. These are savory, slice and bake cookies made with blue cheese, cayenne, and red pepper flakes.
Prep Time
1
hour
10
minutes
Total Time
1
hour
30
minutes
Ingredients
1/2

cup

unsalted butter at room temperature

8

ounces

blue cheese crumbles

at room temperature

1 1/2

cups

all-purpose flour

1

teaspoon

salt

1/2

teaspoon

ground cayenne pepper

1/4

teaspoon

red pepper flakes

2

tablespoons

water

divided

1

egg

1/2

cup

finely chopped walnuts
Instructions
Using an electric hand mixer, beat butter and blue cheese in a large bowl until combined and fluffy. (Or use a stand mixer fitted with the flat beater).

Whisk together flour, salt, cayenne pepper, and red pepper flakes in a medium bowl. Add to the butter/cheese mixture and mix until crumbly, about 1 minute. Add 1 tablespoon water and mix until combined.

Dump the dough onto a work surface and press it together tightly until it comes together in a ball. Roll dough into a log 2 inches thick by 10 inches long. Roll up the log with parchment or wax paper. Chill dough thoroughly, at least 4 hours or overnight.

Preheat the oven to 350 degrees F. Line baking sheets with parchment or non-stick liner.

Beat the egg with 1 tablespoon of water to make an egg wash. Un-roll the log from the parchment and brush dough with egg wash.

Spread the chopped walnuts on the parchment paper and roll the log over the nuts to coat it evenly.

Cut the log into 1/3-inch slices. Place cookies 1 inch apart on baking sheets and chill for 20 minutes.

Bake for 18 minutes, or until lightly browned. Rotate baking sheet once during baking.

Cook cookies on the baking sheet for 1 minute then transfer to a cooling rack. Cool completely.
Recipe Notes
Time stated does not include chilling dough.
Recipe adapted from Blue Cheese and Walnut Crackers by Ina Garten on the Food Network website.
The Creative Cooke Exchange theme this month is Red, White, and Blue. Independence Day is coming soon and we have to celebrate! If you are a blogger and want to join in the fun, contact Laura via email (thespicedlife AT gmail DOT com) and she will get you added to our Facebook group where we coordinate events.
You can also use us as a great resource for cookie recipes. Be sure to check out our Facebook page, our Pinterest Board, and our monthly posts. You will be able to find them the first Tuesday after the 15th of each month! Also, if you are looking for inspiration to get in the kitchen and start baking, check out what all of the hosting bloggers have made: