I am just nuts about this post today. I have been waiting more than a year to share this recipe. Last holiday season I shared a few other goodies like carrot cake, fruitcake, and tiger butter. I skipped posting about spiced pecans and had to wait all this time for the holidays to come around again. It's a good thing the year flew by quickly.
You can't eat just one spiced pecan. Nope. I've tried. Well, I suppose I didn't try that hard. They are so good you won't want to stop after eating one. The recipe is one my mom had and it was a typed out on a little piece of paper. I have no clue from where it originally came. All I know is that it is a treasured recipe and Christmas would not be the same without these pecans.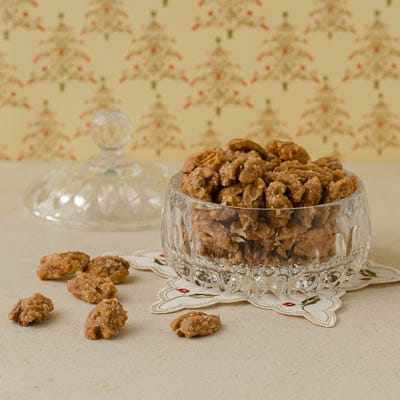 Wrap up some for homemade gifts. They ship really well. You don't have to worry about them breaking apart like cookies. Carry a few small gift bags filled with them to give out anytime (or as a snack in case you need shopping energy). Just keep an eye on the candy dish because it will have to get refilled often. These disappear in no time at all.
What is the one treat you have to make every Christmas? Is it candy or cookies or cake? I'm sure it has plenty memories attached to it. How wonderful to think back and smile on all the good times enjoying a traditional treat.
Spiced Pecans
A recipe for spiced pecans made with cinnamon and sugar. A great treat for the holidays or any time of the year.
Ingredients
2

cups

sugar

1

tablespoon

ground cinnamon

1/4

teaspoon

cream of tartar

1/2

cup

hot water

1

tablespoon

vanilla extract

1

pound

pecan halves
Instructions
Lay 3 strips of wax paper (about 2 feet long) on a counter or work surface.

Combine sugar, cinnamon, cream of tartar, and water in a 2 1/2 to 3 quart pot (do not use non-stick). Bring to a boil and cook to a semi-hard ball stage when tested in cold water. Remove from heat and add the vanilla and pecans. Stir to coat all the pecans with the syrup. When syrup begins to sugar transfer the pecans to waxed paper. Separate the pecans and allow to dry. Store in an airtight container.
Recipe Notes
A recipe for spiced pecans made with cinnamon and sugar. A great treat for the holidays or any time of the year.
Get the best Southern food, wine, and gardening tips!
Subscribe to get our latest content by email.