Poutine entered my life last year. Wait, it was actually a couple of years ago. A friend ordered it at a local restaurant. The only part I tasted was duck fat fries. The first time I had the whole dish was at the 2015 Food Wine Conference. It was a non-traditional version with short ribs. Now the Idaho Potato Commission gave a challenge to create more versions. Southern Sausage Breakfast Poutine is what I'm bringing to the virtual table.
What is traditional poutine? It's a meal of fries covered in gravy and topped with cheese curds. It originates in Canada. The popularity of the dish has grown and variations of it are ever increasing. Of course I had to put a southern spin on it. My inspiration started with a breakfast commonly made in the south: sausage gravy biscuits.
Sausage gravy biscuits is how it sounds. A thick brown gravy filled with pork sausage is poured over fresh baked biscuits. It's a total carb fest. I substituted potatoes for the biscuits. I adapted my dad's Roasted Potatoes with Onion recipe with cutting the potatoes smaller and roasting them on a baking sheet instead of in a dish. Cheese curds are hard to find here in the south. Cheese eggs instead of cheese curds was the answer.
Southern Sausage Breakfast Poutine is decadent. It is sheer comfort food and a total splurge. It's a meal with layers of heavenly southern breakfast goodies. The base is roasted Idaho® potatoes and onions. It is covered in pork sausage gravy. Cheese eggs are piled on top. Lard is in there too (you can substitute oil or butter though). If a regular portion is too much, you can always make a mini one:
Are you ready for more poutine? Scroll down to find a list of 20 variations by Sunday Supper tastemakers. Plus there will be plenty more. Why? Because there is a contest and the top prize is $500 plus a ticket to the 2016 Food Wine Conference. For full details and how you can enter, go here: Idaho Potato® Let's Poutine Contest.
About the Food Wine Conference: It is a three day event filled with educational sessions for food bloggers, writers, photographers, and authors. It is held at the beautiful Rosen Shingle Creek resort in Orlando, Florida. The best part? The people who attend! So be sure you are there to join in the fun, food, beverages, sessions, and festivities.
More on the Idaho Potato Commission: You can keep up with the latest on Idaho® potatoes by following them on Facebook, Pinterest, Twitter, Instagram, and visiting their website. For even more inspiration, check out the Potato Recipes featuring Famous Idaho® Potatoes Pinterest Board.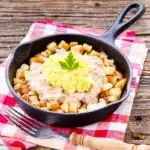 Southern Sausage Breakfast Poutine
Southern Sausage Breakfast Poutine with roasted potatoes, sausage gravy, and cheese eggs. It's a southern twist to a classic dish.
Ingredients
For the potatoes:
5

medium Idaho® russet potatoes

peeled and cut into 1/2-inch cubes

2

tablespoons

lard

See note below, melted

2

teaspoons

salt

1/2

teaspoon

pepper

1/2

cup

chopped onion
For the sausage gravy:
1

pound

pork breakfast sausage

2

tablespoons

lard

1/4

cup

all-purpose flour

2

cups

milk

whole or 2%

1/4

teaspoon

salt

1/8

teaspoon

pepper
For the cheese eggs:
6

large eggs

1

teaspoon

milk

1/4

cup

shredded cheddar cheese

1/4

teaspoon

salt

1/8

teaspoon

pepper

2

teaspoon

butter
Instructions
For the potatoes:
Heat oven to 375°F.

Place potatoes on a large baking sheet. Drizzle lard over potatoes and sprinkle with salt and pepper. Toss to coat potatoes.

Spread potatoes out to an even layer. Bake until browned and crispy, about 40 minutes. Flip potatoes with a spatula every 10 minutes to ensure even browning.

Add onions after 20 minutes of cooking (to prevent them from over-browning).
For the sausage gravy:
Place a large cast iron skillet or sauté pan over medium heat. Add sausage and cook, breaking it up and stirring with a spoon until browned and fully cooked.

Use a slotted spoon to transfer cooked sausage from skillet to a bowl.

Add 2 tablespoons lard, or enough to make about 3 tablespoons fat when combined with pan drippings, into the skillet and let melt.

Add flour, one tablespoon at a time, stirring constantly to make a roux.

Continue to cook roux, stirring constantly, for two minutes.

Slowly add milk, stirring or whisking constantly, until combined.

Cook until gravy thickens and just begins to boil, about 5 minutes.

Add salt, pepper, and cooked sausage to the skillet and stir to combine.
For the cheese eggs:
Whisk together eggs, milk, cheese, salt, and pepper.

Place butter in a large non-stick skillet over medium-low heat. When butter has melted use a spatula or spoon to spread butter in pan.

Add egg mixture. Cook, stirring slowly and gently, until eggs are just cooked (they should look slightly wet and soft). Do not over-cook the eggs in the skillet.
To assemble the poutine:
Place potatoes in the bottom of a bowl or on a plate. Spoon sausage gravy over potatoes. Top with cheese eggs.
Recipe Notes
Southern Sausage Breakfast Poutine with roasted potatoes, sausage gravy, and cheese eggs. It's a southern twist to a classic dish.
Sometimes variations can be better than the original. Check out these poutine recipes by Sunday Supper tastemakers are sharing with their own spin on the traditional:
Breakfast:
Appetizers:
Main Dish:
Plus: Poutine Variations for National Sunday Supper Day from Sunday Supper Movement
Have you signed the #SundaySupper pledge to eat together more often as a family? Do it right here: Sunday Supper Pledge
Join the #SundaySupper family on twitter every Sunday! We tweet throughout the day and share recipes from all over the world. Our weekly chat starts at 7:00 pm ET. Follow the #SundaySupper hashtag and remember to include it in your tweets to join in the conversation. To get more great Sunday Supper recipes, visit the Sunday Supper Movement website or check out our Sunday Supper Pinterest board.
Would you like to join the Sunday Supper Movement? It's easy. You can sign up by clicking here: Sunday Supper Movement.
This post is sponsored by the Idaho Potato Commission in conjunction with a social media campaign through Sunday Supper LLC. All opinions are my own.