Random acts of love. I think those are the best. They don't have to be big. The little ones can really shine. It's also interesting as how doing something mundane for someone can make their day. Simply taking away a to-do can mean so much. Like recently when I came home late and the dishwasher had been emptied. It caused the biggest smile I had on that day. So what does this have to do with Sour Cream Pecan Sandies? Nothing other than I baked them with love for the one I love.
The theme was proclaimed as Hearts/Love. It's not surprising with Valentine's Day happening soon. Getting a jump on upcoming holidays and special days is what food bloggers do. Well, so do magazines and television shows. Anyway, I knew the direction I'd take as soon as I saw the theme. My heart-shaped cookie cutter was waiting to be used. I only had to figure out which cutout cookie to bake.
Chocolate came to mind first. I had a vision of pretty brown cookies with pink frosting and heart shaped sprinkles. Then I remember the love part. Sure, I love chocolate yet my husband prefers either peanut butter or some type of sugar or butter cookie. Then the internal idea bell went off – ding, ding, ding! He would certainly enjoy buttery cookies loaded with pecans.
Sour Cream Pecan Sandies Cookies are a sweet treat for your sweetie. They are thin, buttery, nutty, and have a soft yet crunchy texture. Bake them only long enough to get the edges slightly golden. Any more time in the oven would change them considerably. You want them to have a touch of softness instead of being hard and cracker-like.
One note about the dough: It is much softer than typical for cutout cookies. Roll out the dough on a well-floured surface. Keep moving the dough around so it won't stick. Coat your rolling pin with flour too. You may have to chill the dough again after you pull together the scraps and before re-rolling it for more cookies.
What random act of love have you done lately? I did one of those mundane things. What was it? Bringing bottles of water up from the basement. Sounds silly right? Yet it made my husband smile (he is usually the one who carries them up). And I baked cookies for him. Then for Valentine's Day I may make one of his favorite sweets like Jam Filled Butter Cookies or Vanilla Pudding.
Cookies, cookies, and more cookies! Scroll down to find a list of what other cookies were baked for the Hearts/Love Creative Cookie Exchange theme.
Sour Cream Pecan Sandies
Sour Cream Pecan Sandies are thin, buttery, cutout cookies loaded with pecans. Forget store-bought, these homemade ones are divine.
Ingredients
1/2

cup

pecan pieces

2 1/4

cups

all-purpose flour

1 1/2

teaspoons

baking powder

1/4

teaspoon

salt

1/2

cup

unsalted butter

at room temperature

1/3

cup

shortening

3/4

cup

granulated sugar

1

large egg

at room temperature

1/3

cup

sour cream

at room temperature

1

teaspoon

vanilla extract
Instructions
Grind pecans in a food processor. Whisk together ground pecans, flour, baking powder, and salt in a medium bowl.

Cream butter and shortening in a large bowl. Add sugar and beat until fluffy.

Add egg, sour cream, and vanilla. Beat until combined.

Add flour mixture and beat until just combined.

Divide dough in half. Shape halves into disks and wrap with plastic wrap. Chill dough at least 3 hours or overnight.

Preheat oven to 375°F. Line baking sheets with parchment or non-stick liners.

Roll dough to 1/8-inch thickness on floured surface and with floured rolling pin. Continue to move dough around and sprinkle surface and rolling pin with more flour as needed. Dough will be soft and can stick easily.

Cut dough with cookie cutters. Place cookies on baking sheets.

Pull together scraps and re-roll dough for more cookies. You may have to re-chill dough if too soft.

Bake for 7 to 9 minutes, or until the edges are golden brown.

Cool cookies on baking sheet for 2 minutes.

Transfer cookies to a wire rack and cool completely.
Recipe Notes
Yield can vary depending on size of cookie cutter(s) used.
It is late January and you know what that means! Soon love will be in the air! Too corny? OK fine, but we all know Valentine's Day is about to start trending, and we have the perfect cookies! Hearts, love, anything symbolizing hearts and love, we have it all! Check out our hearts and love cookies below and maybe make them for your loved ones!
You can also use us as a great resource for cookie recipes. Be sure to check out our Pinterest Board and our monthly posts (you can find all of them here at The Spiced Life). You will be able to find them the first Tuesday after the 15th of each month! Also, if you are looking for inspiration to get in the kitchen and start baking, check out what all of the hosting bloggers have made: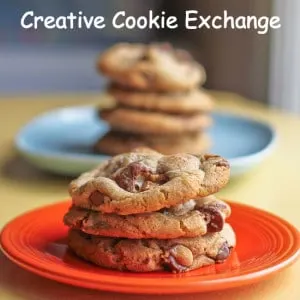 If you are a blogger and want to join in the fun, contact Laura via email (thespicedlife AT gmail DOT com) and she will get you added to our Facebook group where discuss our cookies and share links.