An accumulation of citrus needed to be put to use. Extras were purchased to be included in photos. They do make great props and give a visual clue as to ingredients in the food. Letting the extras go to waste is not a good thing. The hunt for a recipe began. Flipping through a folder in my kitchen reminded me of something I've wanted to make for a long time. The next day my home was filled with the mouth-watering aroma of Cuban pork cooking in the crock pot.
Slow cookers and pork were meant for each other. The way a fatty, tough pork butt is transformed into juicy, fall-apart tender meat is simply incredible. Slow-cooking infuses flavors too. The bonus is a wonderful sauce that is created in the process and ties it all together. This particular one starts as a marinade made with orange, lemon, lime, garlic, onion, and spices. It becomes a Cuban mojo sauce once it is cooked and concentrated down.
Slow-cooker Cuban pork is easy to make. The marinade is done quickly in the blender. The pork is marinated overnight and then all is put in the slow-cooker. Eight hours later all you have to do is shred the meat and boil the sauce for a few minutes. The toughest part is not filling up on bits of meat as you are "quality controlling" it while shredding. Serve it with black beans and yellow rice or as a sandwich with a dipping sauce.
How often do you hunt for recipes to use extra ingredients? It is an on-going thing for me. The fun is the discovery of new recipes or finally tackling ones I've wanted to make. It sure does keep a variety of things cooking in the kitchen. Stay tuned to see what is next…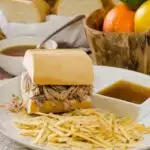 Slow-Cooker Cuban Pork
A recipe for slow-cooker Cuban pork. It is made with pork marinated and cooked with orange, lemon, lime, garlic, and onions. Served with mojo sauce.
Ingredients
3/4

cup

olive oil

1/2

cup

fresh-squeezed orange juice

1/4

cup

fresh-squeezed lime juice

1/4

cup

fresh-squeezed lemon juice

1/2

cup

chopped onion

10

garlic cloves

chopped

1/2

teaspoon

dried oregano

1

teaspoon

ground cumin

1

teaspoon

salt

1/2

teaspoon

pepper

3

pound

pork butt

Boston butt
Instructions
Place all ingredients except pork into a blender and blend on high to liquify and make the marinade.

Pour marinade in a large plastic zip-top bag.

Pierce the pork on all sides many times with a knife. Add pork to the bag and seal. Marinate overnight in the refrigerator.

Put pork and marinade in a slow-cooker. Cook on low for 8 hours.

Remove pork and use two forks to shred meat. Discard fat.

Pour liquid into a gravy separator. Let sit for 5 minutes. It will separate into 3 layers; oil on top, white middle, and light brown bottom.

Pour the light brown liquid into a sauce pan. Discard remaining liquid.

Boil the liquid for 10 minutes to reduce and concentrate flavors to make a mojo sauce.

Serve pork with mojo sauce. Alternatively, serve as a sandwich with mojo as a dipping sauce (Cuban bread recommended).
Recipe Notes
Time stated does not include marinating overnight.