Ever have one of those running behind days? When something comes up and blows your whole schedule. You put yourself in high gear to get back on track and then yet another thing arises. I had one of those days recently. Everything I had planned was disrupted. Next thing I knew it was after lunch and I was getting started on what I should have finished hours before. Then "poof" it was almost dinnertime. Thanks goodness shrimp and vegetable couscous is one of those "on the table in a flash" meals.
Couscous has to hold a record for quick cooking. I'm sure of it. I think only those noodles that almost explode when they hit the water are faster. I use and prefer the Israeli or pearl type which takes only a few more minutes to cook. Shrimp is also done in a matter of minutes. Add a few veggies to the mix and you have a complete meal.
You know what else makes cooking quick and easy? Land O Lakes® Sauté Express® Sauté Starter does that and more. It adds flavor to recipes and reduces the need for more ingredients. Want an Italian twist? Use the Italian Herb one. Like citrus? Use the Lemon Pepper one. The Sauté Starters are so convenient.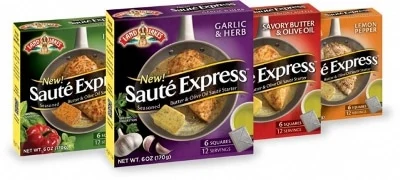 My shrimp and vegetable couscous recipe features the savory butter and olive oil one. I wanted something subtle to enhance all the flavors. It was the right choice. It let the shrimp and veggies shine and gave them a flavor boost at the same time. It also added a touch of savory to the couscous. All together it is a great meal and on the table in less than 30 minutes.
Keep up with all the latest! Follow Land O Lakes® on facebook, twitter, pinterest, and instagram.
Are you inspired? Share your ideas for how you can add sizzle to your meal in 140 characters or less on Twitter with the hashtag, #SautéExpress. We invite you to develop your own ideas for adding Sauté Express® Sauté Starter to your regular weeknight meal rotation.
Are you on Pinterest? We have a special board to showcase recipes. To visit it, click here -> #WeekdaySupper with Sauté Express® Sauté Starter.
A little information on Sauté Express® Sauté Starter:
Land O'Lakes® has an easy, delicious solution for the weeknight dinner dilemma your readers face each night – its newest innovation, Sauté Express® Sauté Starter.

Simply toss a Sauté Express® square in a non-stick sauté pan until it begins to bubble and sizzle; add fresh chicken, pork, shrimp or fish; and sauté in less than 30 minutes for a fast and delicious meal.
The product combines butter, olive oil, and a variety of herbs and spices into one convenient square.
The product performs best when sautéing at medium or low heat.

Sauté Express® Sauté Starter is available in four delicious flavors: Garlic & Herb, Italian Herb, Savory Butter & Olive Oil and Lemon Pepper. Visit SauteExpress.com for meal ideas and tips.
Shrimp and Vegetable Couscous
A recipe for shrimp and vegetable couscous made with squash and Israeli couscous. A quick and easy meal for a busy weeknight or any day.
Ingredients
For the couscous:
1

square Land O Lakes® Savory Butter & Olive Oil Sauté Express® Sauté Starter

2

cups

uncooked Israeli/pearl couscous

4

cups

water*
For the shrimp and vegetables:
3

squares Land O Lakes® Savory Butter & Olive Oil Sauté Express® Sauté Starter

1

small onion

chopped

1

medium zucchini

2

medium yellow squash

1

pound

medium raw shrimp

peeled and deveined

Salt and pepper

Optional chopped fresh parsley for garnish.
Instructions
For the couscous:
In a saucepan, melt the Sauté Express® Sauté Starter square over medium heat until sizzling. Add the couscous and stir to coat. Continue cooking and stirring until lightly toasted, about 2 to 4 minutes. Add the water and bring to a boil. Reduce heat to low and simmer, covered, for 15 minutes.
For the shrimp and vegetables:
Slice the zucchini and squash in half lengthwise and then into 1/4-inch slices. Set aside.

In a large 12-inch saute pan, melt the Sauté Express® Sauté Starter squares over medium heat. Add the onions and cook until translucent, about 4 minutes. Add the squash and sauté until slightly softened. Add the shrimp and stir. Cover and cook until shrimp are cooked through, stirring occasionally. Season with salt and pepper to taste. Serve shrimp and vegetables over couscous. Garnish with chopped fresh parsley if desired.
Recipe Notes
*Check your couscous package instructions for the amount of liquid to use. It can vary depending on the size. You can substitute regular couscous if you cannot find Israeli/pearl couscous. Cook according to package instructions.
Disclosure: The author received a full-value coupon redeemable for Sauté Express® Sauté Starter for recipe development and review purposes. All opinions are my own.