Excuse me, pass the butter my way please! Yes, I'm a southern gal and I love butter. Or as some say, buttah. It is so stereotypical, probably because of Paula Deen. However it does not matter how the connection between butter and the south was made. What matters is how good it is, either plain or flavored. Shallot Herb Butter is the latest one I made to use the fresh herbs in my garden.
I also made it because a cookbook arrived. The nice folks at The Harvard Common Press sent a copy of Flavored Butters
by Lucy Vaserfirer to me. They asked if anyone would like a copy for review and I jumped at the opportunity. I've always enjoyed compound butter and have shared recipes for lemon clarified butter and a butter thyme pasta dish. The thought of having a cookbook solely about butter made me smile.
The cookbook has more than recipes. It begins with the basics and covers molding and shaping plus clarifying and browning butter. The recipes are divided into two chapters; savory and sweet. I looked at every one from front to back and back to front. There were many that caught my attention. My copy has several pages flagged. The one I had to make first is the Shallot Herb Butter. I adore fresh herbs and it called to me the loudest.
Shallot Herb Butter can be used on many foods. First there is bread. Slather it on a slice of a fresh baked baguette, French, or basic white bread: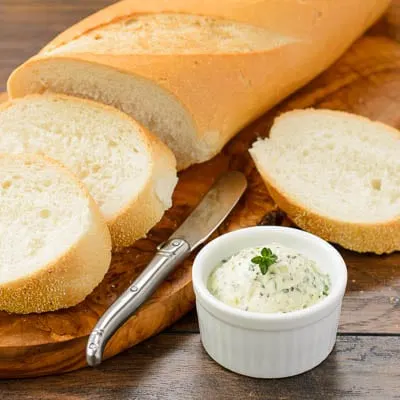 It also would be wonderful on vegetables. I immediately thought of haricot verts. Blanch them for a few minutes then finish them in a pan with a big dollop: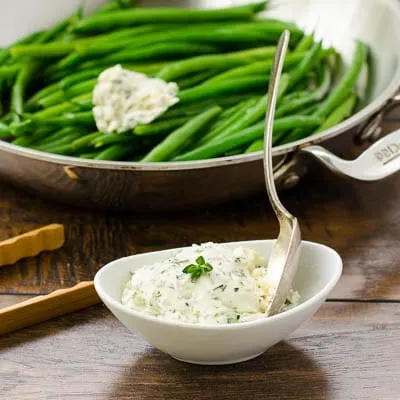 There are many possibilities for this butter. I also thought of shaping it into a log and then rolling hot grilled corn on it. Oh, then dipping it into grated Parmigiano Reggiano. You could put a pat of it on top of a steak right after you take it off the grill. The butter would melt and the shallots and herbs would become fragrant. It would add so much flavor to the steak.
Do I recommend the cookbook? Yes, I do. It is a great resource to have on hand when you want to add a nice touch to something ordinary. Make your next meal a little fancier with Flavored Butters. You can order a copy from Amazon by clicking on the photo of the book:
How often do you use butter? Is it a daily thing or only for special recipes? It is almost daily for me. It may become daily since I have so many new recipes to try.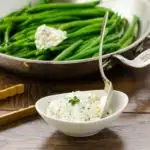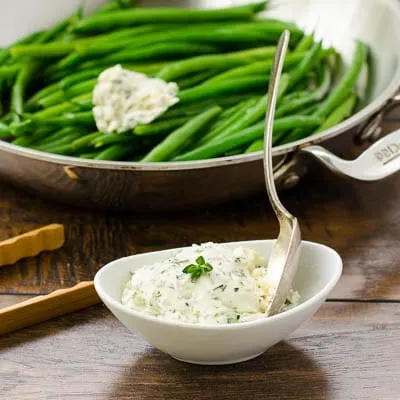 Shallot Herb Butter
A recipe for compound butter made with shallot and fresh herbs including parsley, rosemary, and thyme.
Ingredients
8

tablespoons

unsalted butter

1 stick, softened

1

small shallot

minced

1

tablespoon

minced flat-leaf parsley

1

teaspoon

minced fresh thyme

1

teaspoon

minced fresh rosemary

1/4

teaspoon

kosher salt

or to taste

Generous pinch of freshly ground black pepper
Instructions
Blend together the butter, shallot, parsley, thyme, rosemary, salt, and pepper in a medium-sized bowl. Form into a log and refrigerate until firm before slicing or serving, or use another shaping method.
Recipe Notes
Recipe ©copyright 2013 Lucy Vaserfirer from the Flavored Butters cookbook. Used with permission by The Harvard Common Press.
Disclosures: I received a copy of the Flavored Butters cookbook at no charge from the publisher, The Harvard Common Press. I was under no obligation to give a positive review. All opinions are my own unless otherwise stated or contained within a guest post. This post contains affiliate links.